IDENTIFIKASI DAN ANALISIS INTANGIBLE VALUE ATAS BAGI HASIL TABUNGAN DI PERBANKAN SYARIAH (Studi Kasus Penabung di PT Bank Pembiayaan Rakyat Syariah Muamalat Harkat Bengkulu)
Amir Mukadar

Universitas Muhammadiyah Bengkulu
Abstract
Amir Mukadar ; This Research is descriptive, explorative, and implementative, which it's designed by qualitative and quantitative method. It also uses primary data - which consists of survey, field observation, and interviews - and secondary data – which consists of previous variable that has been issued before. Its variable is explanatory research with some part of it is descriptive qualitative.Another part of it is using qualitative calculation and implementative which empirically analysis and hypotesis in the field. This research showed that identification and intangible value analysis of profit sharing of the saving in PT. BPRS Muamalat Harkat Bengkulu has significant influence toward customer interest in element of kesesuaian aqidah, while in element of kemanfaatan sosial has same effect but with lower value. Ther author expected all things – BPRS managemet, Financial Authority, Moslem Clerc Council – to be better and have maximum effort for socializing sharia banking. It is expected that people have their interest to open their account in sharia bank, especially in PT. BPR Muamalat Harkat.
Keywords : Tahwidi String Relation (TRSR) Tabungan, Intangible Value for profit sharing
Downloads
Download data is not yet available.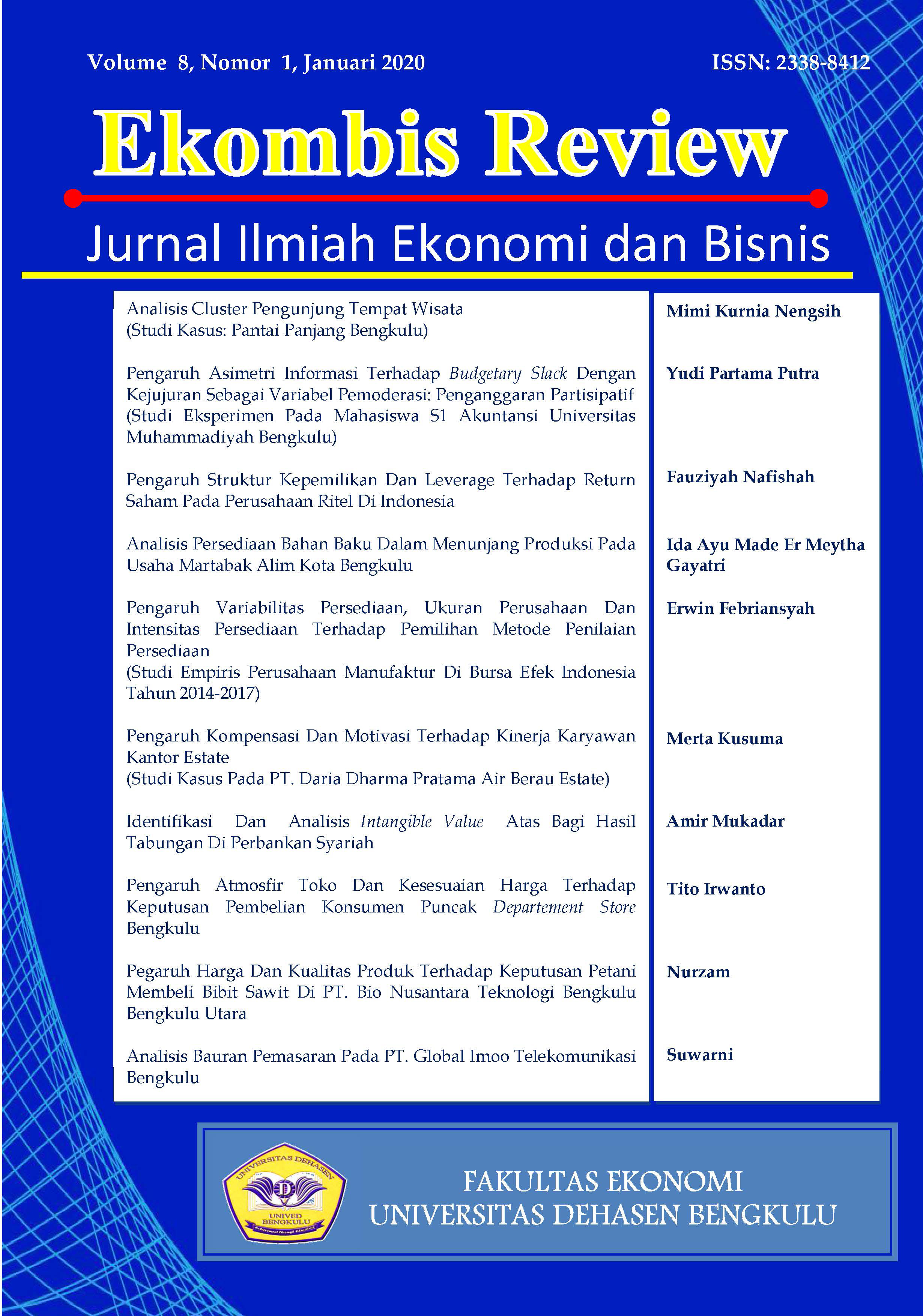 How to Cite
Mukadar, A. (2020). IDENTIFIKASI DAN ANALISIS INTANGIBLE VALUE ATAS BAGI HASIL TABUNGAN DI PERBANKAN SYARIAH (Studi Kasus Penabung di PT Bank Pembiayaan Rakyat Syariah Muamalat Harkat Bengkulu). EKOMBIS REVIEW: Jurnal Ilmiah Ekonomi Dan Bisnis, 8(1), 54-68. https://doi.org/10.37676/ekombis.v8i1.932
An author who publishes in the EKOMBIS REVIEW: Jurnal Ilmiah Ekonomi dan Bisnis agrees to the following terms:
Author retains the copyright and grants the journal the right of first publication of the work simultaneously licensed under the Creative Commons Attribution-ShareAlike 4.0 License that allows others to share the work with an acknowledgement of the work's authorship and initial publication in this journal
Submission of a manuscript implies that the submitted work has not been published before (except as part of a thesis or report, or abstract); that it is not under consideration for publication elsewhere; that its publication has been approved by all co-authors. If and when the manuscript is accepted for publication, the author(s) still hold the copyright and retain publishing rights without restrictions. For the new invention, authors are suggested to manage its patent before published. The license type is CC-BY-SA 4.0.
EKOMBIS REVIEW: Jurnal Ilmiah Ekonomi dan Bisnis is licensed under a Creative Commons Attribution-ShareAlike 4.0 International License.