ANALISIS BELANJA PEMERINTAH DAERAH KOTA BENGKULU
Abstract
Ahmad Soleh; Local Government Expenditure Analysis of Bengkulu. This study aims to analyze the expenditure in terms of spending growth, harmony expenditure and expenditure to GRDP ratio Bengkulu 2010-2013. This study uses secondary data from the Budget Realization Report from the local government of Bengkulu city and Bengkulu city's economy is sourced from the Badan Pusat Statistik (BPS) Bengkulu city. Data analysis techniques such as quantitative analysis by using the formula of growth and expenditure ratio. The analysis showed that local government spending in 2011-2013 Bengkulu city fluctuated with an average growth of 11.76% per year, this is not in line with the growth in revenue realization that tends to increase in each year. The ratio of operating expenditure to total expenditure tends to increase by an average of 85.20% per year and is the ratio of total expenditure dominates the area while the ratio of capital expenditure to total expenditure tends to decrease with an average of 14.78% per year. The ratio of government expenditure to GDP local area Bengkulu years 2010-2013 tends to increase with the average ratio of 27.04% per year. The value of this ratio is also influenced by the value of the growth of GDP and total expenditure. The growth of total government expenditure Bengkulu area is relatively higher when compared with GDP growth.
Kata Kunci: Pertumbuhan Belanja, Keserasian Belanja, Rasio Belanja, Kota Bengkulu
Downloads
Download data is not yet available.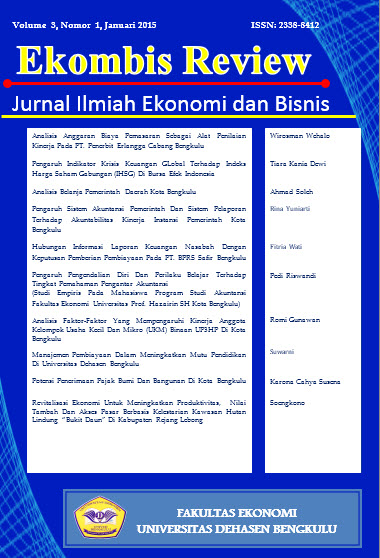 How to Cite
Soleh, A. (2015). ANALISIS BELANJA PEMERINTAH DAERAH KOTA BENGKULU. EKOMBIS REVIEW: Jurnal Ilmiah Ekonomi Dan Bisnis, 3(1). https://doi.org/10.37676/ekombis.v3i1.92
An author who publishes in the EKOMBIS REVIEW: Jurnal Ilmiah Ekonomi dan Bisnis agrees to the following terms:
Author retains the copyright and grants the journal the right of first publication of the work simultaneously licensed under the Creative Commons Attribution-ShareAlike 4.0 License that allows others to share the work with an acknowledgement of the work's authorship and initial publication in this journal
Submission of a manuscript implies that the submitted work has not been published before (except as part of a thesis or report, or abstract); that it is not under consideration for publication elsewhere; that its publication has been approved by all co-authors. If and when the manuscript is accepted for publication, the author(s) still hold the copyright and retain publishing rights without restrictions. For the new invention, authors are suggested to manage its patent before published. The license type is CC-BY-SA 4.0.
EKOMBIS REVIEW: Jurnal Ilmiah Ekonomi dan Bisnis is licensed under a Creative Commons Attribution-ShareAlike 4.0 International License.