ANALISIS MANAJEMEN RISIKO PADA KANTOR PUSAT PT. BANK BENGKULU
Dian Wundari Gustini

Sulisti Afriani
Abstract
Dian Wundari Gustini, Sulisti Afriani; Analysis Of Risk Management in PT.Bank Bengkulu Office. This study aims to determine the Analysis Risk Management in PT . Bank Bengkulu Office. The type of is the study descriptive. In this study the samples used is the form of quality report application of risk management PT. Bank of Bengkulu in 2012. By the risk report can described the condition of PT. Bank Bengkulu and can be analyzed levels of application quality . For quantitative analysis using the inherent risk assessment , which is an assessment of the risks inherent Bank's business activities, both of which can be quantified or are not , and could potentially affect the financial position of the Bank. The qualitative analysis using indicators Quality Risk Management with the criteria and parameters that have been set by Bank Indonesia . This study showed an overview of the implementation of risk management at PT. Bank Bengkulu average value of 2.50 is in the interval from 1.81 to 2.60 with Satisfactory criteria is quality risk management of PT. Bank of Bengkulu in composite adequate , although there are minor flaws, but these flaws need to get the attention of the management of PT. Bank Bengkulu to make improvements. Assessment of the quality of risk management implementation in PT Bank Bengkulu can be traced from the stages of preparation of strategies, programs, policies, objectives, and implementation.
Downloads
Download data is not yet available.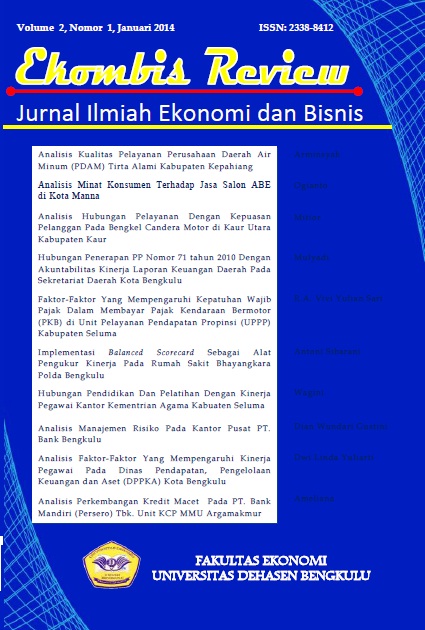 How to Cite
Gustini, D. W., & Afriani, S. (2015). ANALISIS MANAJEMEN RISIKO PADA KANTOR PUSAT PT. BANK BENGKULU. EKOMBIS REVIEW: Jurnal Ilmiah Ekonomi Dan Bisnis, 2(1). https://doi.org/10.37676/ekombis.v2i1.8
An author who publishes in the EKOMBIS REVIEW: Jurnal Ilmiah Ekonomi dan Bisnis agrees to the following terms:
Author retains the copyright and grants the journal the right of first publication of the work simultaneously licensed under the Creative Commons Attribution-ShareAlike 4.0 License that allows others to share the work with an acknowledgement of the work's authorship and initial publication in this journal
Submission of a manuscript implies that the submitted work has not been published before (except as part of a thesis or report, or abstract); that it is not under consideration for publication elsewhere; that its publication has been approved by all co-authors. If and when the manuscript is accepted for publication, the author(s) still hold the copyright and retain publishing rights without restrictions. For the new invention, authors are suggested to manage its patent before published. The license type is CC-BY-SA 4.0.
EKOMBIS REVIEW: Jurnal Ilmiah Ekonomi dan Bisnis is licensed under a Creative Commons Attribution-ShareAlike 4.0 International License.