FAKTOR-FAKTOR YANG MEMPENGARUHI KEPATUHAN WAJIB PAJAK DALAM MEMBAYAR PAJAK KENDARAAN BERMOTOR (PKB) DI UNIT PELAYANAN PENDAPATAN PROVINSI (UPPP) KABUPATEN SELUMA
R.A. Vivi Yulian Sari

Neri Susanti
Abstract
R.A. Vivi Yulian Sari, Neri Susanti; Factors That Influence Compliance With Taxpayers In Paying Tax On Motor Vehicles In The Province Revenue Service Unit Of Seluma Regency This study aimed to determine the factors that influence taxpayers compliance in paying motor vehicle tax (CLA ) in Unit Revenue Services of Province ( UPPP ) Seluma District. Type of this study is descriptive study. The population in this study is whousedtaxpayermotor vehicleisregisteredinthe Unit RevenueService of Province (UPPP) SelumaDistrict, witha sample of30taxpayer-wheeled motor vehicletwo (2) located atTaisMarket and registered inUnit RevenueService of Province of(UPPP) Seluma Districtin July2013.The data collected by usingquestionnaire. Data analyzed by using rating scale method. Taxpayer perceptions towards tax penalties showed a significant effect on tax compliance in carrying out its obligations to pay motor vehicle tax ( CLA ) , is seen from the position of the respondent's perception of the value of tax penalties perceptions of factors affecting tax compliance in paying taxes on motor vehicles in Unit Revenue Service of Province( UPPP ) Seluma District with the total score of 316 is in the interval 308-381 , agreed criteria.
Downloads
Download data is not yet available.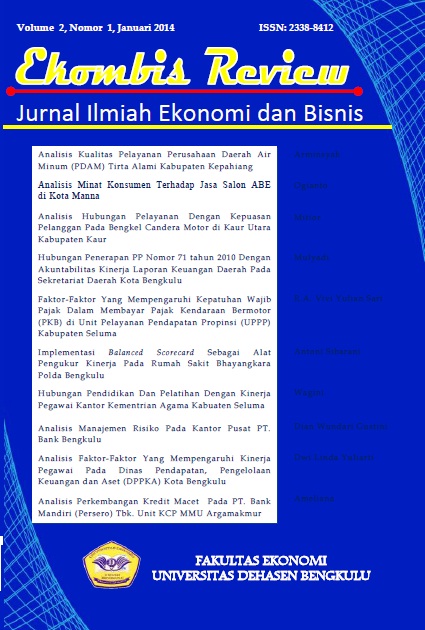 How to Cite
Sari, R. V. Y., & Susanti, N. (2015). FAKTOR-FAKTOR YANG MEMPENGARUHI KEPATUHAN WAJIB PAJAK DALAM MEMBAYAR PAJAK KENDARAAN BERMOTOR (PKB) DI UNIT PELAYANAN PENDAPATAN PROVINSI (UPPP) KABUPATEN SELUMA. EKOMBIS REVIEW: Jurnal Ilmiah Ekonomi Dan Bisnis, 2(1). https://doi.org/10.37676/ekombis.v2i1.5
An author who publishes in the EKOMBIS REVIEW: Jurnal Ilmiah Ekonomi dan Bisnis agrees to the following terms:
Author retains the copyright and grants the journal the right of first publication of the work simultaneously licensed under the Creative Commons Attribution-ShareAlike 4.0 License that allows others to share the work with an acknowledgement of the work's authorship and initial publication in this journal
Submission of a manuscript implies that the submitted work has not been published before (except as part of a thesis or report, or abstract); that it is not under consideration for publication elsewhere; that its publication has been approved by all co-authors. If and when the manuscript is accepted for publication, the author(s) still hold the copyright and retain publishing rights without restrictions. For the new invention, authors are suggested to manage its patent before published. The license type is CC-BY-SA 4.0.
EKOMBIS REVIEW: Jurnal Ilmiah Ekonomi dan Bisnis is licensed under a Creative Commons Attribution-ShareAlike 4.0 International License.