Strategi Promosi Produk Asuransi Jiwadi PT Prudential Syariah Cabang Binjai
Sakinah Sakinah

Fakultas Ekonomi Dan Bisnis Islam1, Universitas Islam Negeri Sumatera Utara

Yusrizal Yusrizal

Universitas Islam Negeri Sumatera Utara
Keywords:
Strategi Promosi, Asuransi Syariah, Asuransi Jiwa.
Abstract
Business competition in today's modern era is increasing and also fierce, where every company is required to carry out attractive promotional strategies in order to get and attract customers. In this case, researchers are interested in researching sharia insurance products, namely life insurance. Which is where the purpose of this study is to find out what promotional strategies can be used by companies to attract customers. Because promotion is very necessary for the company because on the one hand it convinces consumers of the products offered, while on the other hand it determines the success of the company in facing competition in the market. In the context of business competition, each company makes maximum efforts to implement marketing strategies in order to increase product sales and maintain its name and market share.
Downloads
Download data is not yet available.
References
NitaiSari, Analisisipengaruh promosiidan biayaipendidikan dalamimeningkatnya minatikonsumen pada yayasanial-kausar Bandarilampung, skripsi UIN Raden intaniLampung, 2016.
Prima, srikandiidan Andriani,"PengaruhiCitra Merekiterhadap WordiOf Mouth danikeputusan pembelian" Jurnal Administrasi Bisnis, Vol.10. No. 1 Mei 2014.
Resa Puji Riyanto. "Pengaruh brand image,promosi dan distribusi pada keputusan pembelian sepeda motor honda vario". Jurnal skripsi jurusan manajemen fakultas ekonomi Universitas Negeri Semarang, 2015.
Widiya Lestari. Pengaruh Pelayanan Promosi dan Syariah Terhadap Minat Nasabah dalam Memilih Asuransi Syariah(Studi kasus pada PT.Asuransi Takaful Keluarga cabang Palembang). Jurnal fakultas ekonomi dan bisnis islam UIN Raden fatah Palembang, 2015.
Leo syahputra, Pengaruh harga dan promosi terhadap volume penjualan dalan prespektif ekonomi Islan 2016.
Scott, J. D, dkk, Strategi Promosi Pemasaran. Jakarta: Rineka Cipta, 2005.
Tasruddin Ramsiah. Strategi Periklanan dalam Perspektif Komunikasi Pemasaran Makassar: Alauddin University Press, 2011.
Harjanto, Ryan Nur. Analisis Pengaruh Harga, Produk, Kebersihan, Dan Kualitas Layanan Terhadap Kepuasan Pelanggan (Studi Kasus Pada Restoran Mamamia Cabang Mrican Semarang). Universitas Diponegoro. 2010.
Resty Avita Haryanto. Strategi Promosi, Kualitas Produk, Kualitas Layanan Terhadap Kepuasan Pelanggan Pada Restoran MCDonald's Manado. Jurnal EMBA. Vol 1 No 4. 2013.
Purwasito, Andrik., "Komunikasi Multicultural" Cet 1 (Yogyakarta: Pustaka Pelajar, 2015) Hlm. 383.
Suprabawa, Pungky Jati Aji, 2010 Skripsi "Studi Tentang Pelaksanaan Link Assurance Di PT. Prudential Life Surakarta'', Fakultas Hukum Universitas Muhammadiyah Surakarta.
Syakir Sula, Muhammaad., "Indonesia Tetap Jadi Pemain Besar Asuransi Syariah". http://m.republika.co.id/berita/bisnis-syariah/berita.
Ambeg Utomo,Andhap Asor "Asuransi Syariah Di Bidang Pemasaran". Http://Hendrieansyah.Blogspot.Co.Id/2012/Asuransi-Syariah-Manajemen-Asuransi.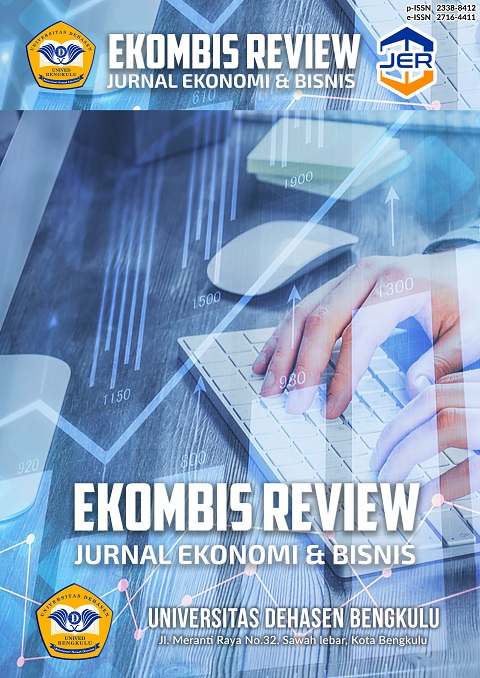 How to Cite
Sakinah, S., & Yusrizal, Y. (2023). Strategi Promosi Produk Asuransi Jiwadi PT Prudential Syariah Cabang Binjai. EKOMBIS REVIEW: Jurnal Ilmiah Ekonomi Dan Bisnis, 11(1), 1015–1020. https://doi.org/10.37676/ekombis.v11i1.3335
Copyright (c) 2023 Sakinah Sakinah, Yusrizal Yusrizal
This work is licensed under a Creative Commons Attribution-ShareAlike 4.0 International License.
An author who publishes in the EKOMBIS REVIEW: Jurnal Ilmiah Ekonomi dan Bisnis agrees to the following terms:
Author retains the copyright and grants the journal the right of first publication of the work simultaneously licensed under the Creative Commons Attribution-ShareAlike 4.0 License that allows others to share the work with an acknowledgement of the work's authorship and initial publication in this journal
Submission of a manuscript implies that the submitted work has not been published before (except as part of a thesis or report, or abstract); that it is not under consideration for publication elsewhere; that its publication has been approved by all co-authors. If and when the manuscript is accepted for publication, the author(s) still hold the copyright and retain publishing rights without restrictions. For the new invention, authors are suggested to manage its patent before published. The license type is CC-BY-SA 4.0.
EKOMBIS REVIEW: Jurnal Ilmiah Ekonomi dan Bisnis is licensed under a Creative Commons Attribution-ShareAlike 4.0 International License.