STRATEGI OPTIMALISASI KOMODITAS UNGGULAN TANAMAN PANGAN DI PROPINSI BENGKULU (Menurut Persepsi Masyarakat)
Abstract
Rina Trisna Yanti: The purpose of this study was to determine the main commodity crops most optimal developed in Bengkulu and determine strategies for improving crop production according to public perception in the province of Bengkulu. This research is a descriptive study, using data from the productivity of each food crops in the province of Bengkulu (rice, maize, cassava, sweet potatoes, peanuts, soybeans), and crop productivity of its kind in the Province around (South Sumatra Lampung, West Sumatra, Jambi) as well as national food crop productivity in 2011 - 2015. the primary data obtained through a questionnaire distributed to 30 respondents and processed through LQ analysis techniques.
These results indicate that the main commodity crops in Bengkulu food crops of rice and sweet potatoes. Optimization strategy leading commodity food crops of rice in Bengkulu can be done in a way to use the land in accordance with the potential (extension) and pemanfaan idle land by farmers, while the role of government in providing relief seeds, guarantee price certainty, provide counseling and training to farmers through PPL. While commodity optimization strategies featured sweet potato crop in Bengkulu done by improving the production (intensification) and increased intensity of cultivation as for the role of government in a way to guarantee price certainty.
Keyword: Holticulture, Strategy Optimalization, Komodity Superrior.
Downloads
Download data is not yet available.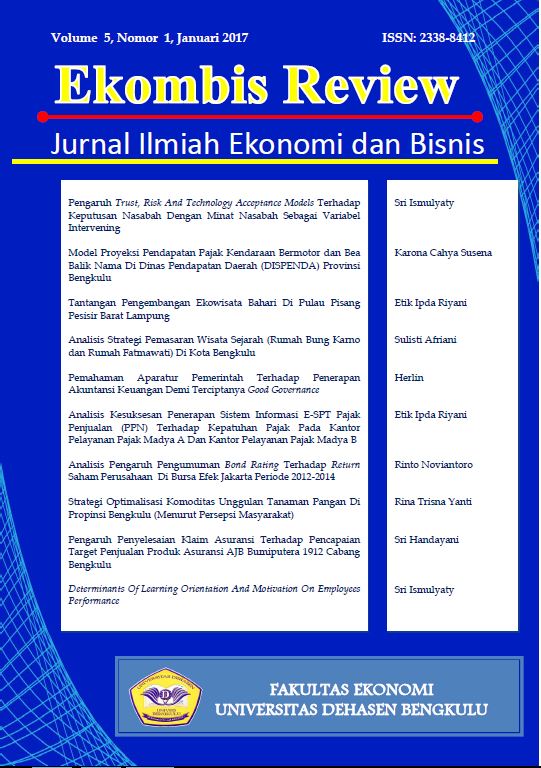 How to Cite
Yanti, R. (2017). STRATEGI OPTIMALISASI KOMODITAS UNGGULAN TANAMAN PANGAN DI PROPINSI BENGKULU (Menurut Persepsi Masyarakat). EKOMBIS REVIEW: Jurnal Ilmiah Ekonomi Dan Bisnis, 5(1). https://doi.org/10.37676/ekombis.v5i1.331
An author who publishes in the EKOMBIS REVIEW: Jurnal Ilmiah Ekonomi dan Bisnis agrees to the following terms:
Author retains the copyright and grants the journal the right of first publication of the work simultaneously licensed under the Creative Commons Attribution-ShareAlike 4.0 License that allows others to share the work with an acknowledgement of the work's authorship and initial publication in this journal
Submission of a manuscript implies that the submitted work has not been published before (except as part of a thesis or report, or abstract); that it is not under consideration for publication elsewhere; that its publication has been approved by all co-authors. If and when the manuscript is accepted for publication, the author(s) still hold the copyright and retain publishing rights without restrictions. For the new invention, authors are suggested to manage its patent before published. The license type is CC-BY-SA 4.0.
EKOMBIS REVIEW: Jurnal Ilmiah Ekonomi dan Bisnis is licensed under a Creative Commons Attribution-ShareAlike 4.0 International License.