ANALISIS KESUKSESAN PENERAPAN SISTEM INFORMASI E-SPT PAJAK PENJUALAN (PPN) TERHADAP KEPATUHAN PAJAK PADA KANTOR PELAYANAN PAJAK MADYA A DAN KANTOR PELAYANAN PAJAK MADYA B
Abstract
Etik Ipda Riyani: This study aimed to analyze the relationship between the success of the implementation of the information system e-SPT Sales Tax (e-SPT PPN) to tax compliance. The model used in the study was the model of success of information systems updated D & M IS Success Model. This model is based on six measures of success is the quality information system (System Quality), the quality of information (Information Quality), quality of service (Service Quality), user interest (Intention to Use), the satisfaction of users (User Satisfaction), and tax compliance. The population of this research is all taxpayer is incorporated and registered in Madya Tax Office A and B. Researchers using simple random sampling in the sampling. The analytical tool used in this study were Path Analysis (Path Analysis).
The results showed the successful implementation of the information system e-SPT PPN with dimensions System Quality, Information Quality, and Service Quality, Intention to Use and User Satisfaction effect on Tax Compliance.
Key words: the success of information systems, e-SPT VAT, tax compliance
Downloads
Download data is not yet available.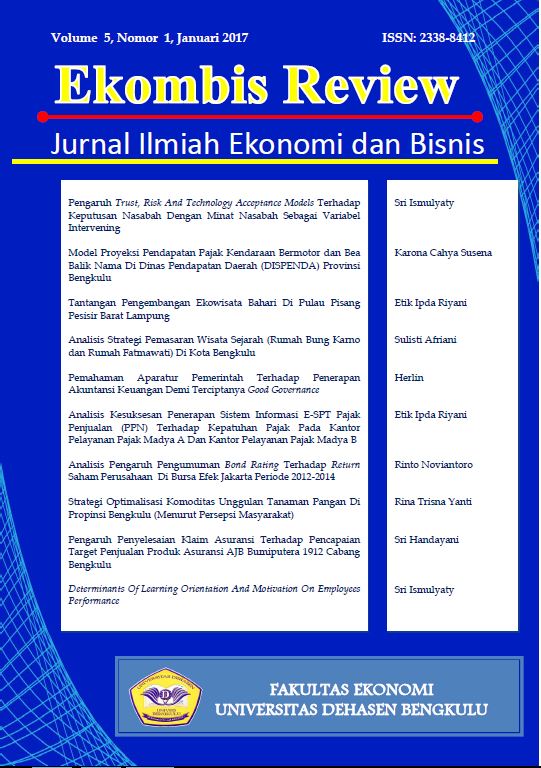 How to Cite
Riyani, E. (2017). ANALISIS KESUKSESAN PENERAPAN SISTEM INFORMASI E-SPT PAJAK PENJUALAN (PPN) TERHADAP KEPATUHAN PAJAK PADA KANTOR PELAYANAN PAJAK MADYA A DAN KANTOR PELAYANAN PAJAK MADYA B. EKOMBIS REVIEW: Jurnal Ilmiah Ekonomi Dan Bisnis, 5(1). https://doi.org/10.37676/ekombis.v5i1.329
An author who publishes in the EKOMBIS REVIEW: Jurnal Ilmiah Ekonomi dan Bisnis agrees to the following terms:
Author retains the copyright and grants the journal the right of first publication of the work simultaneously licensed under the Creative Commons Attribution-ShareAlike 4.0 License that allows others to share the work with an acknowledgement of the work's authorship and initial publication in this journal
Submission of a manuscript implies that the submitted work has not been published before (except as part of a thesis or report, or abstract); that it is not under consideration for publication elsewhere; that its publication has been approved by all co-authors. If and when the manuscript is accepted for publication, the author(s) still hold the copyright and retain publishing rights without restrictions. For the new invention, authors are suggested to manage its patent before published. The license type is CC-BY-SA 4.0.
EKOMBIS REVIEW: Jurnal Ilmiah Ekonomi dan Bisnis is licensed under a Creative Commons Attribution-ShareAlike 4.0 International License.