PEMANFAATAN DIGITAL MARKETING SEBAGAI PELUANG USAHA OLEH UMKM DI WILAYAH PERBATASAN
Veneranda Rini Hapsari

Institut Shanti Bhuana

Usman Usman Usman

Yeremia Niaga Atlantika
Keywords:
Pemanfaatan, digital marketing, UMKM, Daerah Perbatasan
Abstract
Tujuan dari penelitian ini untuk mendeskripsikan pemanfaatan digital marketing pada volume penjualan bagi para pelaku usaha di wilayah perbatasan Kabupaten Bengkayang. Metode penelitian yang digunakan adalah deskriptif kualitatif dengan data penelitian yang diperoleh baik berupa data primer yakni observasi, wawancara maupun dokumentasi serta data sekunder berupa studi literatur, jurnal dan data pendukung lainnya yang berkaitan dengan penelitian. Hasil yang diperoleh dari penelitian ini adalah dengan adanya digital marketing mempermudah pelaku UMKM untuk meningkatkan penjualan bagi pelaku UMKM.
Downloads
Download data is not yet available.
References
Almubaroq, M. N. K., & Mufreni, S. L. (2021). Penerapan Strategi Digital Marketing Untuk Peningkatan Promosi Di Instagram Pada Umkm (Studi Kasus Cv. Satoeasa Untuk Indonesia). Prosiding Seminar Nasional Informatika Bela Negara, 2, 214–218. https://doi.org/10.33005/santika.v2i0.129
Anggraeni Dwi Feni, Hardjanto Imam, H. A. (n.d.). Jurusan Administrasi Publik, Fakultas Ilmu Administrasi, Universitas Brawijaya, Malang. 1(6), 1286–1295.
Basry, A., & Sari, E. M. (2018). Penggunaan Teknologi Informasi dan Komunikasi (TIK) pada Usaha Mikro, Kecil dan Menengah (UMKM). IKRA-ITH INFORMATIKA : Jurnal Komputer Dan Informatika, 2(3), 53–60. http://journals.upi-yai.ac.id/index.php/ikraith-informatika/article/view/266
Febriyantoro, M. T., & Arisandi, D. (2018). Pemanfaatan Digital Marketing Bagi Usaha Mikro, Kecil Dan Menengah Pada Era Masyarakat Ekonomi Asean. JMD: Jurnal Riset Manajemen & Bisnis Dewantara, 1(2), 61–76. https://doi.org/10.26533/jmd.v1i2.175
Lubis, T. A., & Junaidi, J. (2016). Pemanfaatan Teknologi Informasi pada Usaha Mikro Kecil dan Menengah di Kota Jambi. Jurnal Perspektif Pembiayaan Dan Pembangunan Daerah, 3(3), 163–174. https://doi.org/10.22437/ppd.v3i3.3535
Manggu, B., & Beni, S. (2019). PELAKSANAAN e-MAR KETING USAHA MIKRO KECIL MENENGAH (UMKM) SEBAGAI STRAGI UNTUK MENINGKATKAN PENJUALAN (STUDI KASUS UMKM DI KOTA BENGKAYANG KALIMANTAN BARAT. Sebatik, 23(2), 455–461. https://doi.org/10.46984/sebatik.v23i2.798
Sudiar, S. (2015). Pembangunan Wilayah Perbatasan Negara: Gambaran Tentang Strategi Pengelolaan Kawasan Perbatasan Darat di Provinsi Kalimantan Utara. Jurnal Administrative Reform, 3(4), 489–500.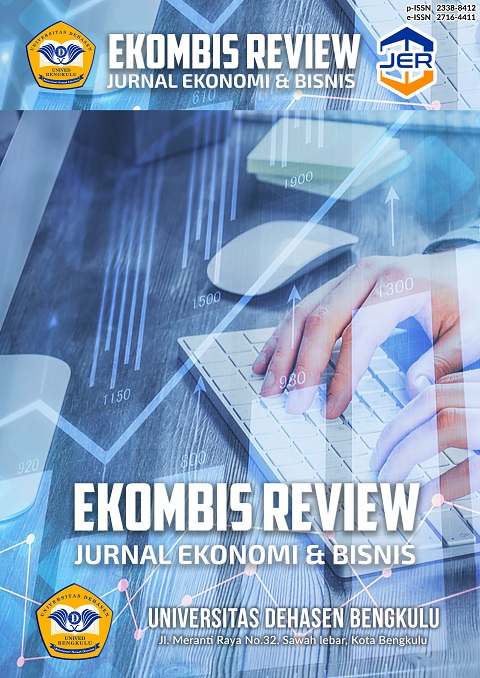 How to Cite
Hapsari, V., Usman, U., & Atlantika, Y. (2023). PEMANFAATAN DIGITAL MARKETING SEBAGAI PELUANG USAHA OLEH UMKM DI WILAYAH PERBATASAN. EKOMBIS REVIEW: Jurnal Ilmiah Ekonomi Dan Bisnis, 11(1), 495–500. https://doi.org/10.37676/ekombis.v11i1.3187
Copyright (c) 2023 Veneranda Rini Hapsari, Usman Usman Usman, Yeremia Niaga Atlantika
This work is licensed under a Creative Commons Attribution-ShareAlike 4.0 International License.
An author who publishes in the EKOMBIS REVIEW: Jurnal Ilmiah Ekonomi dan Bisnis agrees to the following terms:
Author retains the copyright and grants the journal the right of first publication of the work simultaneously licensed under the Creative Commons Attribution-ShareAlike 4.0 License that allows others to share the work with an acknowledgement of the work's authorship and initial publication in this journal
Submission of a manuscript implies that the submitted work has not been published before (except as part of a thesis or report, or abstract); that it is not under consideration for publication elsewhere; that its publication has been approved by all co-authors. If and when the manuscript is accepted for publication, the author(s) still hold the copyright and retain publishing rights without restrictions. For the new invention, authors are suggested to manage its patent before published. The license type is CC-BY-SA 4.0.
EKOMBIS REVIEW: Jurnal Ilmiah Ekonomi dan Bisnis is licensed under a Creative Commons Attribution-ShareAlike 4.0 International License.