Pemanfaatan Digital Dalam Pemasaran Produk Anyaman Rotan Kampung Kreatif Di Perbatasan
Benedhikta Kikky vuspitasari

Institut Shanti Bhuana

Yermia Niaga Atlantika

Institut Shanti Bhuana

Novianty Novianty

Institut Shanti Bhuana
Keywords:
Creative village, Digital marketing, Border area.
Abstract
This article aims to describe the use of digital in the marketing of creative village rattan woven products in the Border. This research is a qualitative descriptive study using purposive sampling method, data collection, researchers using interviews, observations, and documents. The data analysis used in this study consisted of several stages, namely data reduction, data presentation, and drawing conclusions, to determine the validity of the researcher's data using data triangulation techniques. The results showed that not all of the digital marketing strategies were used properly, the use of social media Facebook and Whatsaap were the most widely used tools, besides that marketing strategies could also be seen through the 4P marketing mix where rattan woven products have the uniqueness of different motifs so that the price is also low. adjusting, strategic location because it is located on the border so that traditional promotion facilities are also very effective. 
Downloads
Download data is not yet available.
References
Afrilia, A. M. (2018). Digital Marketing Sebagai Strategi Komunikasi Pemasaran "Waroenk Ora Umum" Dalam Meningkatkan Jumlah Konsumen. Jurnal Riset Komunikasi, 1(1), 147–157. https://doi.org/10.24329/jurkom.v1i1.21
Ahmad, D. I. B. (2020). Peningkatan Potensi Kewirausahaan Produk Lokal Melalui Pemasaran Digital Desa Cikeruh Jatinangor. Sawala : Jurnal Pengabdian Masyarakat Pembangunan Sosial, Desa Dan Masyarakat, 1(2), 51. https://doi.org/10.24198/sawala.v1i2.26592
Andina, P. P. D. (2021). Pemanfaatan Strategi Pemasaran Digital menggunakan E-Commerce dalam mempertahankan Bisnis UMKM Pempek4Beradek di masa Pandemi Covid-19. IkraIth Abdimas, 4(2), 68–73. https://journals.upi-yai.ac.id/index.php/IKRAITH-ABDIMAS/article/download/982/772
Antonius, K. A. H. S. (2020). Pemilihan Strategi Pemasaran Di Era Digital Pada Kelompok Ibu Pkk Desa Gadingharjo. Dinamisia : Jurnal Pengabdian Kepada Masyarakat, 4(1), 127–132. https://doi.org/10.31849/dinamisia.v4i1.3246
Arofah, S. (2018). Kajian Pengembangan Kampung Kreatif Studi Kasus Kampung Kreatif Cibunut, Kelurahan Kebon Pisang. Jurnal Wilayah Dan Kota, 5(02), 32–38. https://doi.org/10.34010/jwk.v5i02.2160
Bonnie Soeherman. (2019). Fun Research Penelitian Kualitatif dengan Design Thinking. PT. Elex Media Komputindo.
Dede, O. S. I. P. L. K. A. S. (2021). Pelatihan Pemasaran Online Berbasis Digital Untuk Meningkatkan Penjualan Bisnis Online Pada Umkm Di Desa Cicalengka Kecamatan Pagedangan Kabupaten Tangerang. Dedikasi PKM, 2(3), 307–311. http://www.openjournal.unpam.ac.id/index.php/DKP/article/view/10726
Desnamita, M. P. Y. I. S. (2020). Partisipasi Masyarakat Dalam Kreativitas Pengembangan Wisata Kampung Tematik (Studi Kasus: Kampung Pulo Geulis, Kota Bogor, Jawa Barat). Journal of Tourism Destination and Attraction, 8(1), 11–22.
Diki, S. S. (2017). Sistem Penjualan Berbasis E-Commerce Menggunakan Metode Objek Oriented pada Distro Dlapak Street Wear. JSiI (Jurnal Sistem Informasi), 4, 5–8. https://doi.org/10.30656/jsii.v4i0.368
Fadel, L. R. (2016). Analisis strategi pemasaran dan penjualan. Jurnal Elektronik Sistem Informasi Dan Komputer, 2(1), 20–31.
Gracia, S. A. P. N. N. L. J. De. (2021). Analisis Potensi Pengembangan Kampung Wisata Kreatif Desa Sekida Kecamatan Jagoi Babang. JeLAST : Jurnal PWK, Laut, Sipil, Tambang, 8(1), 1–10.
Kresna, M. P. Y. G. A. M. I. W. A. (2017). Creativity Based Tourism In Kampung Kreatif Dago Pojok Bandun. Journal of Tourism Destination and Attraction (JTDA), 6(1), 15–24.
Novi, W. A. H. T. (2018). Pengaruh Influencer Marketing Sebagai Strategi Pemasaran Digital Era Moderen (Sebuah Studi Literatur). Jurnal Eksekutif, 15(1), 133–146.
Rina, P. B. I. I. (2021). Pemanfaatan Platform E-Commerce Melalui Marketplace Sebagai Upaya Peningkatan Penjualan dan Mempertahankan Bisnis di Masa Pandemi ( Studi pada UMKM Makanan dan Minuman di Malang ). Jurnal Penelitian Manajemen Terapan (PENATARAN) Vol., 6(1), 114–133.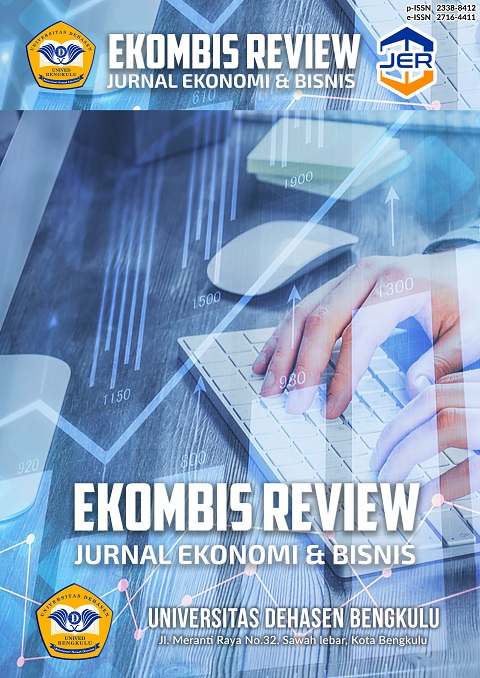 How to Cite
vuspitasari, B., Atlantika, Y. N., & Novianty, N. (2023). Pemanfaatan Digital Dalam Pemasaran Produk Anyaman Rotan Kampung Kreatif Di Perbatasan. EKOMBIS REVIEW: Jurnal Ilmiah Ekonomi Dan Bisnis, 11(1), 997–1004. https://doi.org/10.37676/ekombis.v11i1.3106
Copyright (c) 2023 Benedhikta Kikky vuspitasari, Yermia Niaga Atlantika, Novianty Novianty
This work is licensed under a Creative Commons Attribution-ShareAlike 4.0 International License.
An author who publishes in the EKOMBIS REVIEW: Jurnal Ilmiah Ekonomi dan Bisnis agrees to the following terms:
Author retains the copyright and grants the journal the right of first publication of the work simultaneously licensed under the Creative Commons Attribution-ShareAlike 4.0 License that allows others to share the work with an acknowledgement of the work's authorship and initial publication in this journal
Submission of a manuscript implies that the submitted work has not been published before (except as part of a thesis or report, or abstract); that it is not under consideration for publication elsewhere; that its publication has been approved by all co-authors. If and when the manuscript is accepted for publication, the author(s) still hold the copyright and retain publishing rights without restrictions. For the new invention, authors are suggested to manage its patent before published. The license type is CC-BY-SA 4.0.
EKOMBIS REVIEW: Jurnal Ilmiah Ekonomi dan Bisnis is licensed under a Creative Commons Attribution-ShareAlike 4.0 International License.