Analisis Pengaruh Kualitas Pelayanan, Perceived Value, Dan Perceived Switching Cost Terhadap Loyalitas Pelanggan PT.Telkomsel, Tbk Cabang Bengkulu
Tezar Arianto

Universitas Muhammadiyah Bengkulu

Evi Puspita Sari

Universitas Muhammadiyah Bengkulu
Keywords:
Loyalitas Pelanggan, Kualitas Pelayanan, Perceived Value, Perceived Switching Cost
Abstract
Abstrak
Peningkatan struktur pasar yang menyebabkan pasar operator begitu besar akan menimbulkan efek terhadap loyalitas dimana switching cost akan rendah, jika ada alternatif dan switching cost rendah maka pelanggan yang tidak puas akan pindah ke competitor. Industri telekomunikasi seluler saat ini dihadapkan pada persaingan yang sangat tajam dan perubahan bisnis yang sangat cepat. Oleh karena itu tidak ada alternatif lain bagi para pengelola telekomunikasi selular untuk memberikan pelayanan yang sesuai dengan kebutuhan dan keinginan pelayanannya.  PT. Telkomsel Tbk, Cabang Bengkulu sebagai market leader tetap harus menjaga loyalitas para pelanggannya agar tidak berpindah ke provider lainnya. Operator berlomba untuk menghadirkan layanan yang dapat memenuhi kebutuhan masyarakat, salah satunya paket data unlimited dengan harga yang terjangkau. Dampak dari pendapatan yang rendah adalah turunnya kualitas layanan operator seluler. Dalam beberapa hal dikhawatirkan operator tersebut tidak dapat bertahan. Penelitian ini bertujuan untuk mengetahui pengaruh kualitas layanan, perceived value, dan perceived switching cost terhadap loyalitas pelanggan PT. Telkomsel, Tbk Cabang Bengkulu. Penelitian ini menggunakan pendekatan kuantitatif. Pengumpulan data primer menggunakan metode survei dan teknik korelasional. Populasi dalam penelitian ini adalah seluruh pelanggan Telkomsel yang mengunjungi PT. Telkomsel yang beralamat di simpang lima Kota Bengkulu. Sampel pada penelitian ini adalah 175 orang. Teknik yang digunakan adalah purposive sampling. Teknik yang digunakan dalam teknik analisis data yang digunakan adalah uji-t, uji-f, regresi liner berganda dan uji koefisien determinan dengan mengunakan aplikasi SPSS versi 24. Dari hasil perhitungan menggunakan SPSS bahwa ada pengaruh kualitas pelayanan, percerved value, dan perceived swithing cost, terhadap loyalitas pelanggan.
Downloads
Download data is not yet available.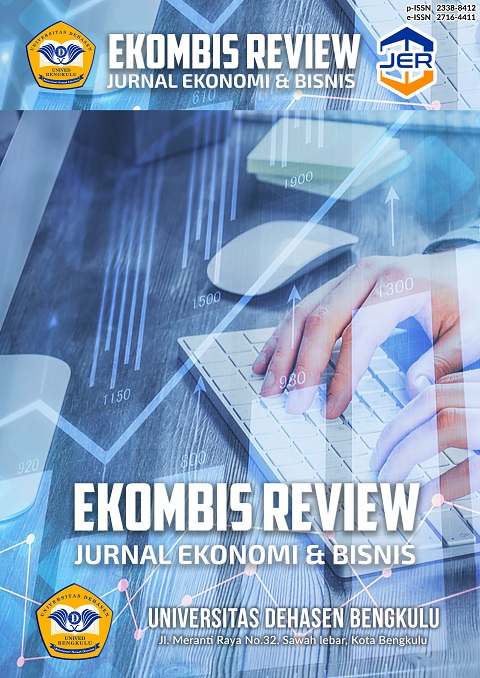 How to Cite
Arianto, T., & Sari, E. (2023). Analisis Pengaruh Kualitas Pelayanan, Perceived Value, Dan Perceived Switching Cost Terhadap Loyalitas Pelanggan PT.Telkomsel, Tbk Cabang Bengkulu. EKOMBIS REVIEW: Jurnal Ilmiah Ekonomi Dan Bisnis, 11(1), 237 -. https://doi.org/10.37676/ekombis.v11i1.2907
Copyright (c) 2023 Tezar Arianto, Evi Puspita Sari
This work is licensed under a Creative Commons Attribution-ShareAlike 4.0 International License.
An author who publishes in the EKOMBIS REVIEW: Jurnal Ilmiah Ekonomi dan Bisnis agrees to the following terms:
Author retains the copyright and grants the journal the right of first publication of the work simultaneously licensed under the Creative Commons Attribution-ShareAlike 4.0 License that allows others to share the work with an acknowledgement of the work's authorship and initial publication in this journal
Submission of a manuscript implies that the submitted work has not been published before (except as part of a thesis or report, or abstract); that it is not under consideration for publication elsewhere; that its publication has been approved by all co-authors. If and when the manuscript is accepted for publication, the author(s) still hold the copyright and retain publishing rights without restrictions. For the new invention, authors are suggested to manage its patent before published. The license type is CC-BY-SA 4.0.
EKOMBIS REVIEW: Jurnal Ilmiah Ekonomi dan Bisnis is licensed under a Creative Commons Attribution-ShareAlike 4.0 International License.