Keputusan Pembelian dari Aspek Desain Website, Kepercayaan, Keamanan dan Kemudahan
Dirwan Dirwan

Manajemen, Institut Nobel Indonesia Makassar

Orfyanny S. Themba

Manajemen, STIEM Bongaya Makassar
Keywords:
Desain Website, Kepercayaan, Keamanan, Kemudahan, Keputusan Pembelian
Abstract
The purpose of this study was to analyze the effect of website design, trust, security and convenience on purchasing decisions on the Lazada application. The research was conducted using a quantitative approach with the type of conclusive research. The population of this study is infinite with the characteristics of the respondents, namely ITB Nobel Indonesia students who use the Lazada application, both male and female aged 19-23 years who have made purchases on the Lazada application. Questionnaires were distributed to 100 students. The data were analyzed and processed using multiple linear regression techniques through the IBM SPSS statistical analysis tool version 26. The results of the study found that website design, trust, security and convenience proved to have a positive and significant influence on purchasing decisions.
Downloads
Download data is not yet available.
References
Anwar, R. N., & Afifah, A. (2018). Kepercayaan dan Keamanan Konsumen terhadap Minat Beli di situs Online (Studi Kasus pengunjung situs Lazada di Jakarta Timur). Jurnal Manajemen (Edisi Elektronik), 9(1), 46–57.
Arifin, H. S. (2019). Pemasaran Era Milenium. Deepublish.
Chin, E., Felt, A. P., Sekar, V., & Wagner, D. (2012). Measuring user confidence in smartphone security and privacy. Proceedings of the Eighth Symposium on Usable Privacy and Security, 1–16.
Devaraj, S., & Kohli, R. (2003). Performance impacts of information technology: Is actual usage the missing link? Management Science, 49(3), 273–289.
Dirwan, D., Themba, O. S., & Latief, F. (2021). Aspect Purchasing Decisions at Consumers Lazada: Trust, Price, Tagline. JURNAL ECONOMIC RESOURCE, 3(2), 86–93.
Fachmi, M. I., & Astuti, S. R. T. (2016). Analisis Kemenarikan Desain Website, Reputasi Vendor, dan Persepsi Kemudahan Transaksi Terhadap Keputusan Pembelian Belanja Online dengan Persepsi Nilai Pelanggan sebagai Variabel Intervening. Diponegoro Journal of Management, 5(3), 657–673.
Fandiyanto, R., Sularso, R. A., & Irawan, B. (2018). Pengaruh Kemudahan, Keamanan, Ketanggapan, Harga dan Reputasi Perusahaan terhadap Kepercayaan dan Keputusan Pembelian Produk Kerajinan Danbo Secara Online. Growth, 15(1), 54–71.
Febriani, N., & Dewi, W. W. A. (2019). Perilaku Konsumen di Era Digital: Beserta Studi Kasus. Universitas Brawijaya Press.
Granić, A., & Marangunić, N. (2019). Technology acceptance model in educational context: A systematic literature review. British Journal of Educational Technology, 50(5), 2572–2593.
Gunawan, H., & Ayuningtiyas, K. (2018). Pengaruh Kepercayaan, Kemudahan Dan Kualitas Informasi Terhadap Keputusan Pembelian Daring Di Aplikasi Bukalapak Pada Mahasiswa Politeknik Negeri Batam. Journal of Applied Business Administration, 2(1), 152–165.
Gupta, P., Seetharaman, A., & Raj, J. R. (2013). The usage and adoption of cloud computing by small and medium businesses. International Journal of Information Management, 33(5), 861–874.
Harahap, D. A. (2018). Perilaku belanja online di Indonesia: Studi kasus. JRMSI-Jurnal Riset Manajemen Sains Indonesia, 9(2), 193–213.
Hermawan, H. (2017). Sikap konsumen terhadap belanja online. WACANA: Jurnal Ilmiah Ilmu Komunikasi, 16(1), 136–147.
Jefryansyah, J., & Muhajirin, M. (2020). Analisis Pengaruh Kepercayaan Dan Keamanan Terhadap Keputusan Pembelian Barang Secara Online. Target: Jurnal Manajemen Bisnis, 2(1), 85–94.
Kim, J. H., Gunn, D. V, Schuh, E., Phillips, B., Pagulayan, R. J., & Wixon, D. (2008). Tracking real-time user experience (TRUE) a comprehensive instrumentation solution for complex systems. Proceedings of the SIGCHI Conference on Human Factors in Computing Systems, 443–452.
Kim, Y. H., & Kim, D. J. (2005). A study of online transaction self-efficacy, consumer trust, and uncertainty reduction in electronic commerce transaction. Proceedings of the 38th Annual Hawaii International Conference on System Sciences, 170c-170c.
Lee, T. (2005). The impact of perceptions of interactivity on customer trust and transaction intentions in mobile commerce. Journal of Electronic Commerce Research, 6(3), 165.
Lestari, N. A., & Iriani, S. S. (2018). Pengaruh kepercayaan dan kemudahan transaksi terhadap keputusan pembelian secara online pada situs mataharimall. com. Jurnal Ilmu Manajemen, 6(1), 1–8.
Pardede, R., & Haryadi, T. Y. (2017). Pengaruh persepsi harga dan kualitas produk terhadap keputusan pembelian konsumen yang dimediasi kepuasan konsumen. Journal of Business & Applied Management, 10(1).
Permatasari, B. (2019). Pengaruh Daya Tarik, Kepercayaan, Dan Keahlian Celebrity Endorser Terhadap Keputusan Pembelian. TECHNOBIZ: International Journal of Business, 2(2), 76–81.
Puanda, F., & Rahmidani, R. (2021). Pengaruh Kepercayaan dan Keamanan terhadap Keputusan Pembelian Online Melalui Aplikasi Shopee. Jurnal Ecogen, 4(3), 367–379.
Riyanto, K., & Suriyanti, S. (2021). Pengaruh Kepercayaan, Desain Website Dan Daya Tarik Iklan Terhadap Keputusan Pembelian Online Pada tiket. com Di Bekasi. JURNAL PELITA ILMU, 15(01), 42–47.
Rumondang, A., Sudirman, A., Effendy, F., Simarmata, J., & Agustin, T. (2019). Fintech: Inovasi Sistem Keuangan di Era Digital. Yayasan Kita Menulis.
Salmiah, S., Fajrillah, F., Sudirman, A., Siregar, M. N. H., Simarmata, J., Suleman, A. R., Saragih, L. M., Hasibuan, A., Sudarso, A., & Hasibuan, A. F. H. (2020). Online Marketing. Yayasan Kita Menulis.
Sandora, M. (2020). Pengaruh Kepercayaan Dan Kemudahan Terhadap Keputusan Pembelian Belanja Secara Online. Eko Dan Bisnis: Riau Economic and Business Review, 11(3), 290–310.
Sawlani, D. K., & SE, M. (2021). Keputusan Pembelian Online: Kualitas Website, Keamanan Dan Kepercayaan. Scopindo Media Pustaka.
Susanto, D., Fadhilah, M., & Udayana, I. B. N. (2021). Pengaruh Persepsi Keamanan, Kualitas Informasi Dan Kepercayaan Terhadap Keputusan Pembelian Online (Study Kasus Pada Konsumen Shopee Di Yogyakarta). Jurnal Ilmu Manajemen, 18(2), 89–97.
Syarif, A., & Wijayanto, H. (2017). Analisis Pengaruh Kemenarikan Desain Website, Kepercayaan Dan Profesionalisme Terhadap Keputusan Pembelian Online Jasa Aqiqah. IKRA-ITH INFORMATIKA: Jurnal Komputer Dan Informatika, 1(2), 94–103.
Tehuayo, E. (2018). Analisis Proses Pengambilan Keputusan Konsumen Pada Perilaku Pembelian Produk Yamaha Mio di Kota Ambon. Soso-Q: Jurnal Manajemen, 6(2).
Turban, E., King, D., Lee, J. K., Liang, T.-P., & Turban, D. C. (2015). Overview of electronic commerce. In Electronic commerce (pp. 3–49). Springer.
Venkatesh, V. (2000). Determinants of perceived ease of use: Integrating control, intrinsic motivation, and emotion into the technology acceptance model. Information Systems Research, 11(4), 342–365.
Yuliawan, E. (2018). Analisis Pengaruh Faktor Kepercayaan, Kemudahan Dan Kualias Layanan Terhadap Keputusan Pembelian. Optimal: Jurnal Ekonomi Dan Kewirausahaan, 12(1), 34–49.
Zhang, C.-B., & Li, Y.-N. (2019). How social media usage influences B2B customer loyalty: roles of trust and purchase risk. Journal of Business & Industrial Marketing.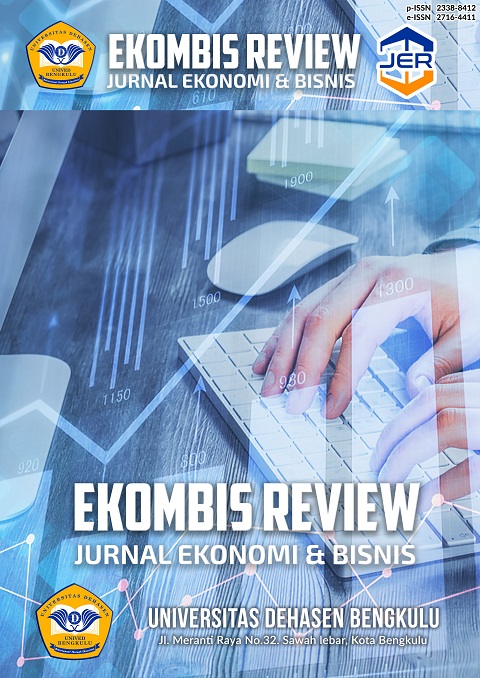 How to Cite
Dirwan, D., & Themba, O. S. (2022). Keputusan Pembelian dari Aspek Desain Website, Kepercayaan, Keamanan dan Kemudahan. EKOMBIS REVIEW: Jurnal Ilmiah Ekonomi Dan Bisnis, 10(2), 1305–1314. https://doi.org/10.37676/ekombis.v10i2.2735
Copyright (c) 2022 Dirwan Dirwan, Orfyanny S. Themba
This work is licensed under a Creative Commons Attribution-ShareAlike 4.0 International License.
An author who publishes in the EKOMBIS REVIEW: Jurnal Ilmiah Ekonomi dan Bisnis agrees to the following terms:
Author retains the copyright and grants the journal the right of first publication of the work simultaneously licensed under the Creative Commons Attribution-ShareAlike 4.0 License that allows others to share the work with an acknowledgement of the work's authorship and initial publication in this journal
Submission of a manuscript implies that the submitted work has not been published before (except as part of a thesis or report, or abstract); that it is not under consideration for publication elsewhere; that its publication has been approved by all co-authors. If and when the manuscript is accepted for publication, the author(s) still hold the copyright and retain publishing rights without restrictions. For the new invention, authors are suggested to manage its patent before published. The license type is CC-BY-SA 4.0.
EKOMBIS REVIEW: Jurnal Ilmiah Ekonomi dan Bisnis is licensed under a Creative Commons Attribution-ShareAlike 4.0 International License.