Struktur Kepemilikan, Kebijakan Deviden, Kebijakan Hutang dan Nilai Perusahaan di Sektor Perbankan
Mellisa Fitri Andriyani Muzakir

Diploma 3, Fakultas Bisnin dan Ekonomika, Universitas Islam Indonesia
Keywords:
Ownership Structure, Dividend Policy, Debt, Firm Value
Abstract
Sebelum meletakan dana pada sebuah surat berharga, penting bagi investor mengetahui kondisi fundamental emiten, salah satu caranya adalah dengan melihat nilai perusahaan (PBV). Nilai perusahaan diharapkan dapat meningkatkan kesejahteraan investor. Penelitian ini bertujuan untuk melihat apakah kepemilikan manajerial, kepemilikan institusional, kebijakan dividend dan kebijakan hutang mempengaruhi nilai perusahaan pada industry perbankan yang terdaftar di Bursa Efek Indonesia dengan menggunakan ukuran perusahaan dan pertumbuhan perusahaan sebagai variable kontrol. Penelitian ini menggunakan metode panel, sample data adalah sector perbankan dengan kriteria tertentu selama periode 2017-2020 dan diperoleh 8 perusahaan yang memenuhi kriteria sample. Dari analisa hipotesa yang dilakukan menghasilkan kesimpulan, pertama, kepemilikan manajerial berpengaruh negative terhadap PBV. Kedua, kepemilikan institusional berpengaruh positif significan terhadap PBV. Ketiga, kebijakan deviden berpengaruh positif signifikan terhadap PBV. Keempat, kebijakan hutang (DER) tidak terbukti berpengaruh signifikan terhadap PBV. Variable control, yaitu ukuran perusahaan berpengaruh signifikasn terhadap PBV, sedangkan partumbuhan tidak berpengaruh siginifikan terhadap PBV
Downloads
Download data is not yet available.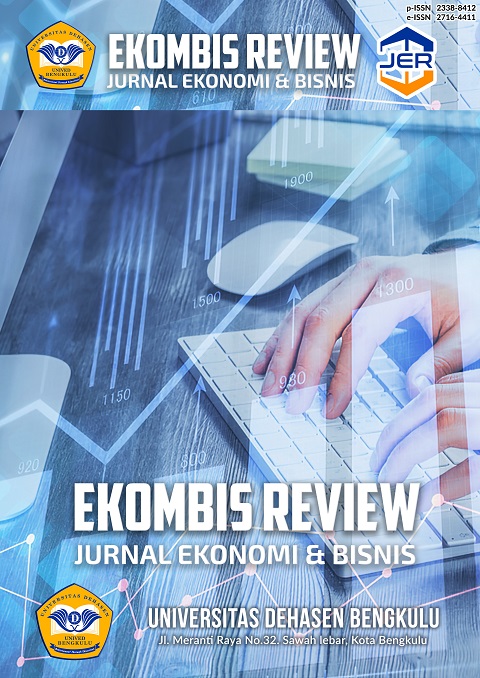 How to Cite
Muzakir, M. (2022). Struktur Kepemilikan, Kebijakan Deviden, Kebijakan Hutang dan Nilai Perusahaan di Sektor Perbankan. EKOMBIS REVIEW: Jurnal Ilmiah Ekonomi Dan Bisnis, 10(1), 13–24. https://doi.org/10.37676/ekombis.v10i1.1687
Copyright (c) 2022 Mellisa Fitri Andriyani Muzakir
This work is licensed under a Creative Commons Attribution-ShareAlike 4.0 International License.
An author who publishes in the EKOMBIS REVIEW: Jurnal Ilmiah Ekonomi dan Bisnis agrees to the following terms:
Author retains the copyright and grants the journal the right of first publication of the work simultaneously licensed under the Creative Commons Attribution-ShareAlike 4.0 License that allows others to share the work with an acknowledgement of the work's authorship and initial publication in this journal
Submission of a manuscript implies that the submitted work has not been published before (except as part of a thesis or report, or abstract); that it is not under consideration for publication elsewhere; that its publication has been approved by all co-authors. If and when the manuscript is accepted for publication, the author(s) still hold the copyright and retain publishing rights without restrictions. For the new invention, authors are suggested to manage its patent before published. The license type is CC-BY-SA 4.0.
EKOMBIS REVIEW: Jurnal Ilmiah Ekonomi dan Bisnis is licensed under a Creative Commons Attribution-ShareAlike 4.0 International License.