Pengaruh Gaya Hidup Terhadap Perilaku Konsumen Pada Generasi Milenial Di Era Pandemi Covid-19 Dengan Pengetahuan Ekonomi Sebagai Variabel Moderasi
Nuri Annisa Fitri

Universitas Tridinanti Palembang

Hisbullah Basri

Universitas Tridinanti Palembang
Keywords:
Gaya Hidup, Perilaku Konsumen, Pengetahuan Ekonomi
Abstract
Tujuan penelitian ini adalah untuk mengetahui pengaruh gaya hidup terhadap perilaku konsumen dengan pengetahuan ekonomi sebagai variabel moderasi. Responden pada penelitian ini adalah para generasi milenial yang ada di Sumatera Selatan. Penelitian ini menggunakan metode unknown populations. Responden berjumlah 100 orang. Hipotesis pertama menunjukkan nilai F Hitung = 23,417 dengan signifikansi 0.000 < 0.05, nilai koefisiennya 0.632. Hal ini menunjukkan terdapat pengaruh positif dan signifikan variabel gaya hidup terhadap perilaku konsumen. Hipotesis kedua menunjukkan nilai R Square pertama 0.193 dan R Square kedua 0.394. Hal ini menunjukkan pengetahuan ekonomi merupakan variabel yang dapat memoderasi pengaruh gaya hidup terhadap perilaku konsumen.
Downloads
Download data is not yet available.
References
Ajzen, I. (1991). The theory of planned behavior. Organizational Behavior and Human Decision Processes, 50(2), 179–211. https://doi.org/10.1016/0749-5978(91)90020-T
Indrianawati, E., & Soesatyo, Y. (2015). Pengaruh Tingkat Pendapatan Dan Pengetahuan Ekonomi Terhadap Tingkat Konsumsi Mahasiswa Program Pascasarjana Universitas Negeri Surabaya. Jurnal Ekonomi Pendidikan Dan Kewirausahaan, 3(1), 214–226.
Kotler, P. (2002). Manajemen Pemasaran (Milllenium). Jakarta: PT. Prehallindo.
Kotler, Philip, Keller, & Lane, K. (2008). Marketing Management (Thirteenth). Jakarta: Erlangga.
Krishnan, J. (2011). Lifestyle - A Tool for Understanding Buyer Behavior. International Journal of Economics and Management, 5(1), 283–298.
Ma, S. H. G., Banda, Y. M., & Parera, H. R. (2019). Gaya Hidup Dan Perilaku Konsumtif Rebonding Mahasiswi Program Studi Pendidikan Ekonomi Universitas Flores. Jurnal Pendidikan Ekonomi, 11(2), 406–414.
Mohiuddin, Z. A. (2018). Effect of Lifestyle on Consumer Decision Making: A Study of Women Consumer of Pakistan. Journal of Accounting, Business and Finance Research, 2(1), 12–15. https://doi.org/10.20448/2002.21.12.15
Nofriansyah, & Marwan. (2019). Effect of Self-Concept, Reference Group, Online Shop Social Media, and Lifestyle on Consumptive Behavior of Students. Advances in Economics, Bussiness and Management, 97(Piceeba), 538–549. https://doi.org/10.2991/piceeba-19.2019.59
Pirlympou, Z. (2017). A Critical Study : How Gender Determines Consumer Preferences. East-West Journal of Economics and Business, XX(2), 29–37.
Rosyidi, S. (2011). Makro Ekonomi Teori pengantar. Jakarta: PT RajaGrafindo Persada.
Setiadi, J. N. (2013). Perilaku Konsumen Perspektif Kontemporer Pada Motif, Tujuan dan Keinginan Konsumen. Jakarta: Kencana Preneda Media Group.
Sheldon, K. (2014). Service Job Lawyers Are Happier Than Money Job Lawyers, Despite Their Lower Income. The Journal of Positive Psychology, 9(3), 219–226. https://doi.org/10.1080/17439760.2014.888583
Sunyoto, D. (2018). Konsep Dasar Riset Pemasaran & Perilaku Konsumen. Yogyakarta: CAPS (Center for Academic Publishing Service).
Sutriati, Kortikowati, S., & Riadi, R. (2018). Pengaruh Pendapatan dan Gaya Hidup terhadap Perilaku Konsumtif pada Mahasiswa Jurusan Pendidikan Ilmu Pengetahuan Sosial FKIP Universitas Riau. Jom Fkip, 5(1), 1–10.
Trisnani, S. A., Adriyai, A. D., Wandansari, R. A., & Isthika, W. (2019). Consumption Behavior and the Lack of Financial Literacy AmongTeens. Journal of Islamic Economics, Management, and Business, 1(1), 191–206. https://doi.org/10.21580/jiemb.2019.1.1.3705
Tufail, H. S., Humayon, A. A., Shahid, J., Murtza, G., Luqman, R., & Riaz, H. (2018). Impact of Life Style and Personality on Online Purchase Intentions of Internal Auditors through Attitude towards Brands. European Online Journal of Natural and Social Sciences 2018, 7(3), 72–83.
Yafiz, M., Harahap, I., & Cahyanti, S. (2020). Consumption Behavior of Bidikmisi Scholarship Students With Religiosity As A Moderating Variable. Jurnal Ekonomi Dan Bisnis Islam (Journal of Islamic Economics and Business), 6(2), 239–259. https://doi.org/10.20473/jebis.v6i2.22122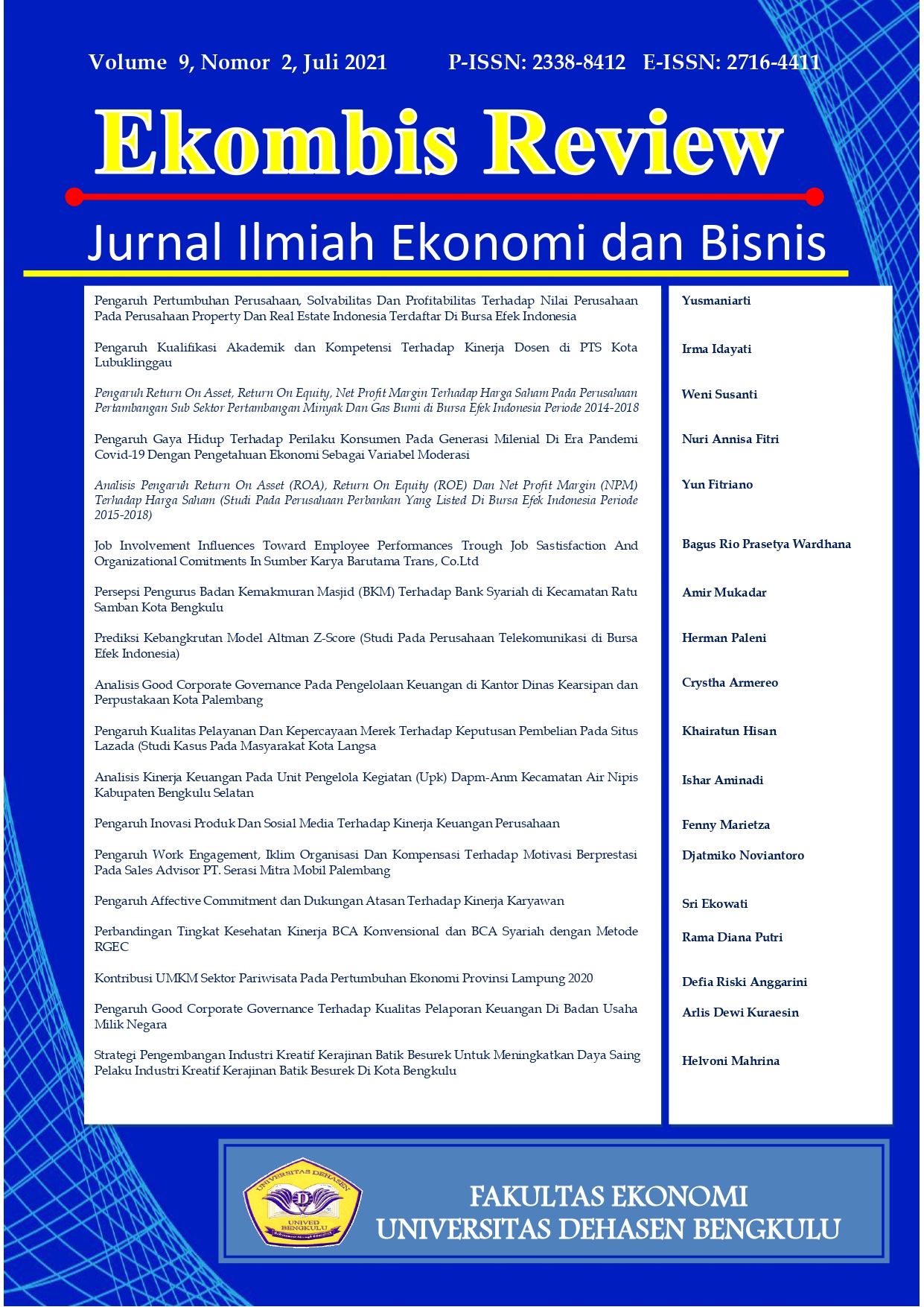 How to Cite
Fitri, N., & Basri, H. (2021). Pengaruh Gaya Hidup Terhadap Perilaku Konsumen Pada Generasi Milenial Di Era Pandemi Covid-19 Dengan Pengetahuan Ekonomi Sebagai Variabel Moderasi. EKOMBIS REVIEW: Jurnal Ilmiah Ekonomi Dan Bisnis, 9(2), 183-192. https://doi.org/10.37676/ekombis.v9i2.1329
Copyright (c) 2021 Nuri Annisa Fitri, Hisbullah Basri
This work is licensed under a Creative Commons Attribution-ShareAlike 4.0 International License.
An author who publishes in the EKOMBIS REVIEW: Jurnal Ilmiah Ekonomi dan Bisnis agrees to the following terms:
Author retains the copyright and grants the journal the right of first publication of the work simultaneously licensed under the Creative Commons Attribution-ShareAlike 4.0 License that allows others to share the work with an acknowledgement of the work's authorship and initial publication in this journal
Submission of a manuscript implies that the submitted work has not been published before (except as part of a thesis or report, or abstract); that it is not under consideration for publication elsewhere; that its publication has been approved by all co-authors. If and when the manuscript is accepted for publication, the author(s) still hold the copyright and retain publishing rights without restrictions. For the new invention, authors are suggested to manage its patent before published. The license type is CC-BY-SA 4.0.
EKOMBIS REVIEW: Jurnal Ilmiah Ekonomi dan Bisnis is licensed under a Creative Commons Attribution-ShareAlike 4.0 International License.