Analisis Perbandingan Uji Kemampuan Bahasa Indonesia Antara Pria dan Wanita
Edi Syahputra

Universitas Islam Negeri Sumatera Utara

Arya Wiranda

Universitas Islam Negeri Sumatera Utara

Syahwan Hamdany

Universitas Islam Negeri Sumatera Utara

Pardamean Pardamean

Universitas Islam Negeri Sumatera Utara
Keywords:
Analysis, Comparison, Ability, Male, Famale
Abstract
Everyone's ability in all fields is certainly different, especially related to Indonesian language skills. This ability is, of course, influenced by several factors. One of them is the issue of gender differences between men and women in terms of mastering the use of Indonesian, both in academic and non-academic learning. Indonesian in this case becomes a comparative analysis of the extent to which an individual's ability to master the Indonesian language is. It should be remembered that the Indonesian language should not be ignored in this modern era of globalization. The role of the Indonesian language is very important in shaping the identity of every city where they come from and the extent of their pride and love for their nation and country. The goal to be achieved by the researchers in this study is to analyze the comparison of Indonesian language skills between men and women through the ability test given to the respondents. This study involved 10 students from UIN North Sumatra, of which 5 were men and 5 were women. The use of the approach in this study is a quantitative approach, namely through the calculation of data from the results of tests conducted by researchers. The data being compared is the result of the Indonesian language proficiency test using 3 aspects of assessment reading, writing, and speaking skills. The results of this study indicate that men's Indonesian language proficiency test is better than women's.
Downloads
Download data is not yet available.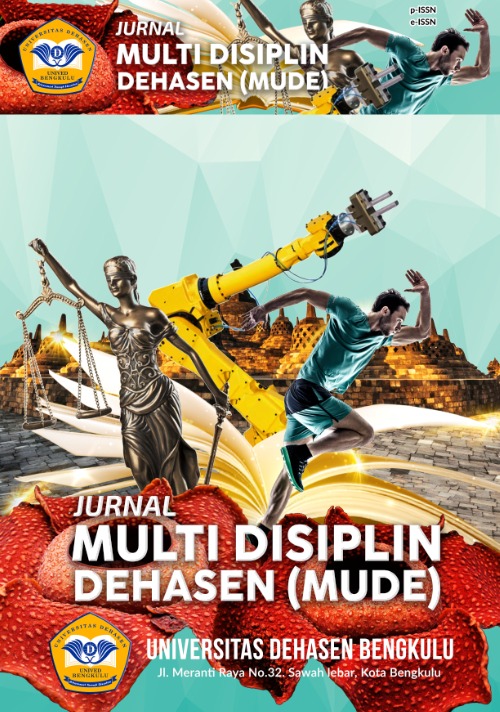 How to Cite
Syahputra, E., Wiranda, A., Hamdany, S., & Pardamean, P. (2022). Analisis Perbandingan Uji Kemampuan Bahasa Indonesia Antara Pria dan Wanita. Jurnal Multidisiplin Dehasen (MUDE), 1(3), 251–258. https://doi.org/10.37676/mude.v1i3.2511
Copyright (c) 2022 Edi Syahputra, Arya Wiranda, Syahwan Hamdany, Pardamean Pardamean
This work is licensed under a Creative Commons Attribution-ShareAlike 4.0 International License.