Penggunaan Bahasa Indonesia Dikalangan Mahasiswa Zaman Modern Melalui Sosial Media
Edi Syahputra

Universitas Islam Negeri Sumatera Utara

Miftahul Jannah

Study Program of English Language Study, North Sumatera State Islamic University

Siti Irna Fadillah

Study Program of English Language Study, North Sumatera State Islamic University

Santi Sari Devi Manurung

Study Program of English Language Study, North Sumatera State Islamic University
Keywords:
Indonesian Language Development, Good Language, Social Media Language
Abstract
Indonesian is Indonesian and has rules that comply with PUEBI. Oral and written communication uses the language skills you already have, although your level and quality varies from person to person. People with optimal language skills can easily achieve their communication goals. In contrast to people with weak language skills, communication does not reach its goal, but misunderstandings often occur between the speaker and the interlocutor. The purpose of this research is to develop a good and correct understanding of the use of Indonesian in the digital era among students and for the target group of positive behavior on social media to form open-minded behavior that will be initiated. by the visible school. This study used descriptive qualitative method. In other words, the researcher analyzes the collected data in the form of words and photos rather than numbers. There was a positive response from Indonesian coaching participants from the results of the coaching conducted through social media Instagram and TikTok. You can get a lot of new insights from the uploads. Uploads via Instagram or TikTok can be the goal of everyone who uses the correct and correct Indonesian language in accordance with the applicable PUEBI.
Downloads
Download data is not yet available.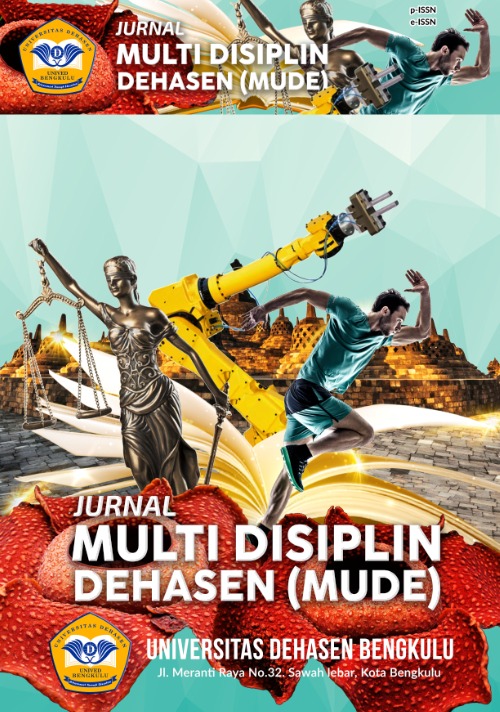 How to Cite
Syahputra, E., Jannah, M., Fadillah, S. I., & Manurung, S. S. D. (2022). Penggunaan Bahasa Indonesia Dikalangan Mahasiswa Zaman Modern Melalui Sosial Media. Jurnal Multidisiplin Dehasen (MUDE), 1(3), 275–278. https://doi.org/10.37676/mude.v1i3.2538
Copyright (c) 2022 Edi Syahputra, Miftahul Jannah, Siti Irna Fadillah, Santi Sari Devi Manurung
This work is licensed under a Creative Commons Attribution-ShareAlike 4.0 International License.