Penerapan Metode Ceramah Dan Metode Drill Dalam Materi Degree Of Comparison Di Smp Swasta Al-Falah
Afrahul Fadhila Daulay

Universitas Islam Negeri Sumatera Utara

Alvindi Alvindi

Universitas Islam Negeri Sumatera Utara

Arya Wiranda

Universitas Islam Negeri Sumatera Utara

Pardamean Pardamean

Universitas Islam Negeri Sumatera Utara

Rahma Yani

Universitas Islam Negeri Sumatera Utara
Keywords:
Method, Lecture, Drill, Degree Of Comparison
Abstract
In essence, education cannot be separated from the so-called learning process (teaching and learning). In this learning process, the need for a strategy or the right way so that later the goals of education can be implemented. The method or strategy is called a method. A good educator is always careful and thorough in choosing the right method to convey material to students. For this reason, this study aims to determine how effective the application of the lecture method and the drill method is in Degree of Comparison's material. The sample of this research was 20 students of grade 8 SMP Al Falah. Researchers conducted a written test in data collection. The results of data analysis indicate that the lecture method and drill method have not been effective and maximal in the learning process. This can be seen from the average score of students in answering questions.
Downloads
Download data is not yet available.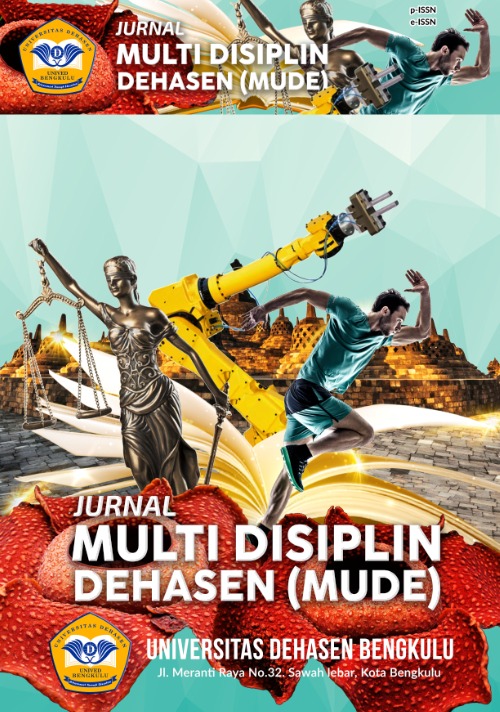 How to Cite
Daulay, A. F., Alvindi, A., Wiranda, A., Pardamean, P., & Yani, R. (2022). Penerapan Metode Ceramah Dan Metode Drill Dalam Materi Degree Of Comparison Di Smp Swasta Al-Falah. Jurnal Multidisiplin Dehasen (MUDE), 1(3), 399–404. https://doi.org/10.37676/mude.v1i3.2660
Copyright (c) 2022 Afrahul Fadhila Daulay, Alvindi Alvindi, Arya Wiranda, Pardamean Pardamean, Rahma Yani
This work is licensed under a Creative Commons Attribution-ShareAlike 4.0 International License.