Penggunaan Bahasa Indonesia di Kalangan Mahasiswa (Studi Kasus Mahasiswa Universitas Islam Negeri Sumatera Utara)
Edi Syahputra

Universitas Islam Negeri Sumatera Utara

Sabila Kamalia

Jurusan Tadris Bahasa Inggris, Fakultas Tarbiyah dan Keguruan, Universitas Islam Negeri Sumatera Utara

Balqis Qonita Harahap

Jurusan Tadris Bahasa Inggris, Fakultas Tarbiyah dan Keguruan, Universitas Islam Negeri Sumatera Utara

Novi Yanti

Jurusan Tadris Bahasa Inggris, Fakultas Tarbiyah dan Keguruan, Universitas Islam Negeri Sumatera Utara

Fadlah Putri Sabila

Jurusan Tadris Bahasa Inggris, Fakultas Tarbiyah dan Keguruan, Universitas Islam Negeri Sumatera Utara
Keywords:
Usage, Indonesian
Abstract
In simple terms, language can be interpreted as a tool to communicate something. It came to my mind. In addition, language is also a tool or tool for interacting. Communicating in the sense of a tool for conveying thoughts, ideas, concepts, etc. In sociolinguistics, language is defined as a system of symbols, In sound form, it is arbitrary, productive, dynamic, diverse and human. Understanding language in the large Indonesian dictionary, understanding language in general can be interpreted as a symbol, the meaning of language after the term is a communication tool in the form of a symbol system produced by human speech. Language is also a part of culture, language that developed. Culture as we know it today. Language also acts as a tool of social integration and social adaptation which is considered Indonesian There are many languages.
Downloads
Download data is not yet available.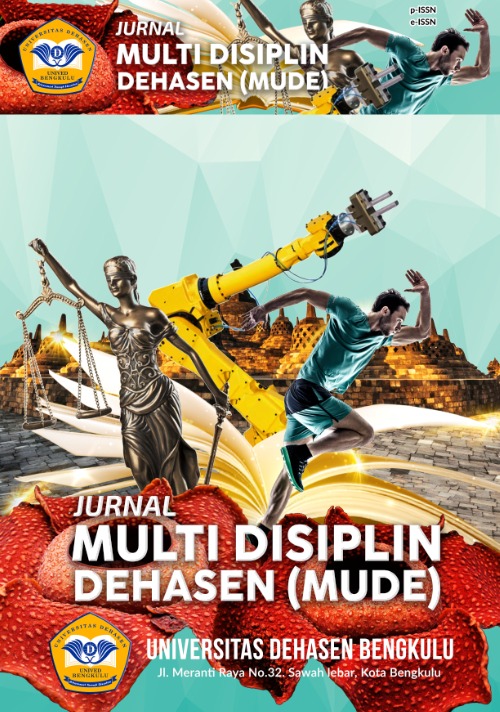 How to Cite
Syahputra, E., Kamalia, S., Harahap, B. Q., Yanti, N., & Sabila, F. P. (2022). Penggunaan Bahasa Indonesia di Kalangan Mahasiswa (Studi Kasus Mahasiswa Universitas Islam Negeri Sumatera Utara). Jurnal Multidisiplin Dehasen (MUDE), 1(3), 321-. https://doi.org/10.37676/mude.v1i3.2595
Copyright (c) 2022 Edi Syahputra, Sabila Kamalia, Balqis Qonita Harahap, Novi Yanti, Fadlah Putri Sabila
This work is licensed under a Creative Commons Attribution-ShareAlike 4.0 International License.