Analisis Kesalahan Penggunaan Bahasa Indonesia dalam Penjualan Produk Iklan di Indonesia
Edi Syahputra

Universitas Islam Negeri Sumatera Utara

Nisa Febriyanti Tanjung

Study Program of English Language Study, North Sumatera State Islamic University

Dwi Fatimah

Study Program of English Language Study, North Sumatera State Islamic University

Asmaul Husna

Study Program of English Language Study, North Sumatera State Islamic University

Winda Aulia

Study Program of English Language Study, North Sumatera State Islamic University
Keywords:
Language Error, Discourse, Advertisement
Abstract
The purpose of this study is to explain Indonesian errors in the field of discourse in Indonesian product advertisements. The ads analyzed are advertisements for food, beverages, cosmetic soaps, etc. This study uses a descriptive approach through two stages, namely data acquisition and data analysis. Indonesian product advertisements using written language were chosen for research. The aim is to analyze Indonesian errors in the field of discourse. The results obtained from this study are one data on the use of reference errors, two data on the use of substitution errors, one data on the invalidity of discourse due to omissions, merge errors, and consistency. data errors that deviate from the Indonesian language rules, and two data ambiguities.
Downloads
Download data is not yet available.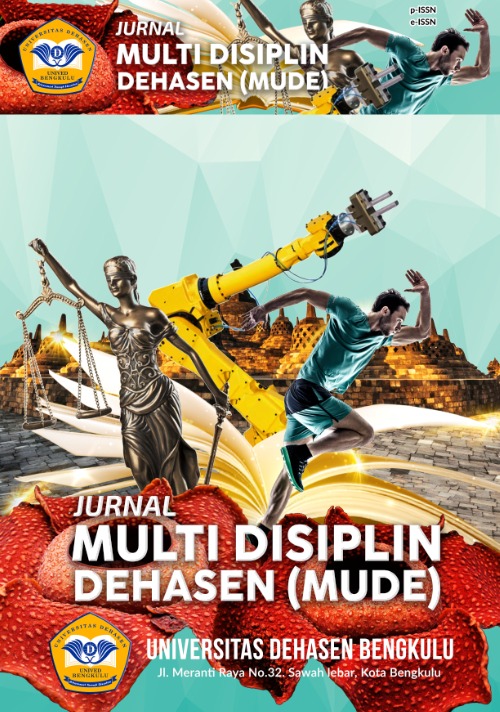 How to Cite
Syahputra, E., Tanjung, N. F., Fatimah, D., Husna, A., & Aulia, W. (2022). Analisis Kesalahan Penggunaan Bahasa Indonesia dalam Penjualan Produk Iklan di Indonesia. Jurnal Multidisiplin Dehasen (MUDE), 1(3), 285–288. https://doi.org/10.37676/mude.v1i3.2539
Copyright (c) 2022 Edi Syahputra, Nisa Febriyanti Tanjung, Dwi Fatimah, Asmaul Husna, Winda Aulia
This work is licensed under a Creative Commons Attribution-ShareAlike 4.0 International License.