Economical Pizza sebagai Produk Unggulan Berbasis Jamur Kelapa Sawit di Desa Lubuk Lagan Kabupaten Seluma Provinsi Bengkulu
Hesti Nur'aini

Universitas Dehasen Bengkulu

Evi Andriani

Hilda Meisya Arif

Novi Sari Ningsih

Riki Meinaki
Keywords:
pizza, palm mushroom, women's groups, Lubuk Lagan Village
Abstract
Lubuk Lagan Village, Seluma Regency, Bengkulu Province has great potential in the production of palm mushrooms, so that it can be developed into processed food products of high economic value. Community service activities have been carried out with the aim of increasing the knowledge and skills of women's groups in Lubuk Lagan Village, Seluma Regency, in terms of processing technology, packaging and marketing of Economical Pizza with palm mushroom topping. The activity was carried out in three stages, namely socializing the potential and nutritional value of oil palm mushrooms, processing and packaging technology for economical pizza as well as profit analysis and price estimation of Economical Pizza products. The results of the activity showed that the enthusiasm of the women's group in Lubuk Lagan Village was very high, which was shown by their response and interest during the activity. With this activity, the knowledge and skills of the women's group in Lubuk Lagan Village regarding the potential of oil palm mushrooms as raw material for economical pizzas has increased for the better. The results of the profit analysis an economical pizza business, the production cost for one dough is Rp. 20.000,- for 16 slices of pizza. If sold at a price of Rp. 3,000, - per piece, it will get a profit of Rp. 16.000,- or 80%.
Downloads
Download data is not yet available.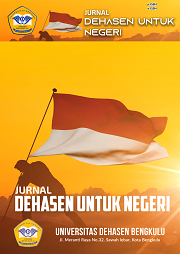 How to Cite
Nur'aini, H., Andriani, E., Arif, H., Ningsih, N., & Meinaki, R. (2022). Economical Pizza sebagai Produk Unggulan Berbasis Jamur Kelapa Sawit di Desa Lubuk Lagan Kabupaten Seluma Provinsi Bengkulu. Jurnal Dehasen Untuk Negeri, 1(2), 46–54. https://doi.org/10.37676/jdun.v1i2.2209
Copyright (c) 2022 Hesti Nur'aini, Evi Andriani, Hilda Meisya Arif, Novi Sari Ningsih, Riki Meinaki
This work is licensed under a Creative Commons Attribution-ShareAlike 4.0 International License.