ANALISIS KEAMANAN PANGAN DAN DETEKSI BAHAN PENGAWET PADA JAJANAN SISWA DI SMKN 4 KOTA BENGKULU
Hesti Nur'aini

Universitas Dehasen Bengkulu

Yossie Yumiati

Since Sovia Elita

Thomas Horizon

Kikin Hajia Putra
Keywords:
Gizi, Bahan Pengawet, Boraks, Formalin
Abstract
School-age children are future assets that require full attention from parents and the government, especially in fulfilling their nutritional intake. They need a balanced nutritional intake to get the needs of their physical and biological development. As one of the schools located in the middle of the city, students at SMKN 4 Bengkulu City have very high potential in consuming snacks that are circulated both in the school environment and outside the school. This community service activity is carried out with the aim of providing education to students of SMKN 4 Bengkulu City, about choosing food products or snacks that are safe for consumption, and how to detect preservatives contained in food in a simple way. The activity begins with socialization and counseling on the importance of healthy food consumption for adolescents, followed by the practice of analyzing the detection of preservatives in food products. The results of the activity showed that socializing the importance of consuming healthy and nutritious food products could increase the knowledge, concern and understanding of students at SMKN 4 Bengkulu City, so that they could be more selective in choosing the snacks they consumed. Furthermore, the students of SMKN 4 Bengkulu City were able to analyze the detection of preservatives with a simple method, so as to avoid the consumption of harmful foods, with the result that no samples of snack products containing borax or formalin were found.
Downloads
Download data is not yet available.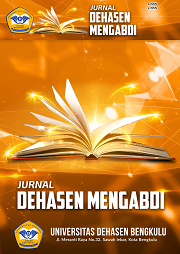 How to Cite
Nur'aini, H., Yumiati, Y., Elita, S., Horizon, T., & Putra, K. (2022). ANALISIS KEAMANAN PANGAN DAN DETEKSI BAHAN PENGAWET PADA JAJANAN SISWA DI SMKN 4 KOTA BENGKULU. Jurnal Dehasen Mengabdi, 1(1), 17 - 22. Retrieved from https://jurnal.unived.ac.id/index.php/jdm/article/view/2067
Copyright (c) 2022 Hesti Nur'aini, Yossie Yumiati, Since Sovia Elita, Thomas Horizon, Kikin Hajia Putra
This work is licensed under a Creative Commons Attribution-ShareAlike 4.0 International License.