ANALISIS PROFITABILITAS USAHA TANI BAWANG MERAH PADA UNIT TRANSMIGRASI (TRANS KOLI)
PROFITABILITY ANALYSIS OF ONION FARMERS IN THE TRANSMIGRATION UNIT (TRANS KOLI)
Hasrul A. Marsaoly

Universitas Muhammadiyah Maluku Utara

Suwandi S. Sangadji

Universitas Nuku

https://orcid.org/0000-0001-9272-5401

Eko Sumartono

Departement Agribussines, Universitas Dehasen Bengkulu
Keywords:
Biaya Produksi, Pendapatan, Usahatani Bawang Merah
Abstract
Pendapatan merupakan suatu hal yang sangat penting dalam menentukan laba atau rugi dari suatu usaha, laba atau rugi tersebut diperoleh dengan melakukan perbandingan antara pendapatan dengan beban atau biaya yang dikeluarkan atas pendapatan tersebut. Penelitian ini bertujuan untuk menganalisis biaya, perimaan dan penadapan serta R/C Ratio petani bawang merah. Penelitian ini dilakukan pada bulan Desember 2019 sampai Januari 2020 di Trans Koli Kecematan Oba Kota Tidore Kepulauan. Penelitian ini menggunakan metode analisis kuantitatif deskriptif. Hasil penelitian ini menjelaskan bahwa Komoditas bawang merah yang diproduksi oleh petani di Trans Koli Kecamatan Oba Kota Tidore Kepulauan dengan jumlah total biaya produksi sebesar Rp 2.064.779 per satu kali musim tanam dan jumlah penerimaan dalam satu kali musim tanam. sebesar Rp 32.857.142 Selanjutnya, pendapatan yang diperoleh selama satu kali musim tanam oleh petani di Trans Koli Kecamatan Oba Kota Tidore tersebut sebesar Rp 30.792.363. Usahatani komoditas bawang merah layak untuk dikembangkan karena nilai R/C Ratio yaitu 15,91. Maka dari hasil penelitian yang diperoleh, nilai R/C Ratio >1 atau penerimaan lebih besar dari biaya sehingga usaha yang diproduksi selama satu kali musim tanam oleh petani di Trans Koli Kecamatan Oba Kota Tidore Kepulauan menguntungkan.
Downloads
Download data is not yet available.
References
Arikunto. 2006. Prosedur Penelitian Suatu Pendekatan Praktik Edisis Revisi 4. Rineka Cipta. Jakarta.
BPS. 2018. Tidore Dalam Angka. Kota Tidore Kepulauan.
Gopalakrishnan, T R. 2007. Vegetables Crops. New India Publishing, India
Hoetden, L dkk. 2012. Pengembangan Sistem Agribisnis dalam Rangka Pembanguna Pertanian perkelanjutan. Univertsitas HKBP Nommensen. Medan.
Joerson, T Suhartati dan Fathorozi. 2003. Teori Ekonomi Mikro Dilengkapi Beberapa Bentuk Fungsi Produksi. Jakarta. Salemba 4.
Muhammad Idrus. 2013. Analisis Pendapatan Usahatani Bawang Merah di Melurahan Mataram Kecamatan Anggeraja Kabupaten Enrekang. STIEM Bongaya. Makasar. Jurnal Ekonomix VOL. I.
Rahim dan Hastuti. 2007. Pengantar Teori dan Kasus Ekonomi Pertanian. Penerbar Swadaya. Jakarta.
Sangadji, S. S. (2018). Profitability Analysis of Terubuk Farming (Saccharum Edule Hasskarl) In Subdistrict Tosa District of East Tidore of Tidore Island (No. f6j57). Center for Open Science.
Sangadji, S., Suhardi, S., & Ali, C. P. M. (2019). Pengaruh Bauran Pemasaran terhadap Keputusan Pembelian Sagu Rasa pada Gabungan Kelompok Tani Tagafura di Kelurahan Jaya Kota Tidore Kepulauan. Optimal: Jurnal Ekonomi dan Kewirausahaan, 13(2), 142-157.
Soekartawi, 2002. Prinsip Dasar Ekonomi Pertanian: Teori dan Aplikasi. Cet Ke 4. PT. Raja Grafindo Persada. Jakarta.
Soekartawi, 2006. Analisis Usahatani.UI Pres. Jakarta.
Sunarjono., H.H. 2004. Bertanam 30 Jenis Sayuran. Penebar Swadaya. Jakarta.
Suratiyah. 2015. Ilmu Usahatani. Penebar Swadaya. Jakarta
Suriani, N. 2011. Bawang Bawa Untung Budidaya Bawang Merah dan Bawang Putih. Cahaya Atma Pustaka. Yogyakarta.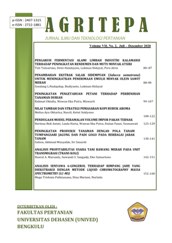 How to Cite
Marsaoly, H., Sangadji, S., & Sumartono, E. (2020). ANALISIS PROFITABILITAS USAHA TANI BAWANG MERAH PADA UNIT TRANSMIGRASI (TRANS KOLI). AGRITEPA: Jurnal Ilmu Dan Teknologi Pertanian, 7(2), 142-151. https://doi.org/10.37676/agritepa.v7i2.1168
Copyright (c) 2020 Hasrul A. Marsaoly, Suwandi S. Sangadji, Eko Sumartono
This work is licensed under a Creative Commons Attribution-ShareAlike 4.0 International License.
An author who publishes in the Jurnal AGRITEPA agrees to the following terms:
Author retains the copyright and grants the journal the right of first publication of the work simultaneously licensed under the Creative Commons Attribution-ShareAlike 4.0 License that allows others to share the work with an acknowledgement of the work's authorship and initial publication in this journal
Submission of a manuscript implies that the submitted work has not been published before (except as part of a thesis or report, or abstract); that it is not under consideration for publication elsewhere; that its publication has been approved by all co-authors. If and when the manuscript is accepted for publication, the author(s) still hold the copyright and retain publishing rights without restrictions. For the new invention, authors are suggested to manage its patent before published. The license type is CC-BY-SA 4.0.
Jurnal AGRITEPA is licensed under a Creative Commons Attribution-ShareAlike 4.0 International License.