Jurnal AGRITEPA is a scientific communication media which is issued by Agribusiness Study Program and Agricultural Food Technology Study Program, Faculty of Agriculture, Universitas Dehasen in collaborations with Asosiasi Jurnal Pertanian Indonesia (AJPI). It's the contribution to the development of social science and Agricultural Economy in Agribusiness, Agricultural Food Technology field which is divided into the English Language which contains research results, literature review, field cases or concepts in the socio-economic field of agriculture and Agricultural Food Technology. Jurnal AGRITEPA , p-ISSN 2407-1315 and e-ISSN 2722-1881 in a year published twice year. Special editions in English can be issued required. The Jurnal AGRITEPA fits well for researchers and academics who are inheriting the results of research, scientific thought, and other original scientific ideas. Jurnal AGRITEPA publishes research papers, technical papers, conceptual papers, and case study reports. Jurnal AGRITEPA is dedicated to researchers and academics intent on publishing research, scientific thinking, and other original scientific ideas. The article published in the Jurnal AGRITEPA is the author's original work with a broad spectrum of topics covering Agricultural Food Technology, Agricultural and Resources Economics, Agribusiness Management, Rural Sociology, Agrarian Studies, Agribusiness Development, Agricultural Politics and Policies, Natural Resource and Environmental Technology and Management, as well as Agricultural and Rural Extension.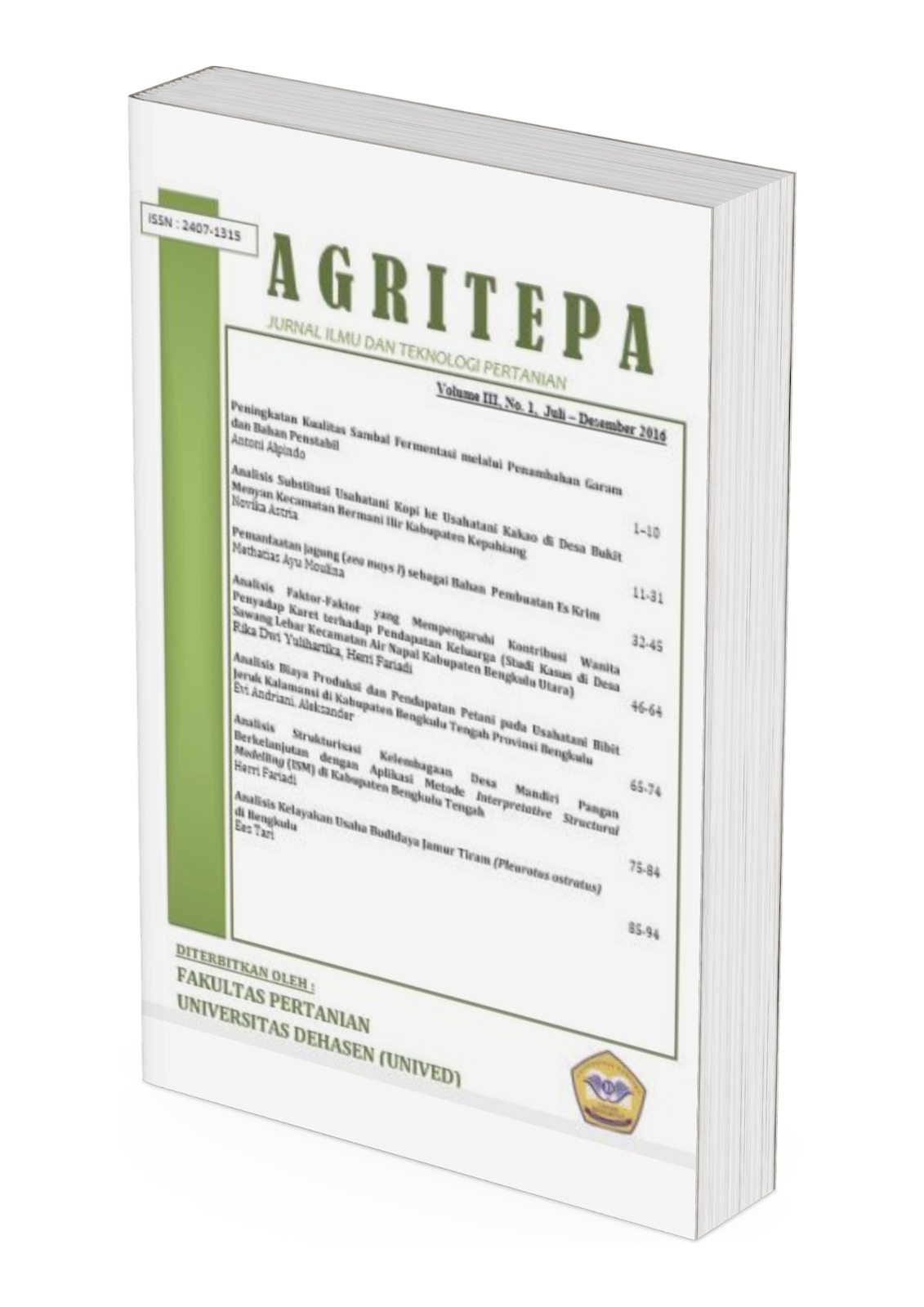 Jurnal AGRITEPA, the authors are required to register in advance and upload the manuscript online. The process of the manuscript could be monitored through OJS. Authors, readers, editorial board, editors, and peer review could obtain the real-time status of the manuscript. A hard copy of the journal could be purchased by the system. Several other changes are informed in Journal History.
This journal provides immediate
to its content on the principle that making research freely available to the public supports a greater global exchange of knowledge. Benefits of open access for the author, include:
Free access for all users worldwide
Authors retain copyright to their work
Increased visibility and readership
Rapid publication
No spatial constraints
However, works/articles in this journal as are bound to Creative Commons Attribution-ShareAlike 4.0 International License.
Jurnal AGRITEPA (ISSN 2407-1315 E-ISSN .......) is a peer-reviewed journal published Unived Press, Universitas Dehasen Bengkulu. This statement clarifies the ethical behaviour of all parties involved in the act of posting an article in this journal, including the author, the chief editor, the Editorial Board, the peer-reviewed and the publisher. This statement based on COPE's Best Practice Guidelines for Journal Editors.
Ethical Guideline for Journal Publication
The publication of an article in a peer-reviewed Jurnal AGRITEPA is an essential building block in the development of a coherent and respected network of knowledge. It is a direct reflection of the quality of the work of the authors and the institutions that support them. Peer-reviewed articles support and embody the scientific method. It is therefore essential to agree upon standards of expected ethical behaviour for all parties involved in the act of publishing: the author, the journal editor, the peer reviewer, the publisher and the society.
Unived Press, Universitas Dehasen Bengkulu as publisher of Jurnal AGRITEPA takes its duties of guardianship over all stages of publishing exceptionally seriously, and we recognize our ethical and other responsibilities. We are committed to ensuring that advertising, reprint or additional commercial revenue has no impact or influence on editorial decisions. Besides, the Faculty of Agriculture, Universitas Dehasen Bengkulu, and the Editorial Board will assist in communications with other journals and publishers where this is useful and necessary.