PENDUGAAN MODEL PERAMALAN HARGA EKSPOR KOPI INDONESIA
FAUZI EMLAN

Wawan Eka Putra

Balai Pengkajian Teknologi Pertanian Bengkulu

Andi Ishak

Balai Pengkajian Teknologi Pertanian Bengkulu

Herlena Bidi Astuti
Keywords:
Price, Coffee, Forecasting, Export
Abstract
ABSTRACT
This study aims to examine the best forecasting model for the export price of Indonesian coffee. The data used in this study are monthly data on coffee prices from January 2012 to September 2019. Three price forecasting models used are moving average, single exponential smoothing and trend analysis are applied to determine the best model based on the lowest MAPE, MAD, and MSE values. The results showed the best model for forecasting the export price of coffee is the moving average (MA1) model because it has the smallest MAPE, MAD and MSE values ​​compared to other models.
Keywords: Price, Coffee, Forecasting, Export
Downloads
Download data is not yet available.
References
AEKI. (2012). Areal dan Produksi.AEKI.
Alexander, Ivan dan Nadapdap, Hendrik Johannes. 2019. Analisis Daya Saing Ekspor Biji Kopi Indonesia di Pasar Global Tahun 2002-2017. JSEP 12(2):1-16
Chandra, Devi, R. Hanung Ismono, Eka Kasymir. 2013. Prospek Perdagangan Kopi Robusta Indonesia di Pasar Internasional. JIIA, 1(1): 10-15.
Gaspersz, V. 2008. Production Planning & Inventory Control, Jakarta, Gramedia.
Hanke, John E & Wichern, Dean W. (2005). Busines Forecasting. New Jersey: Pearson Education.
Heizer Jay, Render Barry. 2005. Operations Management. Jakarta: Salemba. Empat.
Indayani, E. , F. 2009. Peramalan JumlahPenumpang Kereta Api Dengan Menggunakan Metode Box-Jenkins (Studi Kasus di PT. Kereta Api (Persero) DAOP VI Yogyakarta).E-journal. UIN Sunan Kalijaga Yogyakarta.
Kementan. 2018. Potensi Ekspor Komoditas Pertanian Indonesia. Jakarta.
Khair, Aulia. 2011. Peramalan Beban Listrik Jangka Pendek Menggunakan Kombinasi Dengan Autoregresive Integreted Moving Average (ARIMA) dengan Regresi Linier Antara Suhu dan Daya Listr ik. E-jurnal . Universitas Indonesia.
Krajewski, Lee J., and Larry P. Ritzman. 1993. Operations Management: Strategyand Analysis, 5th Edition. Pearson
Maryadi, Atang Sutandi, Ivanovich Agusta. 2016. Analisis Usaha Tani Lada dan Arahan Pengembangannya di Kabupaten Bangka Tengah. JSEP 9 (2).23-29.
Nasution, A. H., dan Prasetyawan. 2008. Perencanaan dan PengendalianProduksi. Yogyakarta : Graha Ilmu.
Novanda, Rizky et al. 2018. A comparisonof Various Forecasting Techniquesfor Coffee Price. IOP Publishing.Diakses dari:
https://www.researchgate.net/publication/329490410_A_Comparison_of_Various_Forecasting_Techniques_for_Coffee_Prices.
Putri, Rimadhita Tiara et al. 2019. Estimation of Indonesian Beef Price Forecasting Model. Jurnal AGRIYTOPICA.diakses dari :
https://ejournal.unib.ac.id/index.php/jagritropica/index
Pardamean, M.,T,. 2010. Analisa Box Jenkins Pada Pembentukan Model Produksi Premi Asuransi Kendaraan Bermotor Roda Empat. Jakarta: Ejournal.Universitas Guna Dharma.
Sukiyono Ketut et al. 2018. Selecting anAccurate Cacao Price Forecasting Model. IOP Publishing.Diakses dari:
ttps://www.researchgate.net/publication/329490444_Selecting_an_Accurate_Cacao_Price_Forecasting_Model/download.
Sukiyono Ketut., dan Rosdiana. 2018. Pendugaan Model Peramalan Harga Beras Pada Tingkat Grosir. Jurnal AGRISEP 17 (1). 23 – 30.
Yahmadi, M. 2005. Pemasaran Kopi Indonesia di Pasaran Global. Buletin No. 6. AEKI JawaTimur.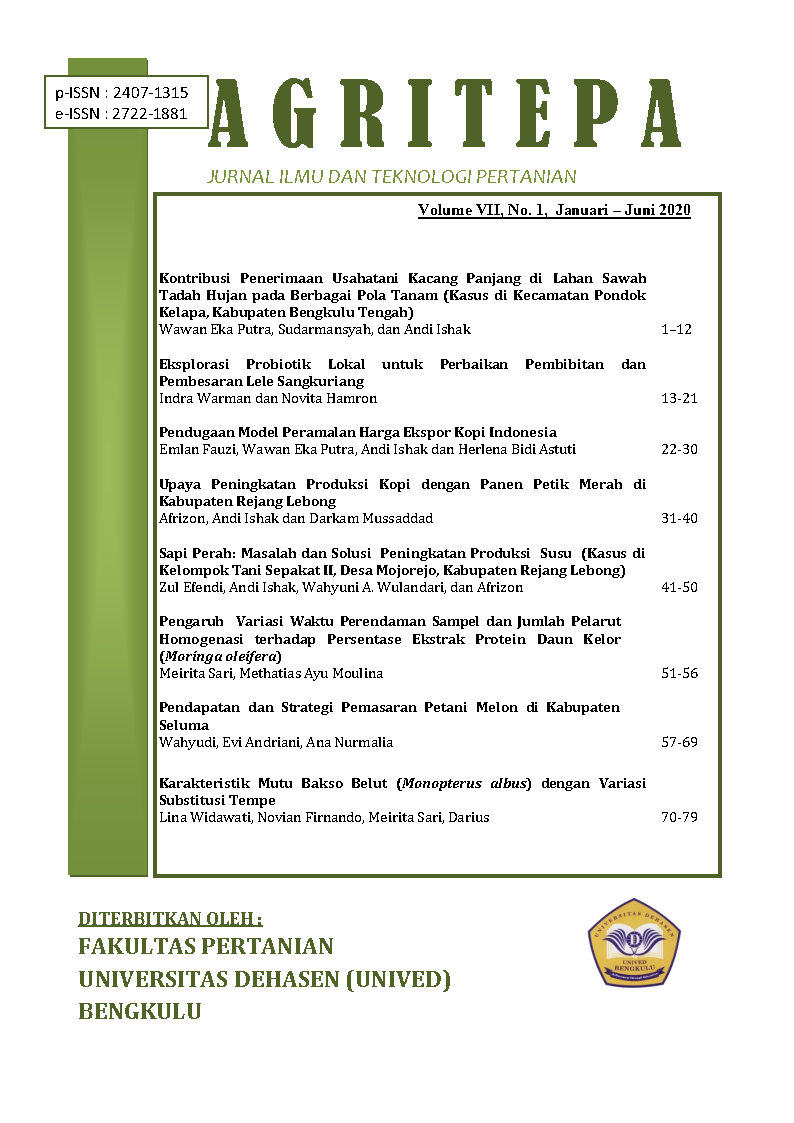 How to Cite
EMLAN, F., Putra, W., Ishak, A., & Astuti, H. (2020). PENDUGAAN MODEL PERAMALAN HARGA EKSPOR KOPI INDONESIA. AGRITEPA: Jurnal Ilmu Dan Teknologi Pertanian, 7(1), 22-30. https://doi.org/10.37676/agritepa.v7i1.1002
Section
Article Reasearch
An author who publishes in the AGRITEPA: Jurnal Ilmu dan Teknologi Pertanian agrees to the following terms:
Author retains the copyright and grants the journal the right of first publication of the work simultaneously licensed under the Creative Commons Attribution-ShareAlike 4.0 License that allows others to share the work with an acknowledgement of the work's authorship and initial publication in this journal
Submission of a manuscript implies that the submitted work has not been published before (except as part of a thesis or report, or abstract); that it is not under consideration for publication elsewhere; that its publication has been approved by all co-authors. If and when the manuscript is accepted for publication, the author(s) still hold the copyright and retain publishing rights without restrictions. For the new invention, authors are suggested to manage its patent before published. The license type is CC-BY-SA 4.0.
AGRITEPA: Jurnal Ilmu dan Teknologi Pertanian is licensed under a Creative Commons Attribution-ShareAlike 4.0 International License.