KONTRIBUSI PENERIMAAN USAHATANI KACANG PANJANG DI LAHAN SAWAH TADAH HUJAN PADA BERBAGAI POLA TANAM (Kasus di Kecamatan Pondok Kelapa, Kabupaten Bengkulu Tengah)
CONTRIBUTION OF LONG BEAN FARMING REVENUE ON RAINFED RICEFIELD IN VARIOUS PLANTING PATTERNS (Case in Pondok Kelapa District, Bengkulu Tengah Regency)
Wawan Eka Putra

Balai Pengkajian Teknologi Pertanian Bengkulu

Sudarmansyah Sudarmansyah

Balai Pengkajian Teknologi Pertanian Bengkulu

Andi Ishak
Keywords:
long bean, revenue, contribution, planting pattern
Abstract
Long bean is an important crop for vegetable farmers on rainfed ricefield in Pondok Kelapa District, Bengkulu Tengah Regency because its cultivated in various cropping patterns. This study aims to analyze the contribution of long bean farming revenue in various vegetable cropping patterns. The study was conducted from May to August 2019 through a census of 50 vegetable farmers in the villages of Srikuncoro and Pekik Nyaring, Pondok Kelapa District. Data collected in the form of production costs and sale of the yields. The contribution of long bean farming is analyzed descriptively by calculating the revenue percentage in each cropping pattern. The results showed that there were six vegetable planting patterns practiced by farmers in Pondok Kelapa District, namely: (1) cucumber - pariah - long bean, (2) cucumber - gambas - long bean, (3) cucumber - long bean - long bean, (4) long bean - pariah - long bean, (5) long bean - gambas - long bean, and (6) long bean - long bean – pulled kale – pulled kale. Farmers always plant long bean in all of the cropping patterns. The biggest farming benefit is obtained from cropping pattern 1 which is Rp. 120,244,000/hectare with an R/C ratio of 1.95, while the smallest profit on a cropping pattern of 6 with an R/C ratio of 1.55. The planting pattern of cucumbers - long beans - long beans nominally gives the largest farm receipts from all cropping patterns namely Rp. 120,000,000/hectare, meanwhile, the long-bean-long-bean-spinach-pull-out cropping pattern is a cropping pattern which contributes the largest revenue from long-bean farming to 64.00%.
Keywords : long bean, planting pattern, contribution, revenue.
Downloads
Download data is not yet available.
References
Adiyoga, W., M. Ameriana, dan T.A. Soetiarso. 2008. Segmentasi Pasar dan Pemetaan Persepsi Atribut Produk beberapa Jenis Sayuran Minor (Under-utilized). J. Hort. 18(4):466-476.
Anwar, C. 2013. Analisis Ekonomi Komoditi Kacang Panjang di Kabupaten Banyuasin Sumatera Selatan. Jurnal Ilmiah Agriba 2:198-204.
Arinanti, M. 2018. Potensi Senyawa Antioksidan Alami pada Berbagai Jenis Kacang. Ilmu Gizi Indonesia1(2):134-143.
BPS Kabupaten Bengkulu Tengah. 2019. Bengkulu Tengah Dalam Angka 2019. Badan Pusat Statistik Kabupaten Bengkulu Tengah.
Djama, N.T. 2018. Pengaruh Konsumsi Daun Kacang Panjang terhadap Peningkatan Produksi ASI pada Ibu Menyusui. Jurnal Riset Kesehatan 14(1):5-10.
Gustanti, Y., Chairul, dan Z. Syam. 2014. Pemberian Mulsa Jerami Padi (Oryza sativa) terhadap Gulma dan Produksi Tanaman Kacang Kedelai (Glycine max (L.) Merr). Jurnal Bioologi Universitas Andalas 3(1):73-79.
Hamidah, E. 2014. Analisis Kelayakan dan Sensitivitas Usahatani Kacang Panjang Varietas Zebra (Vigna sinensis L.) (Studi Kasus di Desa Pilanggot Kecamatan Tikung Kabupaten Lamongan). Saintis 6(1):57-72.
Harmayetty, I. Krisnana, dan F. Anisa. 2015. Jus Kacang Panjang (Vigna sinensis L.) menurunkan Kadar Glukosa Darah Pasien Diabetes Mellitus. Jurnal Ners 4(2):116-121.
Haryani, S., K. Shobri, R. Abubakar. 2018. Profil Suroso dalam Pengembangan Tanaman Sayuran di Kelurahan Talang Jambe Kecamatan Sukarami Kota Palembang. Societa, 6(2):138-148.
Hermawan, A., D. Rochdiani, dan T. Hardiyanto. 2015. Analisis Usahatani Kacang Panjang (Vigna sinensis L.) Varietas Parade. Agroinfo Galuh 1(2):77-82.
Khairil, M., Marlina, dan Mariana. Aplikasi Ekstrak Daun Sirsak terhadap Serangan Hama Ulat dan Belalang pada Tanaman Kacang Panjang (Vigna sinensis L.). Agrotropika Hayati 4(3):165-177.
Paulus, A.L., W.M. Wangke, dan V.R.B. Moniaga. 2015. Kontribusi Usahatani Kacang Panjang terhadap Pendapatan Rumah Tangga Petani di Desa Warembungan Kecamatan Pineleng. ASE 11(3):53-62.
Putra, W.E., A. Ishak, dan Rokhani. 2018. Analisis Usahatani Pola Tanam Sayuran pada Lahan Gambut (Kasus di Desa Panca Mukti, Kecamatan Pondok Kelapa, Kabupaten Bengkulu Tengah). Prosiding Seminar Nasional Pembangunan Pertanian dan Peran Pendidikan Tinggi Agribisnis. Editor: Ahmad Zainuddin et al. UPT Percetakan & Penerbitan Universitas Jember. Jember. Hlm. 243-255.
Saninov, A.A., Z. Alamsyah, dan M. Suryani.2012. Optimasi Pola Tanam Hortikultura di Desa Rantau Makmur Kecamatan Berbak Kabupaten Tanjung Jabung Timur. Sosio Ekonomika Bisnis 15(2):1-8.
Setiawan, E. 2009. Kearifan Lokal Pola Tanam Tumpangsari di Jawa Timur. Agrovigor 2(2):79-88.
Wasdiyanta. 2016. Pendapatan Usahatani Kacang Panjang (Vigna sinensis L.) di Kelurahan Landasan Ulin Utara Kecamatan Liang Anggang Kota Banjarbaru Provinsi Kalimantan Selatan. Ziraa'ah 41(3):291-295.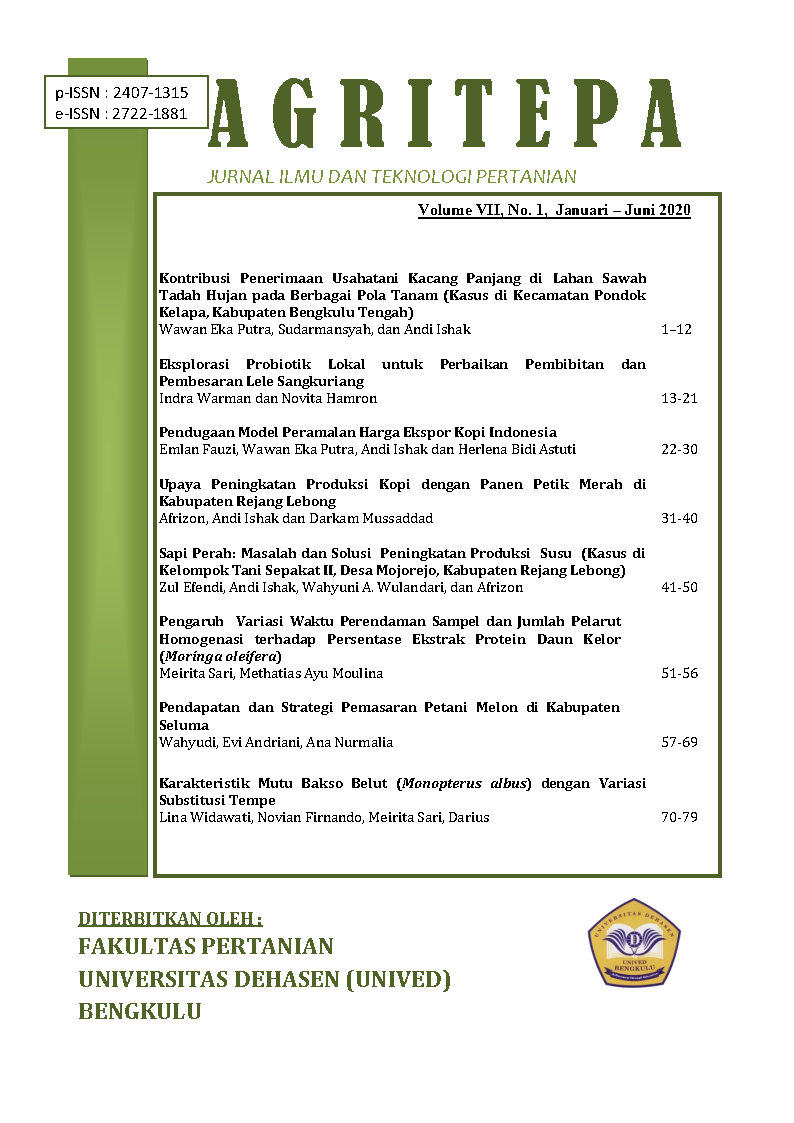 How to Cite
Putra, W., Sudarmansyah, S., & Ishak, A. (2020). KONTRIBUSI PENERIMAAN USAHATANI KACANG PANJANG DI LAHAN SAWAH TADAH HUJAN PADA BERBAGAI POLA TANAM (Kasus di Kecamatan Pondok Kelapa, Kabupaten Bengkulu Tengah). AGRITEPA: Jurnal Ilmu Dan Teknologi Pertanian, 7(1), 1-12. https://doi.org/10.37676/agritepa.v7i1.996
Section
Article Reasearch
Author retains the copyright and grants the journal the right of first publication of the work simultaneously licensed under the Creative Commons Attribution-ShareAlike 4.0 License that allows others to share the work with an acknowledgement of the work's authorship and initial publication in this journal