UPAYA PENINGKATAN PRODUKSI KOPI DENGAN PANEN PETIK MERAH DI KABUPATEN REJANG LEBONG
ESTIMATION FORECASTING MODEL FOR THE EXPORT PRICE OF INDONESIAN COFFEE
Afrizon Afrizon

Andi Ishak

Balai Pengkajian Teknologi Pertanian Bengkulu

Darkam Mussaddad

Balai Pengkajian Teknologi Pertanian Bengkulu
Keywords:
Price, Coffee, Forecasting, Export
Abstract
This study aims to examine the best forecasting model for the export price of Indonesian coffee. The data used in this study are monthly data on coffee prices from January 2012 to September 2019. Three price forecasting models used are moving average, single exponential smoothing and trend analysis are applied to determine the best model based on the lowest MAPE, MAD, and MSE values. The results showed the best model for forecasting the export price of coffee is the moving average (MA1) model because it has the smallest MAPE, MAD and MSE values ​​compared to other models.
Keywords: Price; Coffee; Forecasting; Export
Downloads
Download data is not yet available.
References
BPS Provinsi Bengkulu. 2017. Provinsi Bengkulu dalam Angka. Bengkulu.
Bedy Sudjarmoko. 2013. Prospek Pengembangan Industrialisasi Kopi Indonesia. SIRINOV, Vol 1, No 3, Desember 2013 ( Hal : 99 – 110)
Direktorat jendral Bina Produksi Perkebunan. 2016. Statistik Perkebunan Kopi Indonesia 2016 – 2017. Direktorat Jendral Bina Produksi Perkebunan. Departemen Pertanian. Jakarta.
Disbun. 2016. Statistik Perkebunan Propinsi Bengkulu. Pemerintah Propinsi Bengkulu.
Karmawati, Rubiyo, Siswanto, Indrawanto, C dan J Munarso. 2010. Budidaya dan Pasca Panen Kopi. . Pusat Penelitian dan Pengembangan Perkebunan. Bogor Prastowo
Saefudin dan Edi Wardiana. 2013. Pengaruh Varietas dan Tingkat Kematangan Buah Terhadap Perkecambahan dan Fisik Benih Kopi Arabika Buletin RISTRI 4 (3): 245-256 November, 2013
Tarigan. E dan Juniaty T. 2017. Pengaruh Tingkat Kematangan Buah Serta lama Fermentasi dan Penyangraian Biji Terhadap Karakter Fisikokimia Kopi Ronusta. Jurnal tanaman Industri dan Penyegar.Vol 4 no.3. Balai Penelitian Tanaman Industri dan Penyegar(Balittri)
Lafran Habibi, 2009. Pembuatan Pupuk Kompos Dari Limbah Rumah Tangga. Penerbit Titian Ilmu : Bandung.
Spillane J, J. 1990. Komoditi Kopi, Peranannya dalam Perekonomian Indonesia. Kanisius. Yogyakarta.
Sudarto, Yohaner dan RD Medionovianto. Karakteristik dan Alternatif Teknologi Budidaya Kopi (Studi Kasus di Desa Rempek Kecamatan Rangga Kabupaten Lombok Utara). Prosiding Seminar Nasional Inovasi Teknologi Pertanian Spesifik Lokasi. Kendari 2013. Balai Besar Pengkajian dan Pengembangan Teknologi Pertanian.
Sakiroh, Sobari dan Maman Herman. 2010. Pertumbuhan, Produksi, dan Cita Rasa Kopi pada Berbagai Tanaman Penaung. Prosiding Seminar Nasional Inovasi Teknologi Kopi. Puslit Kopi dan Kakao. Jember
Sobari, Sakiroh dan Eko Purwanto. 2012. Pengaruh jenis tanaman penaung terhadap Pertumbuhan dan persentase tanaman berbuah Pada tanaman Kopi. Bulletin Ristri 3 (3):217-222. Balittri Bogor
Yusianto. (2016). Panen dan pengolahan produk hulu kopi dalam: Kopi "sejarah, botani, proses produksi, pengolahan, produk hilir dan sistem kemitraan. Yogyakarta: UGM Press.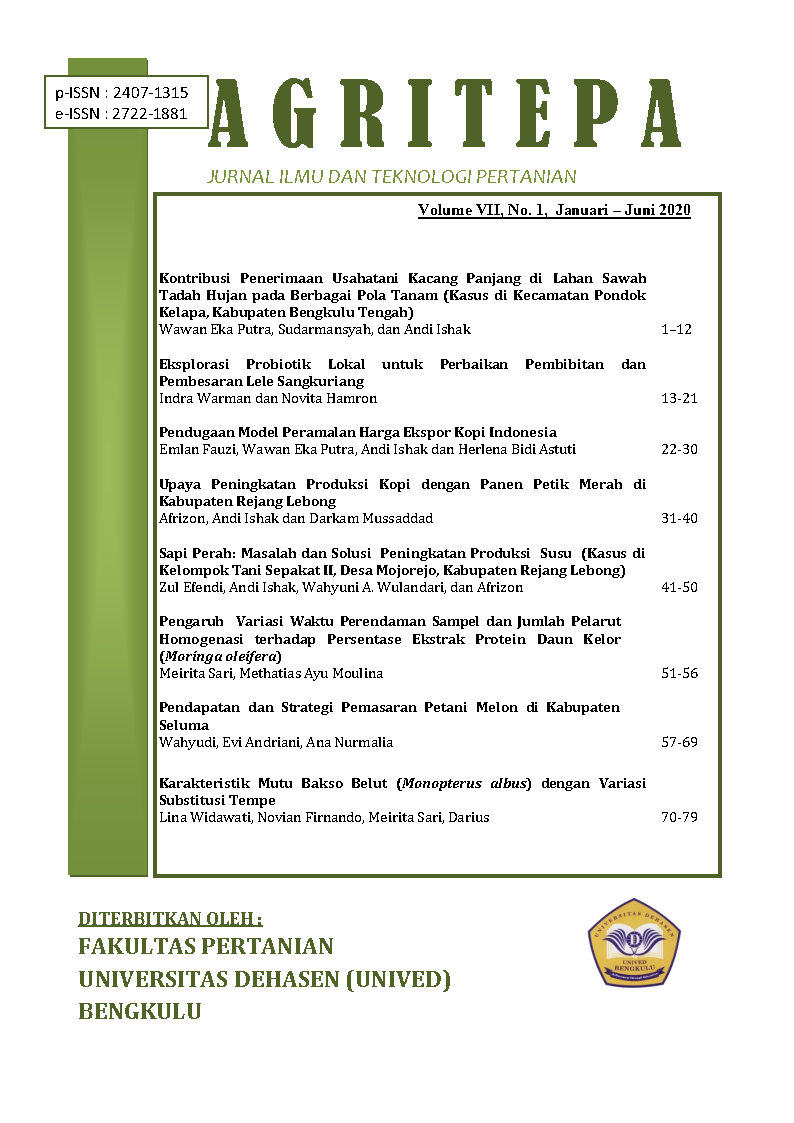 How to Cite
Afrizon, A., Ishak, A., & Mussaddad, D. (2020). UPAYA PENINGKATAN PRODUKSI KOPI DENGAN PANEN PETIK MERAH DI KABUPATEN REJANG LEBONG. AGRITEPA: Jurnal Ilmu Dan Teknologi Pertanian, 7(1), 31-40. https://doi.org/10.37676/agritepa.v7i1.1001
Section
Article Reasearch
An author who publishes in the AGRITEPA: Jurnal Ilmu dan Teknologi Pertanian agrees to the following terms:
Author retains the copyright and grants the journal the right of first publication of the work simultaneously licensed under the Creative Commons Attribution-ShareAlike 4.0 License that allows others to share the work with an acknowledgement of the work's authorship and initial publication in this journal
Submission of a manuscript implies that the submitted work has not been published before (except as part of a thesis or report, or abstract); that it is not under consideration for publication elsewhere; that its publication has been approved by all co-authors. If and when the manuscript is accepted for publication, the author(s) still hold the copyright and retain publishing rights without restrictions. For the new invention, authors are suggested to manage its patent before published. The license type is CC-BY-SA 4.0.
AGRITEPA: Jurnal Ilmu dan Teknologi Pertanian is licensed under a Creative Commons Attribution-ShareAlike 4.0 International License.