RETRACHED Inhibiting Factors For Sustainable Use (Solid) Of Palm Waste As Food For Beef Cattle In Seluma District
Andi Ishak

Balai Pengkajian Teknologi Pertanian Bengkulu

Erpan Ramon

Balai Pengkajian Teknologi Pertanian Bengkulu

Zul Efendi

Balai Pengkajian Teknologi Pertanian Bengkulu

Emlan Fauzi

Balai Pengkajian Teknologi Pertanian Bengkulu

Afrizon Afrizon

Balai Pengkajian Teknologi Pertanian Bengkulu
Keywords:
Solid, pakan, sapi potong, skala pemeliharaan, adopsi
Abstract
Farmers in oil palm plantation areas in Seluma Regency have utilized the solid potential of palm oil waste as a source of beef cattle feed. Tunas Harapan Livestock Group, Sumber Arum Village, Sukaraja District, started using solid feed in 2009 to 2017, but now many farmers are no longer using it. This study aims to identify the inhibiting factors for solid use in Tunas Harapan Livestock Group. The study was conducted from July to August 2018. Data collection through in-depth interviews involved two key informants, namely the Head of the Farmer's Group and an agricultural extension worker, which was confirmed by interviews with 3 farmers and observations. The data collected is the result of the identification of technical, economic, and social factors related to the maintenance of beef cattle. The data were analyzed using the AHP (Analytical Hierarchy Process) method. The results showed that technical factors were the main obstacle to solid use with a value of 63.7%, followed by economic factors (25.8%) and social factors (10.5%). The reduction in the scale of livestock rearing from 4-5 to 1-2 is the dominant technical factor that hinders the sustainability of solid use in the field.
Downloads
Download data is not yet available.
References
Amalo, S., B. Hartono, dan H. D. Utami. 2012. Model Simulasi Peningkatan Ternak Sapi Induk Pola Gaduhan terhadap Curahan Tenaga Kerja: Studi Kasus di Kecamatan Amanuban Selatan, Propinsi Nusa Tenggara Timur. Sains Peternakan, 10(1):30-38.
[BPS] Badan Pusat Statistik. 2015. Analisis Tematik ST 2013 Subsektor – Agribisnis Usaha Rumah Tangga Budidaya Sapi dan Target Swasembada. BPS. Jakarta.
[BPS Kabupaten Seluma] Badan Pusat Statistik Kabupaten Seluma. 2017. Kecamatan Sukaraja Dalam Angka. BPS Kabupaten Seluma. Seluma.
[BPTP Bengkulu] Balai Pengkajian Teknologi Pertanian Bengkulu. 2007. Laporan Tahunan 2006. BPTP Bengkulu. Bengkulu. Tidak dipublikasikan.
Gany, A.H.A. 2010. An Outlook of Infrastructural Heritages of Irrigation in Indonesia. Makalah disampaikan pada "Seminar on History of Irrigation in Eastern Asia" di Yogyakarta pada Rabu, 13 Oktober 2010. 14 hlm. Sumber: https://scholar.google.co.id/ scholar?start=230&q=transmigration+in+bengkulu&hl=id&as_sdt=0,5.
Ishak, A., J. Firison, dan Harwanto. 2017. Keberlanjutan Pola Penggaduhan Ternak Sapi Potong pada Tingkat Kelompok Tani di Kabupaten Mukomuko, Provinsi Bengkulu. IAARD Press. Jakarta. Hlm. 209-217.
Mathius, I.W. 2008. Pengembangan Sapi Potong Berbasis Industri Kelapa Sawit. Pengembangan Inovasi Pertanian I(3):206-224.
Murtidjo, B.A. 1990. Sapi Potong. Penerbit Kanisius. Yogyakarta.
[Pusdatin] Pusat Data dan Sistem Informasi Pertanian Kementan. 2015. Outlook Komoditas Pertanian Sub Sektor Peternakan – Daging Sapi. Pusdatin. Jakarta.
[Puslitbangnak] Pusat Penelitian dan Pengembangan Peternakan Balitbang Kementan. 2015. Dukungan Kebijakan dalam Mengakselerasi Pengembangan Integrasi Sawit-Sapi. Puslitbangnak. Bogor.
[Pustaka Balitbang Kementan] Pusat Perpustakaan dan Penyebaran Teknologi Pertanian Balitbang Kementan. 2016. Solid: Limbah Pengolahan Sawit untuk Pakan Sapi dan Domba. Pustaka Balitbang Kementan. Bogor. Sumber: http://pustaka.litbang.pertanian.go.id/berita.php?newsID=br20151106.
Rogers, E.M. 1983. Diffusion of Innovations. The Free Press. London.
Saaty, T.L. 1993. Pengambilan Keputusan bagi Para Pemimpin: Proses Hirarki Analitik untuk Pengambilan Keputusan dalam Situasi yang Kompleks. PT. Pustaka Binaman Pressindo. Jakarta.
Sadikin, I. 2013. Pengaruh Faktor Sosial Ekonomi terhadap Adopsi PTT di Sentra Padi Jawa Barat. Agros, 15(1):123-136.
Soedjana, T.D. dan A. Priyanti. 2017. Competitiveness of Indonesian Livestock Production among ASEAN Countries. Wartazoa, 27(1):1-14.
Utomo, B.N. dan E. Widjaja. 2004. Limbah Padat Pengolahan Minyak Sawit sebagai Sumber Nutrisi Ternak Ruminansia. Jurnal Litbang Pertanian 23(1):22-28.
__________. 2012. Pengembangan Sapi Potong Berbasis Industri Perkebunan Kelapa Sawit. Jurnal Litbang Pertanian, 31(4):153-161.
Waldron, S., Erwidodo, dan Y. Nuryati. 2015. The Indonesian Beef Industry. Makalah disampaikan pada "Regional Workshop on Beef Markets and Trade in Southeast Asian and China". Ben Tre – Vietnam, 30th November – 3rd December 2015. Sumber: https://espace.library.uq.edu.au/view/UQ:383939/UQ383939_OA.pdf.
Widjaja, E. dan B.N. Utomo. 2006. Prospek Penggemukan Sapi di Sekitar Pabrik Kelapa Sawit di Kalimantan Tengah. Dalam Prosiding Seminar Nasional Teknologi Peternakan dan Veteriner. Pusat Penelitian dan Pengembangan Peternakan. Bogor. Hal. 110-115.
Yulianto, P. dan C. Saparinto. 2010. Pembesaran Sapi Potong secara Intensif. Penebar Swadaya. Jakarta. Hal. 38-41.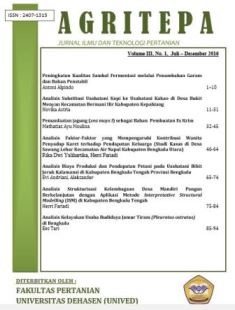 How to Cite
Ishak, A., Ramon, E., Efendi, Z., Fauzi, E., & Afrizon, A. (2021). RETRACHED Inhibiting Factors For Sustainable Use (Solid) Of Palm Waste As Food For Beef Cattle In Seluma District. AGRITEPA: Jurnal Ilmu Dan Teknologi Pertanian, 8(1), 58-71. https://doi.org/10.37676/agritepa.v8i1.1328
Section
Article Reasearch
An author who publishes in the AGRITEPA: Jurnal Ilmu dan Teknologi Pertanian agrees to the following terms:
Author retains the copyright and grants the journal the right of first publication of the work simultaneously licensed under the Creative Commons Attribution-ShareAlike 4.0 License that allows others to share the work with an acknowledgement of the work's authorship and initial publication in this journal
Submission of a manuscript implies that the submitted work has not been published before (except as part of a thesis or report, or abstract); that it is not under consideration for publication elsewhere; that its publication has been approved by all co-authors. If and when the manuscript is accepted for publication, the author(s) still hold the copyright and retain publishing rights without restrictions. For the new invention, authors are suggested to manage its patent before published. The license type is CC-BY-SA 4.0.
AGRITEPA: Jurnal Ilmu dan Teknologi Pertanian is licensed under a Creative Commons Attribution-ShareAlike 4.0 International License.