SAPI PERAH: MASALAH DAN SOLUSI PENINGKATAN PRODUKSI SUSU (KASUS DI KELOMPOK TANI SEPAKAT II, DESA MOJOREJO, KABUPATEN REJANG LEBONG)
DAIRY COW: PROBLEMS AND SOLUTIONS FOR INCREASING MILK PRODUCTION (CASE IN TANI SEPAKAT II GROUP, DESA MOJOREJO, REJANG LEBONG DISTRICT)
Zul Efendi

Balai Pengkajian Teknologi Pertanian Bengkulu

Andi Ishak

Balai Pengkajian Teknologi Pertanian Bengkulu

Wahyuni A Wulandari

Balai Pengkajian Teknologi Pertanian Bengkulu

Afrizon Afrizon

Balai Pengkajian Teknologi Pertanian Bengkulu
Keywords:
Problems, Solutions, Increase, Milk Production, Dairy Cows
Abstract
This research was conducted in April to August 2019 at the Sepakat II Livestock Group, Mojorejo Village, Sindang Kelingi District, Rejang Lebong District. The purpose of this research is to analyze the problems and solutions to increase milk production in dairy cows in the Sepakat II farmer group in Mojorejo Village, Sindang Kelingi District, Rejang Lebong Regency. Data collected in the form of technical, economic and management data for dairy cattle maintenance. Technical and economic data, i.e. types, sources, nutrition, and feed costs. Data about the type and source of feed were obtained by means of individual interviews and FGDs. Nutrient content was obtained through laboratory analysis at the University of Bengkulu Animal Husbandry Laboratory. Feed management data is in the form of problem analysis and problem solving solutions collected through individual interviews. Data were analyzed descriptively and using problem tree analysis and AHP (Analitycal Hierarchy Process). The results obtained that the priority of technological innovation in the context of increasing milk production in dairy cows in the Sepakat II Farmers Group are the utilization of location-specific alternative concentrates (63.7%), superior grass planting (25.8%) and extension technology for dairy farming (10, 5%).
Keywords: Problems, Solutions, Increase, Milk Production, Dairy Cows.
Downloads
Download data is not yet available.
References
Ahmad, I. dan Hermiyetti. 2008. "Analisis Produksi dan Konsumsi Susu di Indonesia". Prosiding Seminar Nasional Prospek Industri Sapi Perah Menuju Perdagangan Bebas 2020. Jakarta. 21 April 2008. Pusat Penelitian dan Pengembangan Peternakan, Bogor bekerja sama dengan Sekolah Tinggi Ilmu Ekonomi Keuangan dan Perbankan Indonesia.
BPS. 2018. Rejang Lebong Dalam Angka. Badan Pusat Statistik Kabupaten Rejang Lebong.
Handayani, R.I. 2015. Pemanfaatan Aplikasi Expert Choice Sebagai Alat Bantu dalam Pengambilan Keputusan (Studi Kasus: PT. Bit Teknologi Nusantara). Jurnal Pilar Nusa Mandiri 11(1):53-59.
Iriadi, N. dan D Yohana. 2016. Pengaruh Sistem Pendukung Keputusan dalam Pemilihan Mobil LCGC dengan Metode Analytic Hierarchy Process (AHP). Jurnal Khatulistiwa Informatika 4(2):173-181.
King. I. Jr. 2000. Managing the high genetic meric cow. Universitas Delaware. (PhD Disertasi).
Kusrini. 2007. Konsep dan Aplikasi Sistem Pendukung Keputusan.Yogyakarta : Andy Offset.
Riski. P,, B. P. Purwanto dan A. Atabany. 2016. Produksi dan Kualitas Susu Sapi FH aktasi yang Diberi Pakan Daun Pelepah Sawit. Jurnal Ilmu Produksi dan Teknologi Hasil Peternakan. Vol. 04 No. 3 Oktober 2016 . Hlm: 345-349. ISSN 2303-2227
Sanyoto, G.P., R.I. Handayani, dan E. Widanengsih. 2017. Sistem Pendukung Keputusan Pemilihan Laptop untuk Kebutuhan Operasional dengan Metode AHP (Studi Kasus: Direktorat Pembinaan Kursus dan Pelatihan Kemdikbud). Jurnal Pilar Nusa Mandiri 13(2):160-173.
Sumahati M, Isroli dan Widiyanto. 2011. Utiliti protein pada sapi perah Frisian Holtein yang mendapatkan ransum kulit kopi sebagai sumber serat kasar yang diolah dengan teknologi amoniasi fermentasi (Amofer). Laporan Penelitian. Vol 15 No.1, Juni 2011. ISSN 0853-9812. Fakultas Peternakan Universitas Diponegoro Semarang.
Susanti, S dan E. Marhaeniyanto, 2007. Kecernaan, Retensi Nitrogen dan hubungan dengan produksi susu pada sapi Peranakan Frisian Holtein (FH) yang dieri pakan pollar dan bekatul. http://ejurnal.umm.ac.id. Diakses 8 Oktober 2019.
Tawaf R. 2009. Sapi Perah Fries Holland. http://disnaksinjai.blogspot.com/2011/09/sapi-perah-fries-holland.html. Diakses pada 10 November 2013
Walangare, D., R. Delima dan Restyandito. 2012. Sistem Prediksi Pertandingan Sepak Bola dengan Metode Analytical Hierarchy Process (AHP). Informatika 8(2):181-188.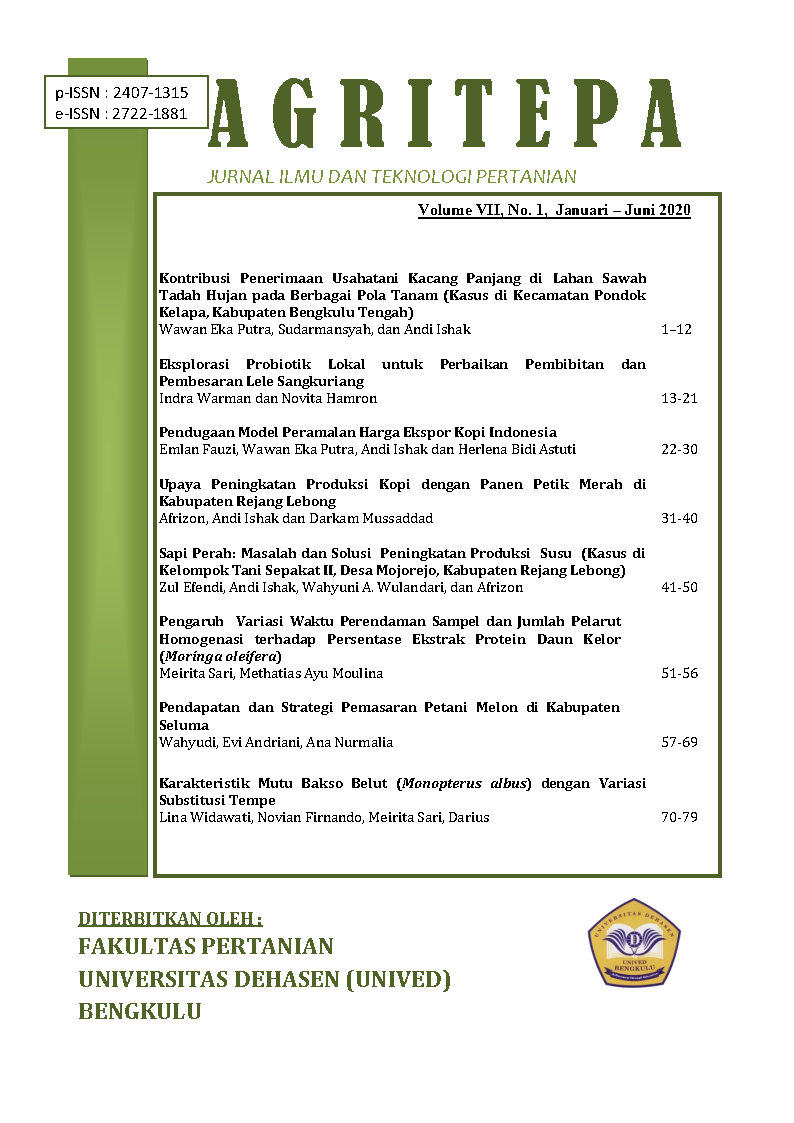 How to Cite
Efendi, Z., Ishak, A., Wulandari, W., & Afrizon, A. (2020). SAPI PERAH: MASALAH DAN SOLUSI PENINGKATAN PRODUKSI SUSU (KASUS DI KELOMPOK TANI SEPAKAT II, DESA MOJOREJO, KABUPATEN REJANG LEBONG). AGRITEPA: Jurnal Ilmu Dan Teknologi Pertanian, 7(1), 41-50. https://doi.org/10.37676/agritepa.v7i1.995
Section
Article Reasearch
An author who publishes in the AGRITEPA: Jurnal Ilmu dan Teknologi Pertanian agrees to the following terms:
Author retains the copyright and grants the journal the right of first publication of the work simultaneously licensed under the Creative Commons Attribution-ShareAlike 4.0 License that allows others to share the work with an acknowledgement of the work's authorship and initial publication in this journal
Submission of a manuscript implies that the submitted work has not been published before (except as part of a thesis or report, or abstract); that it is not under consideration for publication elsewhere; that its publication has been approved by all co-authors. If and when the manuscript is accepted for publication, the author(s) still hold the copyright and retain publishing rights without restrictions. For the new invention, authors are suggested to manage its patent before published. The license type is CC-BY-SA 4.0.
AGRITEPA: Jurnal Ilmu dan Teknologi Pertanian is licensed under a Creative Commons Attribution-ShareAlike 4.0 International License.