E-Voting Ketua Osis Di Sekolah SMK Negeri 1 Kepahiang Berbasis Android
Sapri Sapri

Universitas Dehasen Bengkulu

Dian Mardiati Sari

Universitas Dehasen Bengkulu

Dimas Aulia Trianggara

Universitas Dehasen Bengkulu

Heti Heti

Universitas Dehasen Bengkulu

Bening Poyemi

Universitas Dehasen Bengkulu
Keywords:
E-Voting Ketua Osis di sekolah, SMK Negeri 1 Kepahiang Berbasis Android
Abstract
Android is one of the most widely used operating systems today. Android-based smartphones really help users in carrying out various activities such as online shopping, communicating, presentations, and many more. Android is a Linux-based operating system. The advantage of Android compared to other mobile phone or smartphone operating systems is that Android is open source code making it easier for developers to create and modify applications or features that do not yet exist on the Android operating system according to their own wishes such as E-Voting for Osis Chairs at SMK schools. Android-based Negeri 1 Kepahiang will implement a system call to get information besides E-Voting for Osis Chairs at the Android-based SMK Negeri 1 Kepahiang school, one of the systematic activities in managing student councilFaster and more focused and on time.
Downloads
Download data is not yet available.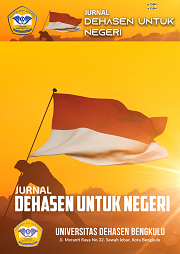 How to Cite
Sapri, S., Sari, D. M., Trianggara, D. A., Heti, H., & Poyemi, B. (2023). E-Voting Ketua Osis Di Sekolah SMK Negeri 1 Kepahiang Berbasis Android. Jurnal Dehasen Untuk Negeri, 2(1), 103–106. https://doi.org/10.37676/jdun.v2i1.3625
Copyright (c) 2023 Sapri Sapri, Dian Mardiati Sari, Dimas Aulia Trianggara, Heti Heti, Bening Poyemi
This work is licensed under a Creative Commons Attribution-ShareAlike 4.0 International License.