Implementasi Digital Marketing Dalam Optimasi Potensi Industri Rumah Tangga Warga RT.10 RW.04 Kelurahan Padang Jati Kecamatan Ratu Samban Kota Bengkulu
Ahmad Soleh

Universitas Dehasen Bengkulu

Arlina Arlina

Universitas Dehasen Bengkulu

Suwarni Suwarni

Universitas Dehasen Bengkulu

Karona Cahya Susena

Universitas Dehasen Bengkulu

Deffri Anggara

Universitas Dehasen Bengkulu
Keywords:
Implementasi, Digital, Marketing, SalesIncreas, and Profit.
Abstract
The development of information technology that is growing very rapidly has an effect on the community in supporting various business activities, both large and small so that they can be known globally. The most obvious impact is that apart from being known, it can also increase sales volume and profit. Digital Marketing is one of the marketing media through social media that has a very large influence. The residents of RT 10 RW 04 Padang Jati Bengkulu consist of 60 families, most of which are entrepreneurs, construction workers and housewives. Many housewives in RT 10 RW 04 Padang Jati have opened independent businesses at home, such as selling food, hijabs, clothes and drinks by promoting sales on social media. Initially, marketing activities on social media were only used as a free time filler, but now it has become the main activity as an addition to the economic cycle in the household. In the past, the sales activity of this industrial product was conventional or traditional, they made products only based on orders. However, after recognizing the existence of social media, some of the residents of RT 10 have begun to receive a lot of orders, so the sales volume is increasing rapidly compared to when selling in the old way. Digital marketing is seen as the best medium as the most effective and efficient means of promotion and is able to increase sales volume significantly.
Downloads
Download data is not yet available.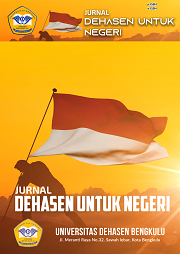 How to Cite
Soleh, A., Arlina, A., Suwarni, S., Susena, K. C., & Anggara, D. (2022). Implementasi Digital Marketing Dalam Optimasi Potensi Industri Rumah Tangga Warga RT.10 RW.04 Kelurahan Padang Jati Kecamatan Ratu Samban Kota Bengkulu. Jurnal Dehasen Untuk Negeri, 1(2), 89–94. https://doi.org/10.37676/jdun.v1i2.2838
Copyright (c) 2022 Ahmad Soleh, Arlina Arlina, Suwarni Suwarni, Karona Cahya Susena, Deffri Anggara
This work is licensed under a Creative Commons Attribution-ShareAlike 4.0 International License.