Pentingnya Memahami Informasi Hoax dalam Bermasyarakat pada Desa Gajah Mati Benteng
Siswanto Siswanto

Fakultas Ilmu Komputer, Universitas Dehasen Bengkulu

Yupianti Yupianti

Fakultas Ilmu Komputer, Universitas Dehasen Bengkulu

Juju Jumadi

Fakultas Ilmu Komputer, Universitas Dehasen Bengkulu

Venny Novita Sari

Fakultas Ilmu Komputer, Universitas Dehasen Bengkulu

Ridwan Ridwan

Fakultas Ilmu Komputer, Universitas Dehasen Bengkulu
Keywords:
Digital Technology, Hoax, Social Media
Abstract
Gajah Mati Village, Central Bengkulu is one of the developing villages in terms of development and technology. Gajah Mati Village has people who in general have a great interest in using digital media on smartphones to carry out various daily activities in finding various information, so it is considered necessary to provide an understanding related to current fake news (hoaxes) on social media. , where with the development of technology including applications, hoaxes are felt to be increasingly sophisticated and diverse, which if delivered continuously and repeatedly, it is as if they are considered to be something that is not fake anymore aka the truth. In order to provide understanding and knowledge related to hoaxes, community service activities were carried out in the form of socializing about theoretical exposures about hoaxes on social media, types of hoaxes with various modes, then continued with various ways of tackling the hoax, which were then given various examples of hoaxes. nowadays in increasingly sophisticated social media where the sophistication of the hoax is assisted by various applications that make it seem as if the hoax is true or real. The subjects in this service activity were the Head of Gajah Mati Village and his apparatus and all residents of Gajah Mati Village, Central Bengkulu. The output targets to be achieved in this community service activity are (1) the people of Gajah Mati Village, Central Bengkulu, are able to understand the importance of recognizing the current hoaxes that are developing on social media, and (2) the people of Gajah Mati Village, Central Bengkulu, are able to overcome various hoaxes. and not being "eaten" by various hoaxes that can be very disturbing, which are present on social media.
Downloads
Download data is not yet available.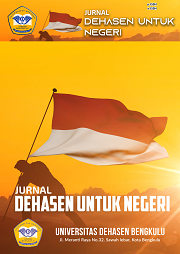 How to Cite
Siswanto, S., Yupianti, Y., Jumadi, J., Sari, V., & Ridwan, R. (2022). Pentingnya Memahami Informasi Hoax dalam Bermasyarakat pada Desa Gajah Mati Benteng. Jurnal Dehasen Untuk Negeri, 1(1), 41–45. Retrieved from https://jurnal.unived.ac.id/index.php/dehasenuntuknegeri/article/view/1940