Pengenalan Literasi Keuangan dan Pengelolaan Keuangan Keluarga Bagi Ibu-Ibu Rumah Tangga (Warga Jalan Pulau Payung RT.12 RW.04 Kel. Surabaya Kec. Sungai Serut Bengkulu)
Eska Prima Monique Damarsiwi

Faculty of Economic, Universitas Dehasen Bengkulu

Muhammad Rahman Febliansyah

Faculty of Economic, Universitas Dehasen Bengkulu

Yessy Indiana Ariska

Faculty of Economic, Universitas Dehasen Bengkulu

Hilda Meisya Arif

Faculty of Economic, Universitas Dehasen Bengkulu

Neri Susanti

Faculty of Economic, Universitas Dehasen Bengkulu
Keywords:
Introduction to Financial Literacy, Family Financial Management, Housewives
Abstract
Managing family finances is important, because family finances in quantity and quality can be beneficial for the family to the maximum to achieve a prosperous family that is fulfilled materially and spiritually and all family members can develop potential in accordance with their respective talents and abilities. Managing family finances means managing all income / receipts both routine and non-routine receipts and routine expenses and non-routine expenses. The importance of household financial planning makes us a community service team to organize training in the introduction of financial literacy and family financial management for 1 month in the RT.12.RW.04 Community located on The Umbrella Island road, the location is very close to the tourist attractions of Kumayan Island. This training method is carried out by tutorial methods and FGD so that participants recognize the problems of household financial planning respectively, demonstrations of household financial planning followed by all participants, education of financial grouping with the method "POS MAP KK" to help allocate household needs according to their needs. This Devotion Program is expected to provide knowledge and training to residents of RT.12.RW.04 Umbrella Island surabaya village of Bengkulu city about managing good finances, preparing family financial priorities, preparing family planning, helping the implementation of financial planning of housewives.
Downloads
Download data is not yet available.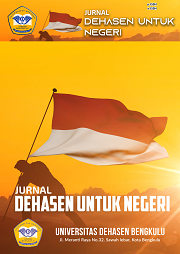 How to Cite
Damarsiwi, E., Febliansyah, M., Ariska, Y., Arif, H., & Susanti, N. (2022). Pengenalan Literasi Keuangan dan Pengelolaan Keuangan Keluarga Bagi Ibu-Ibu Rumah Tangga (Warga Jalan Pulau Payung RT.12 RW.04 Kel. Surabaya Kec. Sungai Serut Bengkulu). Jurnal Dehasen Untuk Negeri, 1(1), 27–32. Retrieved from https://jurnal.unived.ac.id/index.php/dehasenuntuknegeri/article/view/1912