Analisis Strategi Komunikasi Pemasaran dalam Peningkatan Pariwisata Melalui Media Sosial di Kabupaten Langkat
Dina Ika Sintia

Universitas Islam Negeri Sumatera Utara

Rani Pahira Saputri

Universitas Islam Negeri Sumatera Utara

Alhafidzh Alhafidzh

Universitas Islam Negeri Sumatera Utara

Maulana Andinata Dalimunthe

Universitas Islam Negeri Sumatera Utara

Hasan Sazali

Universitas Islam Negeri Sumatera Utara
Abstract
In developing a tourist attraction, it is necessary to have publication and marketing support at the local, national and international level, because the success of development and efforts to improve the quality of tourism depends on the effectiveness of marketing activities and a tourist information center is needed. depending on the seriousness of the Regional Government in marketing tourist objects and public awareness, Seeing the decline in the number of tourists in the last 1 (one) year, it is a matter of marketing communication strategies that are less than optimal, especially on publications on social media so that the goals and objectives cannot be achieved by the Tourism and Culture office Langkat Regency. In an effort to increase the number of tourist visits, especially natural tourism, Bukit Lawang and Tangkahan. There needs to be more improvement in the implementation of effective communication that will support the implementation of the tourism marketing communication strategy of the Department of Tourism and Culture. This study uses descriptive research with a qualitative research approach with data collection techniques, observation. By using this method, it was found that the Department of Tourism and Culture Kab. Langkat has its own marketing communication strategy in increasing tourism in Langkat Regency.
Downloads
Download data is not yet available.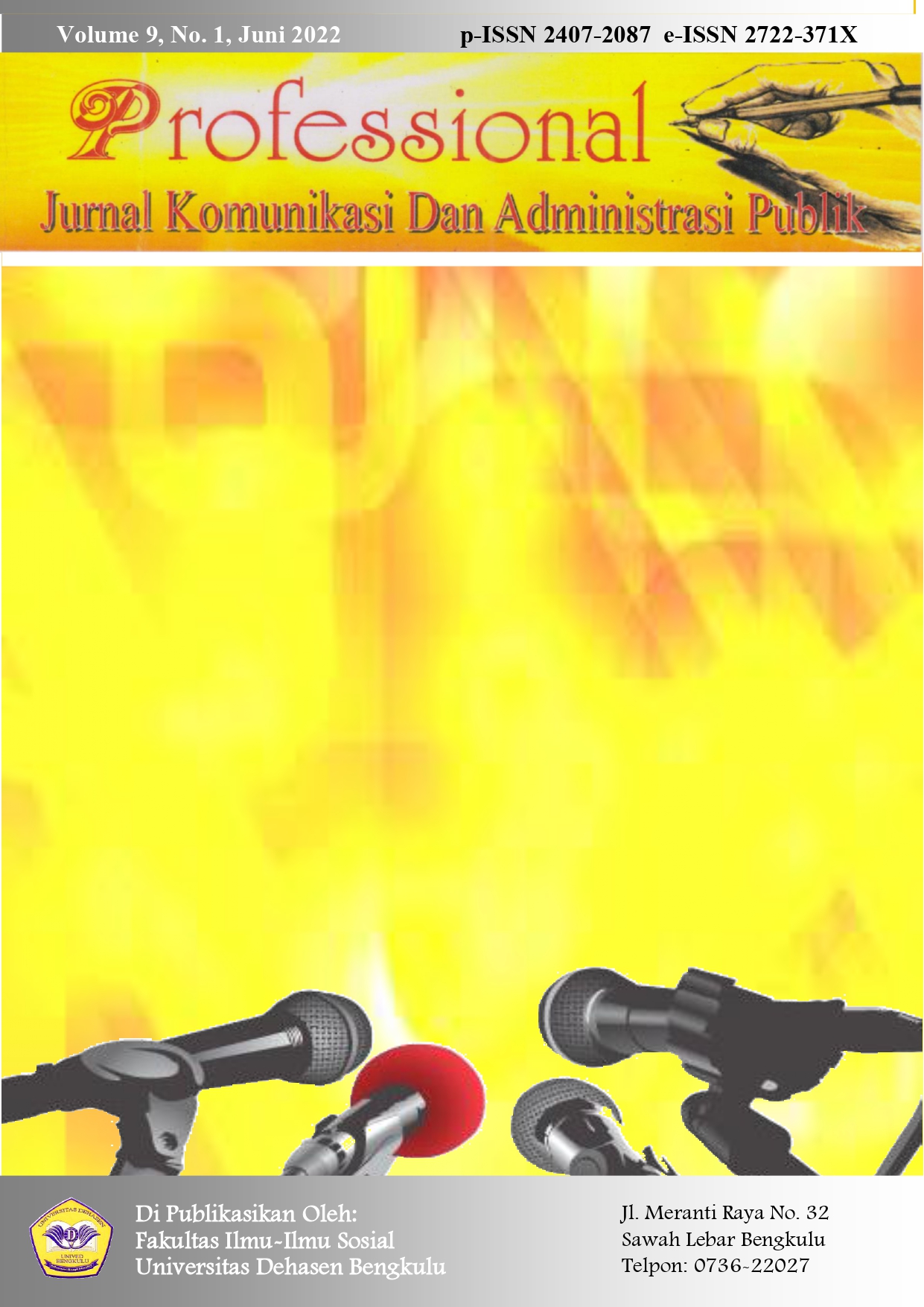 How to Cite
Sintia, D. I., Saputri, R. P., Alhafidzh, A., Dalimunthe, M. A., & Sazali, H. (2022). Analisis Strategi Komunikasi Pemasaran dalam Peningkatan Pariwisata Melalui Media Sosial di Kabupaten Langkat. Professional: Jurnal Komunikasi Dan Administrasi Publik, 9(1), 169–174. https://doi.org/10.37676/professional.v9i1.2573
Copyright (c) 2022 Dina Ika Sintia, Rani Pahira Saputri, Alhafidzh Alhafidzh, Maulana Andinata Dalimunthe, Hasan Sazali
This work is licensed under a Creative Commons Attribution-ShareAlike 4.0 International License.