Analisis Semiotika Psikologi Komunikasi pada Film Ku Kira Kau Rumah
Disti Adila Sani

Universitas Islam Negeri Sumatera Utara

Mitha Suheni

Universitas Islam Negeri Sumatera Utara

Siti Aisyah

Universitas Islam Negeri Sumatera Utara

Dita Khairiza

Universitas Islam Negeri Sumatera Utara

Maulana Andinata Dalimunthe

Universitas Islam Negeri Sumatera Utara
Abstract
This study aims to analyze the psychological communication contained in the film Ku Kira Kau Rumah. This study uses John Fiske's semiotic analysis technique which refers to The Codes of Television where film is a text and is studied through three stages, the level of reality, representation, and ideology. In this case, the author takes the sample of the film "Ku Kira Kau Rumah" as a representative study of psychological communication in the film. This research results that the psychology of communication contained in this film is very clear. Therefore, in this case the psychology of communication is concerned with how to achieve effective communication in human interaction. For this reason, understanding humans is an absolute if we want to be successful/effective in communicating with other humans. And this is very much depicted in the film Ku Kira Kau Rumah.
Downloads
Download data is not yet available.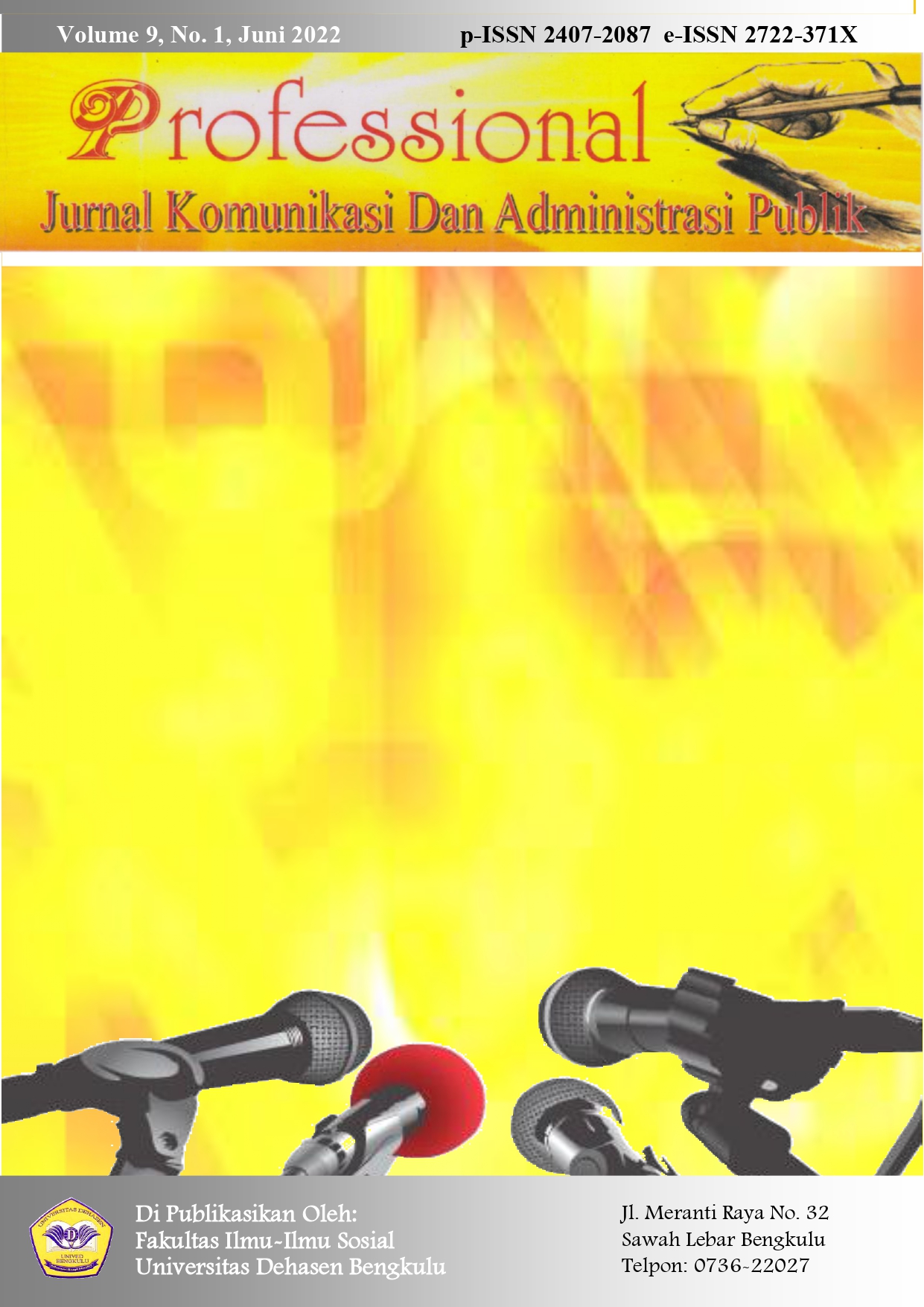 How to Cite
Sani, D., Suheni, M., Aisyah, S., Khairiza, D., & Dalimunthe, M. A. (2022). Analisis Semiotika Psikologi Komunikasi pada Film Ku Kira Kau Rumah. Professional: Jurnal Komunikasi Dan Administrasi Publik, 9(1), 155–160. https://doi.org/10.37676/professional.v9i1.2571
Copyright (c) 2022 Disti Adila Sani, Mitha Suheni, Siti Aisyah, Dita Khairiza, Maulana Andinata Dalimunthe
This work is licensed under a Creative Commons Attribution-ShareAlike 4.0 International License.