Analisis Semiotika Poster Film Horor KKN di Desa Penari
Isma Rahmadani

Universitas Islam Negeri Sumatera Utara

Nabila Nur Atikah

Universitas Islam Negeri Sumatera Utara

Dwi Aji Pratama

Universitas Islam Negeri Sumatera Utara

Maulana Andinata Dalimunthe

Universitas Islam Negeri Sumatera Utara

Hasan Sazali

Universitas Islam Negeri Sumatera Utara
Abstract
Movie posters play an important role in the promotion process of a film. Therefore, to convey the message well, film posters are made as good as possible by presenting unique and interesting poster visualizations. The KKN di Desa Penari film poster is one of the poster art works that is able to focus on visual signs, such as visuals of dancers, cultural elements, and the characteristics of design elements such as colors, layouts, images, logos, and typography. This study aims to determine the meaning of the signs contained in the KKN di Desa Penari film poster. The data sources in this study were divided into two, namely primary data (KKN di Desa Penari film posters) and secondary data (documents, articles, and online sites). Then, the data is translated into language so as to produce information related to the research objectives. This study uses Charles Sanders Peirce's semiotic theory which includes icons, indexes, and symbols in the interpretation stage. The results of this study indicate that the KKN di Desa Penari poster shows something different by presenting a stealth visual with a beautiful form than a ghost figure which is known to be scary. Furthermore, the KKN di Desa Penari film poster also contains cultural elements so that it creates a strong traditional impression.
Downloads
Download data is not yet available.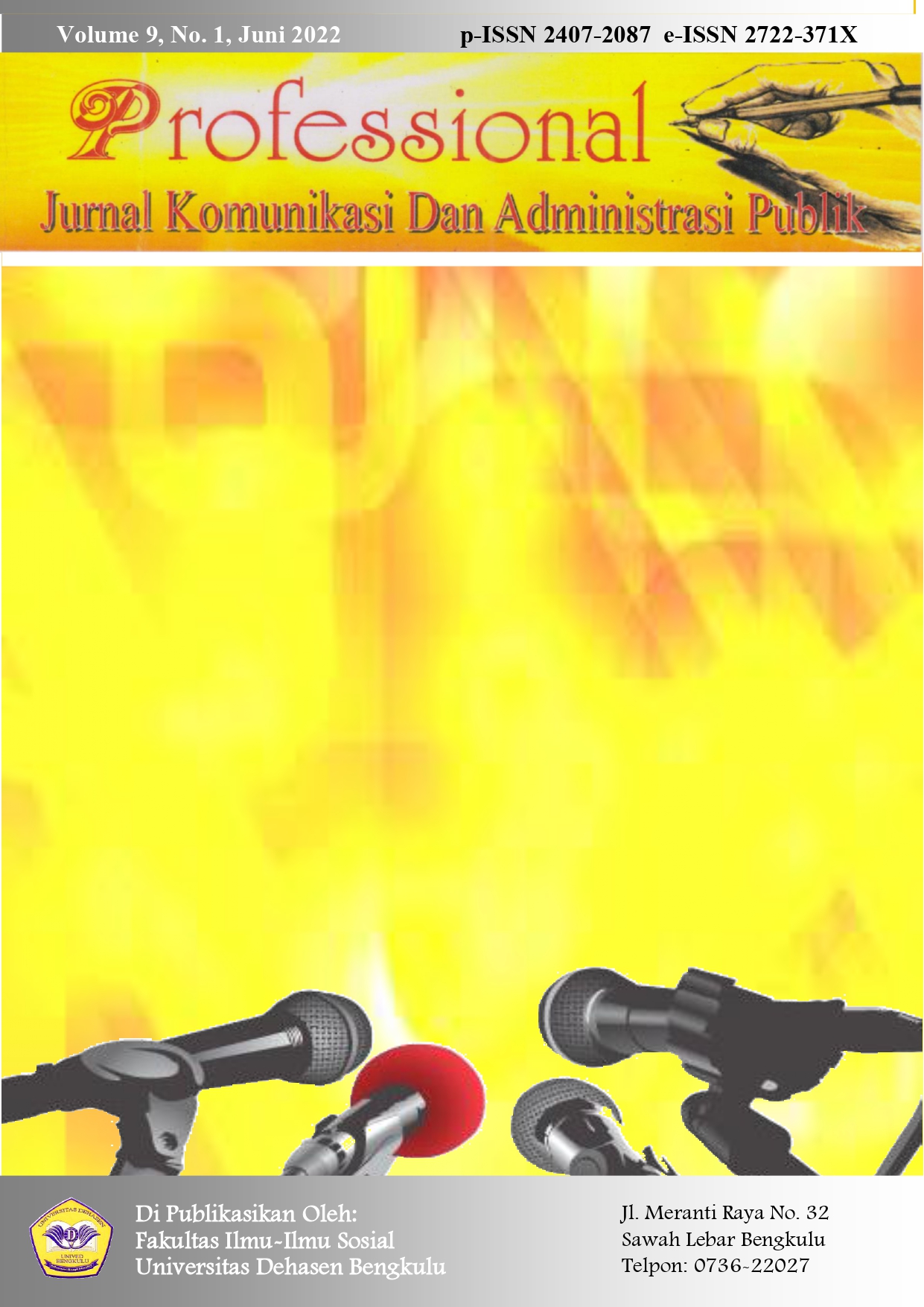 How to Cite
Rahmadani, I., Atikah, N. N., Pratama, D. A., Dalimunthe, M. A., & Sazali, H. (2022). Analisis Semiotika Poster Film Horor KKN di Desa Penari. Professional: Jurnal Komunikasi Dan Administrasi Publik, 9(1), 161–168. https://doi.org/10.37676/professional.v9i1.2572
Copyright (c) 2022 Isma Rahmadani, Nabila Nur Atikah, Dwi Aji Pratama, Maulana Andinata Dalimunthe, Hasan Sazali
This work is licensed under a Creative Commons Attribution-ShareAlike 4.0 International License.