PERBEDAAN KADAR KOLESTEROL SEBELUM DAN SESUDAH TERAPI BEKAM BASAH DI KOTA BENGKULU
RESVA MEINISASTI

JON FARIZAL

RINI PATRONI
Keywords:
Bekam basah, kadar kolesterol, CHOD-PAP
Abstract
Latar Belakang: Kadar kolesterol yang berlebih dalam darah akan meningkatkan risiko terbentuknya plak yang dapat menimbulkan berbagai manifestasi klinis aterosklerosis. Konsekuensi utama aterosklerosis berupa jantung koroner, di Indonesia tercatat 1,5% dan di Bengkulu tercatat 0,6% orang yang mengalami penyakit jantung koroner. Selain pengobatan dengan menggunakan pengobatan farmakologi, salah satu metode tradisional yang diklaim dapat menjadi pilihan terapi ialah teknik bekam. Berbekam merupakan pengobatan Islam yang termasuk ke dalam kategori sunnah yang telah ditinggalkan (sunnah matrukah). Tujuan Penelitian ini untuk mengetahui perbedaan kadar kolesterol sebelum dan sesudah terapi bekam basah. Metode : Penelitian yang digunakan adalah pra eksperimen dengan rancangan one group pretest postest. Sampel terdiri dari 17 responden sesuai kriteria dengan metode purposive sampling. Dilakukan pengukuran kadar kolesterol, diberi perlakuan 3 kali terapi bekam basah dan diukur kembali kadar kolesterolnya  dengan metode pemeriksaan CHOD-PAP. Analisis data menggunakan uji T Dependent. Hasil : terdapat penurunan kadar kolesterol dengan nilai rerata sebelum terapi bekam basah sebesar 167,41 mg/dL dan nilai rerata sesudah terapi bekam basah sebesar 124,59 mg/dL, maka terdapat perbedaan yang signifikan kadar kolesterol sebelum dan sesudah terapi bekam basah (CI 95% 6.56, 69.09; P=0,003). Kesimpulan : Terdapat perbedaan yang signifikan kadar kolesterol sebelum dan sesudah terapi bekam basah. Terapi bekam dapat dijadikan sebagai terapi komplementer sebagai upaya penurunan kadar kolesterol.
Downloads
Download data is not yet available.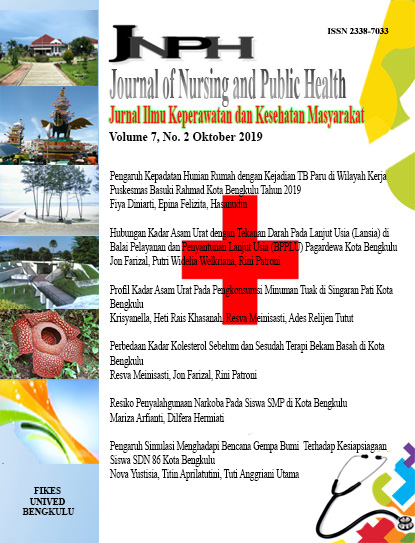 How to Cite
MEINISASTI, R., FARIZAL, J., & PATRONI, R. (2019). PERBEDAAN KADAR KOLESTEROL SEBELUM DAN SESUDAH TERAPI BEKAM BASAH DI KOTA BENGKULU. Journal of Nursing and Public Health, 7(2), 19-22. https://doi.org/10.37676/jnph.v7i2.894
An author who publishes in the Journal of Nursing and Public Health agrees to the following terms:
Author retains the copyright and grants the journal the right of first publication of the work simultaneously licensed under the Creative Commons Attribution-ShareAlike 4.0 License that allows others to share the work with an acknowledgement of the work's authorship and initial publication in this journal
Submission of a manuscript implies that the submitted work has not been published before (except as part of a thesis or report, or abstract); that it is not under consideration for publication elsewhere; that its publication has been approved by all co-authors. If and when the manuscript is accepted for publication, the author(s) still hold the copyright and retain publishing rights without restrictions. For the new invention, authors are suggested to manage its patent before published. The license type is CC-BY-SA 4.0.
Journal of Nursing and Public Health is licensed under a Creative Commons Attribution-ShareAlike 4.0 International License.
You are free to:
Share — copy and redistribute the material in any medium or format
Adapt — remix, transform, and build upon the material
for any purpose, even commercially.
The licensor cannot revoke these freedoms as long as you follow the license terms.