PROFIL BIERNACKI REACTION PADA PEKERJA CAR PAINT DI BENGKULU
RADEN SUNITA

RESVA MEINISASTI
Keywords:
Biernacki Reaction, Car Paint
Abstract
Latar Belakang : Biernacki Reaction merupakan kecepatan pengendapan sel-sel eritrosit di dalam tabung yang berisi darah dalam waktu satu jam yang telah diberi antikoagulan. Pekerjaan pengecat mobil merupakan salah satu jenis pekerjaan yang berisiko besar akan terjadinya gangguan kesehatan. Bahan yang digunakan banyak mengandung bahan kimia yang berbahaya, bahan tersebut berupa timbal. Timbal yang terserap oleh darah akan berikatan dengan sel darah merah dan dapat mengakibatkan gangguan pada proses sintesis hemoglobin (Hb). Metode : Penelitian ini menggunakan desain penelitian deskriptif. Jumlah sampel dalam penelitian ini adalah 33 subyek dengan metode Total sampling. Metode pemeriksaan menggunakan metode westergreen. Hasil : Hasil penelitian ini menyatakan pada pekerja car paint menunjukkan Biernacki Reaction normal sebanyak 23 subyek (69,7%) sedangkan Biernacki Reaction yang melebihi batas normal yaitu sebanyak 10 subyek (30,3%) Kesimpulan : hasil pemeriksaan Biernacki Reaction sebagain kecil melebihi batas normal akibat paparan zat kimia pada cat mobil.
Downloads
Download data is not yet available.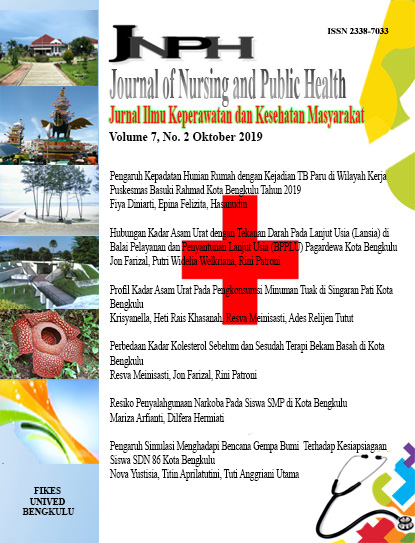 How to Cite
SUNITA, R., & MEINISASTI, R. (2019). PROFIL BIERNACKI REACTION PADA PEKERJA CAR PAINT DI BENGKULU. Journal of Nursing and Public Health, 7(2), 87-91. https://doi.org/10.37676/jnph.v7i2.902
An author who publishes in the Journal of Nursing and Public Health agrees to the following terms:
Author retains the copyright and grants the journal the right of first publication of the work simultaneously licensed under the Creative Commons Attribution-ShareAlike 4.0 License that allows others to share the work with an acknowledgement of the work's authorship and initial publication in this journal
Submission of a manuscript implies that the submitted work has not been published before (except as part of a thesis or report, or abstract); that it is not under consideration for publication elsewhere; that its publication has been approved by all co-authors. If and when the manuscript is accepted for publication, the author(s) still hold the copyright and retain publishing rights without restrictions. For the new invention, authors are suggested to manage its patent before published. The license type is CC-BY-SA 4.0.
Journal of Nursing and Public Health is licensed under a Creative Commons Attribution-ShareAlike 4.0 International License.
You are free to:
Share — copy and redistribute the material in any medium or format
Adapt — remix, transform, and build upon the material
for any purpose, even commercially.
The licensor cannot revoke these freedoms as long as you follow the license terms.