The Main Models of Change Management in Kurt Lewin's Thinking
Nila Rosdiana

Program Studi Manajemen, Fakultas Ekonomi Dan Bisnis Islam, Universitas Islam Negeri Sumatera Utara, Indonesia

Nuri Aslami

Universitas Islam Negeri Sumatera Utara
Keywords:
Main Models,, Change Management, Kurt Lewin's Thinking
Abstract
The early and end steps of the change acceptor reaction model have been studied. Kurt Lewin's concept of change management thinking is something that has to be revisited. This research focuses on the intermediate phases of change rather than the pre-change antecedents or consequences of change. The act of altering the antecedent as well as the explicit response to change. Investigate the attitudes and reactions of followers to change from the standpoint of the change process. Researchers do so by using the notion of change evaluation to investigate cognitive and behavioral development. Unlike most change research, which focuses on the negative aspects of change, the notion of specific evaluation follows the development of positive attitudes toward change, manager attitudes, and behavioral changes relating to routines and processes, work practices, and traditions. This research focuses solely on the opinions and views of followers. Followers, on the other hand, are not merely beneficiaries of change; they also have an impact on the process and its outcomes. The application of management in Kurt Lewin's own theory is related to change management, which is always utilized as a reference point to examine a stigma.
Downloads
Download data is not yet available.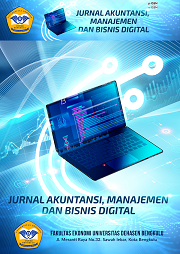 How to Cite
Rosdiana, N., & Aslami, N. (2022). The Main Models of Change Management in Kurt Lewin's Thinking. Jurnal Akuntansi, Manajemen Dan Bisnis Digital, 1(2), 251–256. https://doi.org/10.37676/jambd.v1i2.2446
Copyright (c) 2022 Nila Rosdiana, Nuri Aslami
This work is licensed under a Creative Commons Attribution-ShareAlike 4.0 International License.