MSME Creative Industry Development in Mandailing Natal
Nila Rosdiana

Program Studi Manajemen, Fakultas Ekonomi Dan Bisnis Islam, Universitas Islam Negeri Sumatera Utara, Indonesia

Nur Ahmadi Bi Rahman

Universitas Islam Negeri Sumatera Utara
Keywords:
Creative Industry, Craft Sector, Christmas Mandailing
Abstract
The development of the MSME Creative Industry in Mandailing Natal requires more human resources who are innovative and have high creativity. The existence of innovation and creativity that arises in the community, makes the MSME creative industry sector have an important role in developing the economy of a region. The findings in the field indicate that the development of the creative industry in the handicraft sector is able to improve the welfare of the Mandailing Natal community. The creativity of industry players is able to increase the results of more innovative products. The creativity of industrial players can be increased through training, debriefing/guidance, and monitoring carried out by the Mandailing Natal City Trade Office. Supporting factors for the development of this creative industry include the role of the Mandailing Natal City Trade Office, the quality of Human Resources, and the potential of Mandailing Natal City. There are also several inhibiting factors such as lack of access to capital, limited quality raw materials and low marketing infrastructure. The development of the Creative Industry is expected to be in accordance with the RENSTRA of the Department of Trade and to be able to provide and improve training and counseling that is useful for industry players in developing their industrial businesses.
Downloads
Download data is not yet available.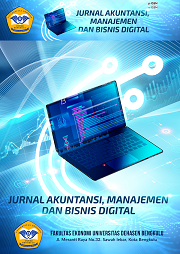 How to Cite
Rosdiana, N., & Rahman, N. (2022). MSME Creative Industry Development in Mandailing Natal. Jurnal Akuntansi, Manajemen Dan Bisnis Digital, 1(2), 93–98. https://doi.org/10.37676/jambd.v1i2.2286
Copyright (c) 2022 Nila Rosdiana, Nur Ahmadi Bi Rahman
This work is licensed under a Creative Commons Attribution-ShareAlike 4.0 International License.