Change Management Analysis of the Use of Information Technology in Running MSMEs During the Covid-19 Pandemic
Miftahul Husna Hutapea

Program Studi Manajemen Fakultas Ekonomi Dan Bisnis Islam Universitas Islam Negeri Sumatra Utara

Nuri Aslami

Universitas Islam Negeri Sumatera Utara
Keywords:
Information Technology, Change Management, and MSMEs in the Pandemic Period
Abstract
This study aims to examine how the management of change in the use of information technology can be used to support sustainable business in MSMEs during the Covid-19 pandemic. To survive the COVID-19 pandemic, the role of information technology and change management is very important, because information technology functions as a manager of the information available at that time. Change management provides a structured approach to assisting individuals in business from their current state to their desired state. Change management is concerned with identifying the groups and individuals who must change. Not only that, change management requires the development of customized plans to successfully implement changes. The main goal of change management is to prepare for a smooth and successful transition..
Downloads
Download data is not yet available.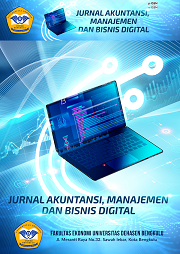 How to Cite
Hutapea, M. H., & Aslami, N. (2022). Change Management Analysis of the Use of Information Technology in Running MSMEs During the Covid-19 Pandemic. Jurnal Akuntansi, Manajemen Dan Bisnis Digital, 1(2), 365–370. https://doi.org/10.37676/jambd.v1i2.2644
Copyright (c) 2022 Miftahul Husna Hutapea, Nuri Aslami
This work is licensed under a Creative Commons Attribution-ShareAlike 4.0 International License.