Efforts to Improve Community Mindset Through Religious Activities Implemented by the People's Welfare Section of Binjai City
Handana Sembiring

Program Studi Ekonomi Islam, Fakultas Ekonomi Dan Bisnis Islam, Universitas Islam Negeri Sumatera Utara

Andri Soemitra

Universitas Islam Negeri Sumatera Utara
Keywords:
Mindset, Religion, People's Welfare
Abstract
The People's Welfare Section of Binjai City is one of the fields that has the main task of carrying out guidance, facilitation and coordination of the implementation of policies in the field of Religion as well as preparing the implementation of the provision of assistance in the field of Religion. This assistance could be through a procurement plan for each activity that aims to launch each series of activities. This research was conducted to see how the influence of religious activities on the community carried out by the People's Welfare Section of Binjai City. The results of this study indicate that religious activities carried out by the welfare section of the people of Binjai City have a good impact on the mindset of the community and become a form of change for the community to remember religion and have a good effect on the economy because of the activities carried out. This research method uses field data collection in a series of religious activities including MTQ activities in every area of the city of Binjai.
Downloads
Download data is not yet available.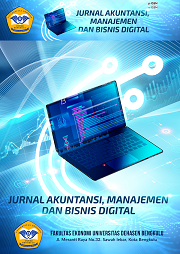 How to Cite
Sembiring, H., & Soemitra, A. (2022). Efforts to Improve Community Mindset Through Religious Activities Implemented by the People's Welfare Section of Binjai City. Jurnal Akuntansi, Manajemen Dan Bisnis Digital, 1(2), 161–164. https://doi.org/10.37676/jambd.v1i2.2394
Copyright (c) 2022 Handana Sembiring, Andri Soemitra
This work is licensed under a Creative Commons Attribution-ShareAlike 4.0 International License.