Evaluation of Corruption Eradication and Strengthening of Corruption Eradication Prevention in Medan City
Nur Jannah Al Baiti

Program Studi Ekonomi Islam, Fakultas Ekonomi Dan Bisnis Islam, Universitas Islam Negeri Sumatera Utara

Andri Soemitra

Universitas Islam Negeri Sumatera Utara
Keywords:
Corruption Eradication, Corruption Prevention, KPK Program
Abstract
Corruption is systematically defined as an extraordinary crime that requires extraordinary efforts to eradicate it. Therefore, from the beginning, KPK was given extraordinary power (superbody) to uncover malicious plots and attack the strongest corrupt bases. KPK has gradually regained public confidence, as evidenced by the use of state-of-the-art investigative methods such as strong wiretapping, fraudulent investigations, surveillance and forensic audits. The provisions of Articles 6b and 8 of Law No. 19 of 2019, which amends Law No. 30 of 2002, include the Anti-Corruption Commission and the Anti-Corruption Commission (KPK). The Monitoring and Prevention Center (MCP) was established by KPK in collaboration with the Ministry of Interior and BPKP to streamline anti-corruption coordination in Medan.
Downloads
Download data is not yet available.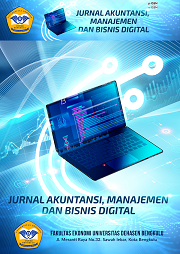 How to Cite
Baiti, N., & Soemitra, A. (2022). Evaluation of Corruption Eradication and Strengthening of Corruption Eradication Prevention in Medan City. Jurnal Akuntansi, Manajemen Dan Bisnis Digital, 1(2), 137–140. https://doi.org/10.37676/jambd.v1i2.2310
Copyright (c) 2022 Nur Jannah Al Baiti, Andri Soemitra
This work is licensed under a Creative Commons Attribution-ShareAlike 4.0 International License.