Bibliometric Analysis of the Role of Online Marketing on MSME Actors in the Pandemic Period
Laila Tiffany Hasibuan

Ekonomi Syariah, Fakultas Ekonomi dan Bisnis Islam, Universitas Islam Negeri Sumatera Utara

Andri Soemitra

Universitas Islam Negeri Sumatera Utara
Keywords:
Bibliometrics, Online Marketing, MSMEs, Covid-19 Pandemic
Abstract
Economic activity is one of the many significant sectors to affect the level of welfare of a country, including Indonesia. One of the activities included in the economy itself is the activities of MSMEs which have recently begun to be noticed and empowered by the government. This research is a literature study by analyzing several selected literatures in the last 4 years sourced from Google Scholar. The results of this study state that Online Marketing has a significant role as one of the strategies for MSME actors during the Corona Virus Disease-19 pandemic that has hit over the past few years, increasing sales levels, and helping MSME actors to learn technology literacy that is transitioning from system conventional to online systems.
Downloads
Download data is not yet available.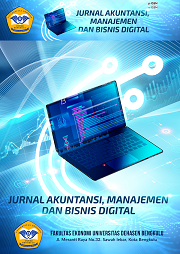 How to Cite
Hasibuan, L., & Soemitra, A. (2022). Bibliometric Analysis of the Role of Online Marketing on MSME Actors in the Pandemic Period. Jurnal Akuntansi, Manajemen Dan Bisnis Digital, 1(2), 67–74. https://doi.org/10.37676/jambd.v1i2.2273
Copyright (c) 2022 Laila Tiffany Hasibuan, Andri Soemitra
This work is licensed under a Creative Commons Attribution-ShareAlike 4.0 International License.