Penerapan Bisnis Online Dropshipping Menggunakan Aplikasi Evermos Dalam Membantu Perekonomian Pasca COVID-19COVID-19 (Jalan Karya kasih kecamatan Medan Johor)
Siti Aisyah

Program Studi Manajemen, Fakultas Ekonomi Dan Bisnis Islam, Universitas Islam Negeri Sumatera Utara

Amanda Damayanti Nasution

Program Studi Manajemen, Fakultas Ekonomi Dan Bisnis Islam, Universitas Islam Negeri Sumatera Utara

Cici Winda Atila

Program Studi Manajemen, Fakultas Ekonomi Dan Bisnis Islam, Universitas Islam Negeri Sumatera Utara

Indah Aryani

Program Studi Manajemen, Fakultas Ekonomi Dan Bisnis Islam, Universitas Islam Negeri Sumatera Utara

Wahyu Andriansyah Naibaho

Program Studi Manajemen, Fakultas Ekonomi Dan Bisnis Islam, Universitas Islam Negeri Sumatera Utara
Keywords:
Evermos, Technology, Community Economy.
Abstract
In the post-COVID-19 introduction of online selling technology that can be through dropshipping at Muslim fashion and other MSMEs that collaborate with more than 500 local brands, it can be concluded that the use of the Evermos application technology has a great impact and is able to change the economy of the people of Medan, Johor, both that's for people who do MSME business and people who may be affected by covid which may be minimal with costs. The service of providing online sales containers provides enormous opportunities for those who have local products and those who are minimal with the costs of this platform. The implementation of this community service was carried out by conducting field surveys, interviews, implementation/socialization which was carried out in the Johor field, where 80% of the community's response to this application technology received a good response, researchers were able to introduce the community to the application of the Evermos application as a forum for online sales and economic development community in Johor field. The five community members who were used as informants have sold online at Evermos and are of the opinion that as much as 30% of income has increased from using Evermos with 13 more than 20 resellers of their products. Therefore it can be concluded that the response of the Johor people to the use of Evermos in doing business very good online.
Downloads
Download data is not yet available.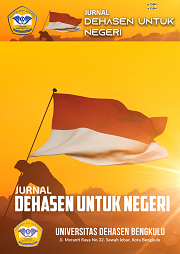 How to Cite
Aisyah, S., Nasution, A. D., Atila, C., Aryani, I., & Naibaho, W. A. (2023). Penerapan Bisnis Online Dropshipping Menggunakan Aplikasi Evermos Dalam Membantu Perekonomian Pasca COVID-19COVID-19 (Jalan Karya kasih kecamatan Medan Johor). Jurnal Dehasen Untuk Negeri, 2(1), 23 - 28. https://doi.org/10.37676/jdun.v2i1.3468
Copyright (c) 2023 Siti Aisyah, Amanda Damayanti Nasution, Cici Winda Atila, Indah Aryani, Wahyu Andriansyah Naibaho
This work is licensed under a Creative Commons Attribution-ShareAlike 4.0 International License.