Pelatihan Pembuatan Laporan Keuangan bagi Pelaku Usaha Depot Air Minum di Bengkulu
Aji Sudarsono

Universitas Dehasen

Dewi Harwini

Universitas Dehasen Bengkulu

Oni Yulianti

Universitas Dehasen Bengkulu

Abdul Rahman

Universitas Dehasen Bengkulu

Kiemas Kurniawan

Universitas Dehasen Bengkulu

Adhitya Al Fikri

Universitas Dehasen Bengkulu
Keywords:
UMKM, Laporan Keuangan, Pelatihan
Abstract
The management of the company's finances is related to the allocation of company finances to meet the company's current needs, in the future, to unexpected needs. Current needs consist of current expenses, such as production costs, water and electricity costs, employee salary and bonus costs, machine repair costs and others. Future needs consist of expenses incurred in the future, such as the cost of recruiting new employees.
The Drinking Water Depot business is one of the many UMKM in the Bengkulu City area. One of these UMKM units plays a fairly active role in disseminating clean drinking water stocks at affordable prices and relatively quick to obtain. Therefore, in supporting the acceleration and accuracy in the provision of clean drinking water stocks, it is also necessary to have a sufficiently mature financial report so that there is no miscalculation of inventory in the future, a training on financial statement management is formed to one of the owners or business actors of the UMKM Drinking Water Depot in Bengkulu City.
The purpose of this training activity is to provide understanding to UMKM business actors regarding the management of financial statements, including company financial management so that in the future the company's finances can be monitored carefully.
Downloads
Download data is not yet available.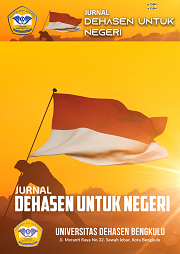 How to Cite
Sudarsono, A., Harwini, D., Yulianti, O., Rahman, A., Kurniawan, K., & Al Fikri, A. (2023). Pelatihan Pembuatan Laporan Keuangan bagi Pelaku Usaha Depot Air Minum di Bengkulu. Jurnal Dehasen Untuk Negeri, 2(1), 13 - 16. https://doi.org/10.37676/jdun.v2i1.3416
Copyright (c) 2023 Aji Sudarsono, Dewi Harwini, Oni Yulianti, Abdul Rahman, Kiemas Kurniawan, Adhitya Al Fikri
This work is licensed under a Creative Commons Attribution-ShareAlike 4.0 International License.