Penyusunan Model Pembelajaran PJOK Melalui Pendekatan TPSR (Teaching Personality and Sosial Responbility) di SD Se-Kecamatan Topos Kabupaten Lebong Provinsi Bengkulu
Helvi Darsi

Universitas PGRI Silampari

Erick Salman

Universitas PGRI Silampari

Ira Miyarni Sustianingsih

Universitas PGRI Silampari
Keywords:
Model Pembelajaran PJOK, Pendekatan TPSR
Abstract
Education is one of the main factors in realizing and advancing development, which is very important in terms of formal and non-formal, therefore it must be prepared teaching staff who have good skills, are professional, pedagogic, and have good characteristics, according to what they must have. competence. Judging from the conditions in the field at the time of observation and interviews with physical education, sports and health (PJOK) teachers, there were several obstacles and lack of training on how to improve learning outcomes, to get good learning outcomes, of course there are several indicators that can be used to improve learning outcomes. It must be noted, so that students are always enthusiastic about participating in the physical education learning process, the teacher must play a very important role as a facility, facilitator, motivator, meaning to be the spearhead to achieve success. But it must have support from the relevant government in creating competent teachers, so judging by the results in the field, the proposing team is very interested in conducting training in the preparation of the PJOK learning model through the TPSR (Teaching Personality and Socioal Responsibility) approach to the working group of elementary school sports teachers throughout the district. Topos Lebong Regency.
Downloads
Download data is not yet available.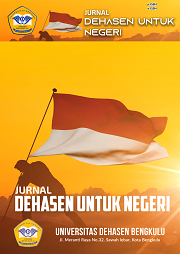 How to Cite
Darsi, H., Salman, E., & Sustianingsih, I. M. (2022). Penyusunan Model Pembelajaran PJOK Melalui Pendekatan TPSR (Teaching Personality and Sosial Responbility) di SD Se-Kecamatan Topos Kabupaten Lebong Provinsi Bengkulu. Jurnal Dehasen Untuk Negeri, 1(2), 79–82. https://doi.org/10.37676/jdun.v1i2.2828
Copyright (c) 2022 Helvi Darsi, Erick Salman, Ira Miyarni Sustianingsih
This work is licensed under a Creative Commons Attribution-ShareAlike 4.0 International License.