Pendampingan Penggunaan Teknologi Media dan Internet Bagi Pengurus Bumdes Teratai Indah Desa Nanti Agung Ilir Talo Kabupaten Seluma
Azizatul Banat

Fakultas Keguruan dan Ilmu Pendidikan, Universitas Dehasen Bengkulu, Bengkulu, Indonesia

Mariska Febrianti

Fakultas Keguruan dan Ilmu Pendidikan, Universitas Dehasen Bengkulu, Bengkulu, Indonesia

Martiani Martiani

Fakultas Keguruan dan Ilmu Pendidikan, Universitas Dehasen Bengkulu, Bengkulu, Indonesia

Juwita Juwita

Fakultas Keguruan dan Ilmu Pendidikan, Universitas Dehasen Bengkulu, Bengkulu, Indonesia

Gustini Gustini

Sekolah Tinggi Ilmu Administrasi Bengkulu
Keywords:
Accompaniment, Use of Media and Internet Technology, Bumdes Manager
Abstract
Technology is not limited to one particular field, or to a product, but can be in the form of materials and methods or techniques. While the word "media", the plural form of the word medium, comes from Latin which literally means intermediary or introduction. Media is an intermediary or delivery of messages from the sender to the recipient of the message. , the media shows as a means of communication such as television, radio, and newspapers. The term media is also used as an agent for news reports or news. The method used in this community service uses a pattern method or system of action for the Management of Bumdes Teratai Indah, Later Agung Ilir Village, Talo, Seluma Regency. The implementation of this activity went smoothly without significant obstacles. Participants can take part in activities both online and offline.
Downloads
Download data is not yet available.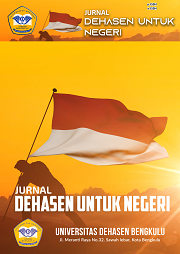 How to Cite
Banat, A., Febrianti, M., Martiani, M., Juwita, J., & Gustini, G. (2022). Pendampingan Penggunaan Teknologi Media dan Internet Bagi Pengurus Bumdes Teratai Indah Desa Nanti Agung Ilir Talo Kabupaten Seluma. Jurnal Dehasen Untuk Negeri, 1(1), 33–36. Retrieved from https://jurnal.unived.ac.id/index.php/dehasenuntuknegeri/article/view/1920