Workshop Pengembangan Bakat terhadap Atlet Basket Muda Kepahiang
Feby Elra Perdima

Deffri Anggara

Fakultas Keguruan dan Ilmu Pendidikan, Universitas Dehasen Bengkulu, Bengkulu, Indonesia

Dolly Apriansyah

Fakultas Keguruan dan Ilmu Pendidikan, Universitas Dehasen Bengkulu, Bengkulu, Indonesia

Azuwandri Azuwandri

Sekolah Tinggi Ilmu Administrasi, Bengkulu, Indonesia
Keywords:
Workshop, Talent Development, Basketball Athlete
Abstract
The purpose of this community service is to increase the talent of Kepahiang Young Basketball Athletes. The training will be divided into 2 stages, where at the initial stage the team will explain the concept of Talent Development for Kepahiang Young Basketball Athletes. This training method is carried out using the tutorial method and FGD so that athletes can improve their basketball skills. This training resulted in a very good response/feedback for the participants, because it was very useful to increase their knowledge about the importance of an exercise program, motivation, teamwork in basketball.
Downloads
Download data is not yet available.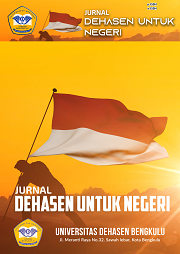 How to Cite
Perdima, F. E., Anggara, D., Apriansyah, D., & Azuwandri, A. (2022). Workshop Pengembangan Bakat terhadap Atlet Basket Muda Kepahiang. Jurnal Dehasen Untuk Negeri, 1(1), 13 - 17. Retrieved from https://jurnal.unived.ac.id/index.php/dehasenuntuknegeri/article/view/1870