Effect Of Price Sensitivity And Green Knowledge On The Interest In Buying Organik Vegetables In Bengkulu Province
Hilda Meisya Arif

Universitas Dehasen Bengkulu

Reflis Reflis

Universitas Bengkulu

Andi Irawan

Universitas Bengkulu

Indra Cahyadinata

Universitas Bengkulu

Zulkarnain Yuliarso

Universitas Bengkulu
Keywords:
buting interest, green knowledge, organic products, price sensitivity
Abstract
Organic agricultural products in the current era are very attractive to farmers and consumers because there is no use of synthetic chemicals that can pose a danger to the health of the human body and the environment. Awareness of a healthy lifestyle makes the demand for organicproducts increasing for most consumers. Prices that are too high will make consumers switch to other similar products but with lower price offers make consumers doubt the quality of the product, thereby reducing buying interest in the product. . Green knowledge is defined as the knowledge that an individual has about knowing an issue or phenomenon that has a significant impact on the decision-making process. The purpose of this study was to determine the effect of price sensitivity and Green knowledge on the interest of organik sayuaran buyers in Bengkulu Province. This study was an associative study, using a sample of 100 respondents. Testing the research hypothesis using multiple regression, previously the data obtained must pass the validity and reability test. The results of the study stated that the variables of price sensitivity and green knowledge partially had an influence on the interest in buying organic vegetables in Bengkulu Province. Meanwhile, price and green knowledge together affect consumers' buying interest in organic vegetables. The value of the research determinant coefficient is 0.345, which means that the independent variable used only affects 34.5% of the variables tied to buying interest, while the remaining 65.5% is influenced by other variables outside the study.
Downloads
Download data is not yet available.
References
Baines, P., Fill, C., Rosengren, S., & Antonetti, P. 2017. Fundamentals of Marketing. England: Oxford University Press.
Boztepe, A. 2012. Green marketing and Its Impact on Consumer Buying Behavior. European Journal of Economic and Political Studies, Turkey
Chrysanthini, B., Sumarwan, U., & Rifin, A. 2017. Consumer Preferences On Organik Vegetables (UD Fabela-Myfarm Consumer Case Study) In Bogor West Java. Manajemen IKM, 12(2), 151– 160.
Chen, Y. S. 2013. Towards green loyalty: Driving from green perceived value, green satisfaction, and green trust. Sustainable Development, 21(5), 294–308.
D'Souza, C., Taghian, M., Lamb, P. & Peretiatkos, R. 2006. Green products and corporate strategy: an empirical investigation. Society and Business Review, 1 (2), 144-57.
Kusuma, E. I., Surya, J., & Suhendra, I. 2017. Pengaruh Strategi Green Marketing dan Pengetahuan Lingkungan Terhadap Keputusan Pembelian Melalui Minat Beli sebagai Variabel Intervening. Jurnal Riset Bisnis Dan Manajemen Tirtayasa, 1(1), 33–50.
Lesmana, T dan A.S. Hidayat. 2008. National Study on Organik Agriculture. LIPI
Laffan, J. 2016. Organik Farming: Crops, fruits and vegetables. Australia: NSW Agriculture
Nagle, T. T., Hogan, J., & Zale, J. 2016. The Strategy and Tactics of Pricing: New International Edition. Routledge. United Kingdom: Routledge.
Nguyen, C., Nguyen, Y., & Quy, T. 2020. Organik Foods: What Are the Driving Factors of Purchase Intention? International Journal of Innovation, Creativity and Change, 13(11), 400–418.
Pekala, A. 2020. Market analysis of organik foods in the Nordic and Baltic countries. Denmark: Nordic Council of Ministers.
Putra, P. S. D., Ambarawati, I. G. A. A., & Yusuf, R. P. 2015. Manajemen Pemasaran Sayur Organik (Studi Kasus pada P4S Eka Setia Lestari di Desa Bangli, Kecamatan Baturiti, Kabupaten Tabanan). E-Journal Agribisnis Dan Agrowisata (Journal of Agribusiness and Agritourism), 4(2), 107–116. Retrieved from https://ojs.unud.ac.id/index.php/JAA/article/vi ew/17393
Reshmi, R., & Johnson, B. 2014. "A study on the buying behaviour of green products", International Journal of Research in Commerce & Management, Vol. 5, No. 12, pp. 39–45
Sugiyono. 2012.Metode Penelitian Kombinasi.Alfabeta. Bandung
Tafajani, D.S. 2011. Panduan Komplit Bertanam Sayur dan Buah-Buahan. Yogyakarta: Universitas Atma Jaya.
Wijaya, T. 2016. Sikap terhadap Makanan Organik, Norma Subjektif, Kontrol Perilaku Konsumen Makanan Organik: Konsep dan Pengukuran. Jurnal Ilmu Sosial Dan Ekonomi, 3(1), 20–33.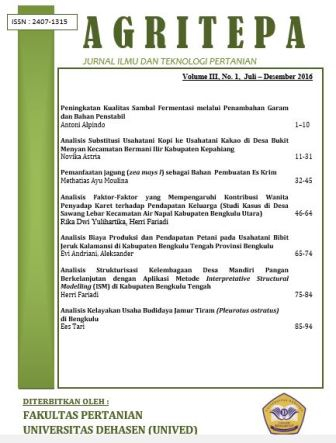 How to Cite
Arif, H., Reflis, R., Irawan, A., Cahyadinata, I., & Yuliarso, Z. (2022). Effect Of Price Sensitivity And Green Knowledge On The Interest In Buying Organik Vegetables In Bengkulu Province. AGRITEPA: Jurnal Ilmu Dan Teknologi Pertanian, 9(2), 425-434. https://doi.org/10.37676/agritepa.v9i2.2725
Section
Article Reasearch
Copyright (c) 2022 Hilda Meisya Arif, Reflis Reflis, Andi Irawan, Indra Cahyadinata, Zulkarnain Yuliarso
This work is licensed under a Creative Commons Attribution-ShareAlike 4.0 International License.
Author retains the copyright and grants the journal the right of first publication of the work simultaneously licensed under the Creative Commons Attribution-ShareAlike 4.0 License that allows others to share the work with an acknowledgement of the work's authorship and initial publication in this journal