Pengolahan Sampah Rumah Tangga dalam Rangka Menambah Nilai Ekonomis serta Peningkatan Ekonomi Keluarga
Yesi Indian Ariska

Universitas Dehasen Bengkulu

Eska Prima Monique Damarsiwi

Universitas Dehasen Bengkulu

M. Rahman Febliansyah

Universitas Dehasen Bengkulu

Hilda Meisya Arif

Universitas Dehasen Bengkulu

Neri Susanti

Universitas Dehasen Bengkulu
Keywords:
Processing, Organic Fertilizers, Economic Value
Abstract
Along with the increase in population and high consumption patterns, the production of waste also increases every day, with an increase in waste production, there will be a buildup of waste that has a lot of negative impacts. To reduce the negative impact, the community service team, Lecturers of the Faculty of Economics, Dehasen University, carried out, (10) community service / counseling and socialization about household waste processing which was later expected to add economic value, (2) Inviting women on Jalan Merawan 14a RT 29 Sawah the width of the Ratu Agung sub-district, Bengkulu City to utilize and be creative with household waste into more valuable crafts. The targets who participate in this outreach/socialization are housewives who do not have knowledge about waste recycling processing. This community service activity has been running with methods and targets so that the results of housewives on Jalan Merawan 14a RT 29, Sawah Lebar, Ratu Agung District, Bengkulu City have knowledge about organic and organic waste and have been able to make craft creations that have economic value
Downloads
Download data is not yet available.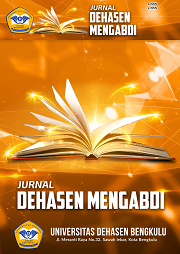 How to Cite
Ariska, Y. I., Damarsiwi, E. P. M., Febliansyah, M. R., Arif, H., & Susanti, N. (2022). Pengolahan Sampah Rumah Tangga dalam Rangka Menambah Nilai Ekonomis serta Peningkatan Ekonomi Keluarga. Jurnal Dehasen Mengabdi, 1(1), 67–72. Retrieved from https://jurnal.unived.ac.id/index.php/jdm/article/view/2195
Copyright (c) 2022 Yesi Indian Ariska, Eska Prima Monique Damarsiwi, M. Rahman Febliansyah, Hilda Meisya Arif, Neri Susanti
This work is licensed under a Creative Commons Attribution-ShareAlike 4.0 International License.