Bengkulu Coffee Production Development
Anzori Tawakal

Universitas Dehasen Bengkulu

Ricky Zulfiandry

Universitas Dehasen Bengkulu

Eko Sumartono

Mahasiswa Program Doktor Ilmu Ilmu Pertanian Universitas Bengkulu dan Universitas Dehasen Bengkulu

Silke Sachanovrissa

Universitas Dehasen Bengkulu
Keywords:
coffee, Development, Production, SWOT analysis
Abstract
As an agricultural community, in general, Bengkulu province has gardening. The largest plantations for the community are oil palm, rubber and coffee commodities. People depend their lives on abundant natural potentials but have not been able to manage them properly to stimulate added value. All potentials are still managed traditionally so that productivity is very low. The province of Bengkulu is the 3rd largest national coffee producer, but so far Bengkulu coffee is sold through Lampung and Palembang so it is not known outside. The problems are: The low income and welfare of the coffee farmers in Bengkulu province; The promotion and branding of Bengkulu coffee has not been recognized either nationally or internationally. The intention of compiling the Bengkulu coffee development master plan. One of the activities carried out is conducting research or mapping potential and mapping policy directions in the field of coffee development in Bengkulu Province. The aim of compiling the Bengkulu coffee development master plan a) Increasing the income of coffee farmers in Bengkulu province, b) Increasing the promotion and branding of Bengkulu Coffee at the national and international levels c) Increasing the knowledge of farmers and field officers towards coffee cultivation technology farmers: d) Increasing the role and function of farmer institutions in plantation areas coffee; e) Preparing technological innovations to increase coffee production and quality; The scope of activities is focused on coffee development in the Bengkulu area from upstream, production, downstream and provincial, district / city governments as well as Stake Holders / stakeholders.
Downloads
Download data is not yet available.
References
Ajiwibani, M. P., & Edwar, M. (2015). Pengaruh Faktor Internal dan Eksternal Gaya Hidup Terhadap Keputusan Pembelian (Studi pada Konsumen D'Goda Coffee Pazkul Sidoarjo). Jurnal Pendidikan Tata Niaga (JTPN), 3(2), 1–13.
Bengkulu Province RPJMD. (n.d.).
BPS Bengkulu Province. (2016). Bengkulu Province in Figures.
BPS Bengkulu Province. (2018). Bengkulu Province in Figures.
Budiyanto Budiyanto; Damres Uker; Toto Izahar. (2021). PHYSICAL CHARACTERISTICS OF COFFEE BEANS AND QUALITY OF GROUND COFFEE SINTARO 2 AND SINTARO 3 WITH VARIOUS ROAST LEVELS. Jurnal Agroindustri, 11(1).
Dionesius Budi; Wahyu Mushollaeni; Yusianto Yusianto; Atina Rahmawati. (2020). CHARACTERIZATION OF ROBUSTA COFFEE (COFFEA CANEPHORA) FROM TULUNGREJO FERMENTED WITH SACCHAROMYCES CEREVISIAE. Jurnal Agroindustri, 10(2), 129–138. https://ejournal.unib.ac.id/index.php/agroindustri/article/view/12553
Emil, S. (1990). Sustainable Development's role and contribution.
Fery Murtiningrum; Gracia Gabrienda. (2019). Analysis of the marketing channels of Coffee. Journal of Agri Socio Economics and Bussiness (JASEB), 1(2), 2019. https://ejournal.unib.ac.id/index.php/JASEB/article/view/9324
Maciejewski, G., Mokrysz, S., & Wroblewski, L. (2019). Segmentation of Coffee Consumers Using Sustainable Values: Cluster Analysis on the Polish Coffee Market. Sustainability, 11(613), 1–20.
Niken Dwinora; Eko Sumartono; and Bambang Sumantri. (2018). Analysis Efficiency of Luwak Coffee Business. Journal of Agricultural Science, 1(2), 78–84.
Pezzey. (1992). Sustainability: An Interdisciplinary Guide. 1(4):321-62. Environmental Values, 1(4), 321–620.
Province, D. of the G. of B. (2019). Concerning the Establishment of a Team for the Preparation of the Bengkulu Coffee Development Master Plan. No. i.67.B.3.
Rangkuti. (2014). SWOT Balance Scorecard.
Regulation, B. P. R. (2008). Concerning the Bengkulu Province RPJPD. No. 4.
Regulation, B. P. R. (2010). Concerning the Bengkulu Province Development Planning System. No. 6.
Robert A Baron; Donn Byrne. (1991). Social Psychology, Understanding Human Interactions. 6th Edition. USA: Allyn and Bacon, 6.
Rum, A. T. S. & M. (2021). Factors Influencing Coffee Purchase Decisions at a Seday Coffee Shop in Sidoarjo. Agriscience, 2(2), 408–427. https://journal.trunojoyo.ac.id/agriscience/article/view/11937/pdf
Song, H., Bae, S. Y., & Han, H. (2019). (2019). Emotional Comprehension of a NameBrand Coffee Shop: Focus on Lovemarks Theory. International Journal of Contemporary Hospitality Management, 31(3), 1046–1065.
Sutamihardja. (2004). Sustainable Development Concept.
Teixeira, L. de V. (2020). The Consumption of Experiences in Specialty Coffee Shops. Coffee Consumption and Industry Strategies, 275–295.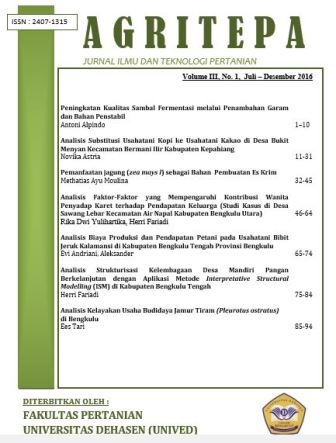 How to Cite
Tawakal, A., Zulfiandry, R., Sumartono, E., & Sachanovrissa, S. (2022). Bengkulu Coffee Production Development. AGRITEPA: Jurnal Ilmu Dan Teknologi Pertanian, 9(1), 85-112. https://doi.org/10.37676/agritepa.v9i1.2148
Section
Article Reasearch
Copyright (c) 2022 Anzori Tawakal, Ricky Zulfiandry, Eko Sumartono, Silke Sachanovrissa
This work is licensed under a Creative Commons Attribution-ShareAlike 4.0 International License.
Author retains the copyright and grants the journal the right of first publication of the work simultaneously licensed under the Creative Commons Attribution-ShareAlike 4.0 License that allows others to share the work with an acknowledgement of the work's authorship and initial publication in this journal